Backroads - vacations and travel
Peru Hiking: From Cusco to Machu Picchu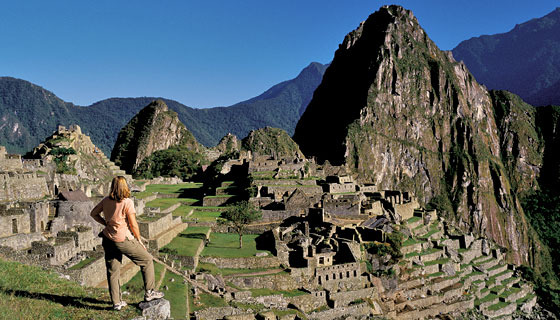 from $4,498* per person
7 Days
May-October
Luxury accommodations

Exertion level: 5

Operator:

Backroads

20 people max
Cusco, peru
Active & Adventure trips
Machu Picchu has a gravitational pull. So strong that Inca culture still influences people today. Some still practice the 600-year-old pottery techniques. Others, like you, are influenced from thousands of miles away. It urges you to hike the hills of Cusco at 11,000 feet above sea level, investigate the ruins of Sacsayhuamán, "Stonehenge of the Andes," make friends with the local schoolchildren who live in hidden weaving communities in undiscovered valleys, stand above it all at the summit of Huayna Picchu and testify to the resilience of humanity. Theirs and yours.
Permits to hike the Inca Trail are extremely limited. We recommend booking a minimum of 4-6 months prior to departure date to significantly increase your chance of securing a permit. If permits are unavailable during some seasons, you will take a train to Aguas Calientes, bus to the entrance and hike into Machu Picchu.


Walk amid the Inca Salineras' beautiful honeycomb of pools
Machu Picchu: the incredible "Lost City of the Incas"
Visit a weaving community hidden in the hills
Sacsayhuamán ruin, "Stonehenge of the Andes"
Rub elbows with the locals at Pisac's lively market
Locations visited/nearby
Peru
Comments from Facebook
Itinerary
Days 1-2 Extraordinary archaeological sites
Ascend with our guide into the hills to Puca Pucara, Q'enko, Temple of the Moon and Sacsayhuamán
Marvel at the canals and aqueducts of Tipon, an Inca site visited by few foreign tourists, yet a rival to Machu Picchu
View the superb collection at Cusco's Museum of Pre-Columbian Art and sip a pisco sour in the museum's historic courtyard.
Day 3 Walk amid the Inca salt pans' beautiful honeycomb of pools high above the Urubamba River Valley
Alpaca sweaters, decorative gourds, appetizing smells and colorful characters fill Pisac's lively market.
Day 4 Visit a weaving community tucked in the hills to experience authentic rural Andean life
In peaceful Ollantaytambo, meet kids at the local school, climb the ruins of an Inca fortress and walk along the terraced valley
Urubamba is great place to shop for ceramics crafted using traditional Inca techniques.
Days 5-7 Machu Picchu, the incredible Lost City of the Inca, replete with intricate stonework and mysterious religious designs
Hike on the Inca Trail, lined with ancient stones and stairs, to reach the Gate of the Sun and your first unforgettable view of Machu Picchu
Got an intrepid streak? Summit Huayna Picchu for a bird's-eye look at the ruins.
More information from Backroads: