Geographic Expeditions - vacations and travel
The Silk Road Aboard The Golden Eagle & Shangri-La Express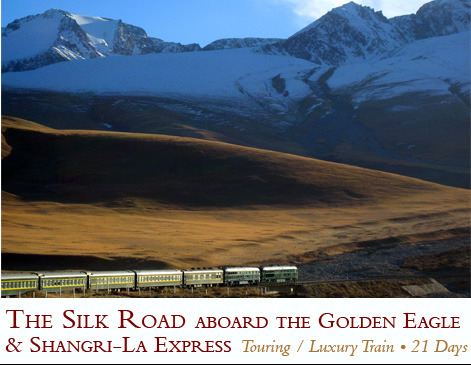 from $14,395* per person
21 Days
March, April, September, October
Luxury accommodations

Exertion level: 4

Operator:

Geographic Expeditions

18 people max
Airport near russian federation, moscow
Active & Adventure trips
We're fond of quoting William Hazlitt's line (because we so agree with the thought), that "in traveling, we visit names as well as places." And if you've in the least travel-minded, the names we visit on this epic will get your pulse racing: the vast imperial grandeur of Moscow...the daunting Karakum, one of the world's fiercest deserts...the sublime monuments of the Silk Road cities of Bukhara (where the light was said to ascend to heaven, gracing it), lovely Khiva, and Samarkand (Lord Curzon thought its grand Registan the "the noblest public square in the world")...the ancient city of Merv, a UNESCO World Heritage Site, and, in the 12th century, quite possibly the world's most populous city...Urumchi, the most landlocked city on earth...the Caves of the Thousand Buddhas at Dunhuang, a rare and fascinating treasure trove of Greco-Buddhist art (why did Greece and Buddhism come together? Just one story in a trip ultra-rich in great stories)...the splendidly lonely fortress of Jiayuguan, last gasp of the Great Wall...the famed Terracotta Warriors of Xian, who look like they're ready to shake off a little dust and begin marching at any moment...and of course, Beijing, one of the world's great cities, exploding with energy and importance as never before in its long, long history.

Tracing one of the Silk Road's most important branches, all the way from Moscow to Beijing, is a rare and momentous journey. And making that journey aboard the Golden Eagle and the Shangri-La Express makes The Silk Road from Moscow to Beijing a glorious opportunity to visiting this magnificent roster of places and names in comfort, unabashed luxury, and ease. We have much more to tell you about these great trains, but suffice to say that the nobles of Czarist Russia, whose private trains were the Gulfstream executive jets of their day, would feel right at home aboard the Shangri-La Express and the Golden Eagle.
Locations visited/nearby
Uzbekistan, Asia
Comments from Facebook
Itinerary
Day 1: arrive Moscow, transfer to five-star hotel •
Day 2: tour Red Square, etc. •
Day 3: board Golden Eagle, onward to Volgograd •
Day 4: touring Volgograd and environs, dinner aboard train •
Day 5: into Kazakhstan across the Karakum Desert •
Day 6: into Uzbekistan, visit Khiva •
Day 7: Ashkabad, Turkmenistan •
Day 8: visit Merv •
Day 9: back into Uzbekistan, visit Bukhara •
Day 10: Samarkand •
Day 11: Tashkent •
Day 12: Almaty, Kazakhstan •
Day 13: cross into China at Dzuzhba, board the Shangri-La Express •
Day 14: Urumchi and Turfan •
Day 15: Caves of the Thousand Buddhas at Dunhuang •
Day 16: Jiayuguan •
Day 17: Xian's Terracotta Warriors •
Days 18-21: Beijing.
More information from Geographic Expeditions: