Geographic Expeditions - vacations and travel
Visiting the Primates of Tanzania and Rwanda by Private Air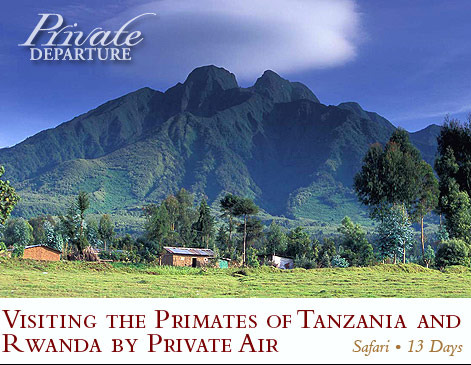 from $23,375* per person
13 Days
December-June
Luxury accommodations

Exertion level: 4

Operator:

Geographic Expeditions

18 people max
Dar es salaam airport, dar es salaam, tanzania
Active & Adventure trips
A gloriously rare chance to hobnob with two of our closest primate relatives in their homelands, visiting Tanzania and Rwanda's primates is possible — especially in a just-over-two-week time frame — because of our use of private aircraft, which zips us about in ease, comfort, and great safari-from- the-air beauty, with much control over our schedule (the only thing we don't control is where we'll spend the night; but leaving early for our next destination or extending our stay until later in the day is ever possible).

We begin in earnest in Katavi, one of the wildest and most remote parks in Africa (or the world). Our camp in this secluded bit of old Africa in Tanzania's far west is set on an elevated vantage point above dense woodland, with wonderful views across the Chada Plain. Home to the last great herds of buffalo on the continent, Katavi is packed with elephants, lions, leopards, cheetahs, crocodiles, and hippos, an African panoply second to none. Now farther west to the shores of Lake Tanganyika (the world's second-deepest lake), where we will pay cheery visits to the planet's largest chimpanzee population, which resides in the Mahale Mountains near our camp, the sublime Greystoke Mahale. We fly north along the shores of the immense rift lake to Rwanda's lush Virunga volcanoes and the three national parks that are home to 350 or so mountain gorillas. In Mountain Gorillas of Ugandawe pay tribute to these marvelous creatures, whom we'll dally with at our, and their, ease. We'll also do some volcano hiking and make a pilgrimage to the grave of the great champion of gorillas, Dian Fossey. We wind up this air-and-land safari with a couple of days in the Serengeti and the Olduvai Gorge, from which our branch of the primate family began its long journey to the ends of the earth.
Locations visited/nearby
Tanzania, Africa
Comments from Facebook
Itinerary
Day 1: Dar es Salaam •
Day 2: fly to Katavi •
Day 3: Katavi •
Day 4: fly to Mahale National Park •
Days 5 & 6: Mahale National Park •
Day 7: fly to Parc National des Volcans, Rwanda •
Day 8: gorilla trekking in the Parc National des Volcans •
Days 9 & 10: drive to Mount Gahinga, Uganda •
Day 11: fly to the Serengeti •
Day 12: Serengeti •
Day 13: fly to Kilimanjaro and onward.
More information from Geographic Expeditions: