Geographic Expeditions - vacations and travel
Mali: From Dogon to Timbuktu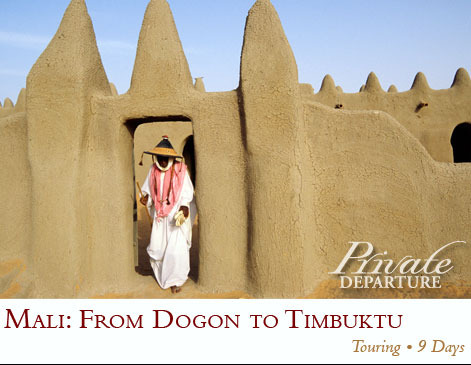 from $5,250* per person
9 Days
January, February, September-November
Luxury accommodations

Exertion level: 4

Operator:

Geographic Expeditions

18 people max
Bamako international airport, bamako, mali
Active & Adventure trips
Timbuktu, long the very synonym of farfetchedness, may be the highpoint of this short but jauntily exotic journey ("That impracticable place Timbuctoo," Lord Byron called it in Don Juan, "where Geography finds no one to oblige her / with such a chart as may be safely stuck to"). There's much more to relish, though, than the faded glories of this fabled city, once a dazzling center of scholarship and trade perched on the edge of the Sahara (and now mining its neglected libraries for lost treasures).

We begin with a look at Mali's capital, Bamako, then fly to the brilliant ethnic mélange of Mopti, where all of Mali's trade routes converge at the largest salt market in West Africa. We take a small but comfortable pinasse up the Niger River to Konna and visit the wonderfully colorful Sunday market at Somadougou before heading to Djenné, whose amazing Grand Mosque—lovingly restored each year after the rains—is the world's largest mud building. And then into the Dogon region, where a complex animistic cosmology reigns, inspiring mask ceremonies, vibrant rock paintings, and mystical cliff dwellings. We'll do some lovely ambling in the Dogon before flying to Timbuktu for our eventful visit.
Locations visited/nearby
Mali, Africa
Comments from Facebook
Itinerary
Day 1: arrive in Bamako •
Day 2: tour the city, music performance in the evening •
Day 3: fly to Mopti, city tour, sunset cruise on the Niger River •
Day 4: Niger River excursion by pinasse to Konna, visit Somadougou's Sunday market •
Day 5: to Djenné, visit cloth workshop and jewelry studio, end • day with griot music performance •
Day 6: excursion to Dogon villages •
Day 7: drive down to Tely and walk up to Tellem dwellings, hike down through Banani, Irely, and to mask performance in Tirely, return to Mopti •
Day 8: fly to Timbuktu, visit Grand Mosque, attend warrior dance in the desert, traditional dinner on the roof of a local house •
Day 9: fly to Bamako, sightseeing, day room before flying homeward.
More information from Geographic Expeditions: