Geographic Expeditions - vacations and travel
Into Patagonia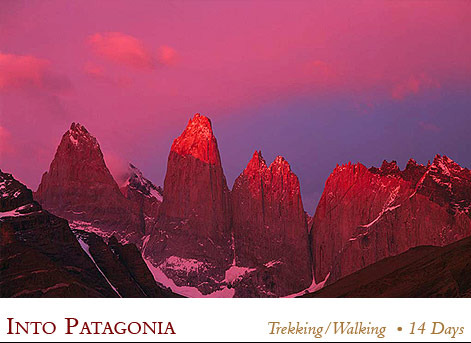 from $6,995* per person
14 Days
January-March
Boutique accommodations

Exertion level: 4

Operator:

Geographic Expeditions

18 people max
Buenos aires airport, argentine
Active & Adventure trips
Torres del Paine, Estancia Cristina, and Fitz Roy

Of earth's 37 billion or so acres, very few are as stunningly lovely as those we savor on this trip. And of Melville's "attending marvels of a thousand Patagonian sights and sounds," we've chosen the most marvelous— with some pride, to tell the truth. Admirers of Patagonia are many, but, as Jan Morris said, "If you love something hotly enough, consciously, with care, it becomes yours by symbiosis, irrevocably," and Patagonia has indeed become ours by symbiosis.

After a look at bustling Buenos Aires, we fly south to Calafate, set beside one of the world's largest and most impressive glacial lakes, Lago Argentino. We begin our Patagonian ramblings with a drive across the border into Chile for a couple of days hiking in the Torres del Paine, a quintessentially iconic Patagonian mountain playground . . . a place perhaps rivaled only by the Fitz Roys—our grand finale—for sheer mountain theatricality.

Then back to Calafate, where we spend a day in the company of the mammoth Moreno Glacier, watching it slowly calve into Lago Argentino. The next day, onward by boat across Lago Argentino to Estancia Cristina, a famous old wilderness ranch found for us long ago by Patagonian sage Yvon Chouinard. Set against the lushly glaciated mountains of remotest Patagonia, isolated, unreachable by road, a wilderness within a wilderness, the Estancia is a remarkable destination, a glorious place to wander, fish, ride horses, and revel in views of the massive peaks guarding the Patagonian Ice Cap and the glaciers that rumble from them into the lake (tinting it a beautiful turquoise, a color usually found in small glacial lakes). These are the lands that took "?rm possession" of Darwin's mind, ?lling him with "deep, but ill-de?ned sensations."

Then we're off for a grand finale among some of the choicest parcels of those many billions of acres: stunning Fitz Roy and its spiky neighbors. (If these mountains weren't so unimpeachably dignified, you'd suspect they were showboating.) Based from Chalten, a charmingly scruffy little town graced with fine small hotels and great restaurants, we spend a couple of days hiking in these stupendous, almost unearthly mountains, returning in the evening for showers and festive dinners.

Into Patagonia is led by a couple of quintessential Patagonians: the affable and encyclopedically erudite Janko Gorse, who chucked a successful accounting career in Buenos Aires to follow his bliss south to the mountains and plains of Patagonia; and Merlin Lipshitz, a world-class climber, a charming travel mate, and one of Janko's few rivals when it comes to passion for Patagonia.
Locations visited/nearby
Argentina, South America, Patagonia
Comments from Facebook
Itinerary
Day 1: arrive in Buenos Aires, tour city •
Day 2: fly south to Calafate and drive across Chilean border to Torres del Paine •
Days 3 & 4: hiking in Torres del Paine •
Day 5: drive to Calafate •
Day 6: rambling on Moreno Glacier •
Day 7: boat to Estancia Cristina •
Days 8 & 9: hiking around Estancia Cristina •
Day 10: drive to Chalten and the Fitz Roys •
Days 11 & 12: hiking in the Fitz Roys •
Day 13: return to Calafate, fly to Buenos Aires •
Day 14: Buenos Aires and late flights for home.
More information from Geographic Expeditions: