Geographic Expeditions - vacations and travel
Best of Brazil: From Salvador to Rio and the Costa Verde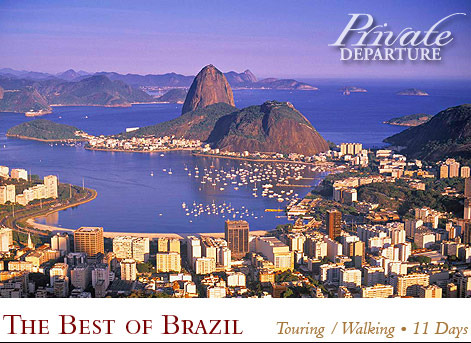 from $7,995* per person
9 Days
Year-round
Boutique accommodations

Exertion level: 4

Operator:

Geographic Expeditions

18 people max
Rio airport, rio de janeiro, brazil
Active & Adventure trips
The best of Brazil is the best of a beautiful, bounteous, buxom country, about as best as best can be. Which we immediately sense as we alight in the Atlantic coast city of Salvador de Bahia, a natural and human sensation. Often called the most African city in the Western Hemisphere, Salvador is a vibrant mélange of cultures, endlessly waft¬ing street music, wildly toothsome Bahian cuisine (which we'll sample at funky little cafés), and dance performances, both scheduled and impromptu. And of the Bahia's natu¬ral splendors, which we'll definitely not overlook, Charles Darwin wrote, "The land is one great, wild, untidy, luxuri¬ant hothouse. . . . How great would be the desire in every admirer of nature to behold the scenery of another planet! Yet [here] the glories of another world are opened to him." Now south to Rio de Janeiro, surely the planet's most mellifluously situated city (William Wordsworth—of all people—quite accurately thought it "the best place in the world for a great capital city, even though it isn't. But then again, not a lot of people get terribly jazzed up about Brasília, with all due respect). But there's more to Rio than eye-grabbing scenery; it's one of the planet's most energized cities, sexy beyond measure—" a place," Jan Morris has written, "of deep and humane variety . . . a shot in the arm, a haunting tune in the head . . . a lovely greatheart." We give Rio a good sightsee, heading up Corcovado Mountain for its fantastic vistas, wandering the cafés, bistros, and gal¬leries of the bohemian neighborhood of Santa Teresa, bik¬ing and strolling along Rio's iconic and stimulating beaches, cruising the city's offshore islands, and much, exhilarat¬ingly, more.

We end a little ways south of Rio in the far-less-visited Costa Verde, a scenic won¬derland that slows us down, gently, benefi¬cently. We dive into the Costa Verde in the pic¬turesque fishing village of Picinguaba with its magnificent turquoise bay, which, our reigning Brazil enthusiast Jennine Cohen tells us, "absolutely begs to be explored by charter boat day trips, with beach combing on its more than 400 islands, snorkeling, and creative beach-lolling." We'll venture inland to the nearby Sierra de Bocaina National Park, a gentle riot of greenery, wildlife, and fluttering waterfalls near the motor¬carless, cobblestone-streeted, colonial architecture–graced city of Paraty ("straight out of a movie set," Jennine says), before, appropriately jazzed up, we make our way homeward.
Locations visited/nearby
Brazil, South America
Comments from Facebook
Special information
This is a custom departure, meaning this trip is offered on dates that you arrange privately with the provider. Additionally, you need to form your own private group for this trip. The itinerary and price here is just a sample. Contact the provider for detailed pricing, minimum group size, and scheduling information. For most providers, the larger the group you are traveling with, the lower the per-person cost will be.
Itinerary
Days 1 & 2: arrive in Salvador, city tour and exploration of Bahia's markets and regional cuisine •
Day 3: fly to Rio, urban hike in Santa Teresa neighborhood •
Day 4: bike along Rio's beaches, visit botanical gardens, sunset at Sugarloaf •
Day 5: tour Rio's historic downtown, breathtaking views atop Corcovado •
Day 6: drive to Paraty, explore historic city center, check into traditional seaside pousada •
Day 7: explore islands and beaches on a snorkel schooner •
Day 8: guided jungle walk or relaxing beach day in Paraty •
Day 9: departing flights homeward.
Extension to Iguassu Falls and Buenos Aires
Day 9: fly to Iguassu Falls •
Dat 10: Iguassu Falls •
Day 11: fly to Buenos Aires •
Day 12: Buenos Aires •
Day 13: depart Buenos Aires.
More information from Geographic Expeditions: