Geographic Expeditions - vacations and travel
Trans Siberia Winter Wonderland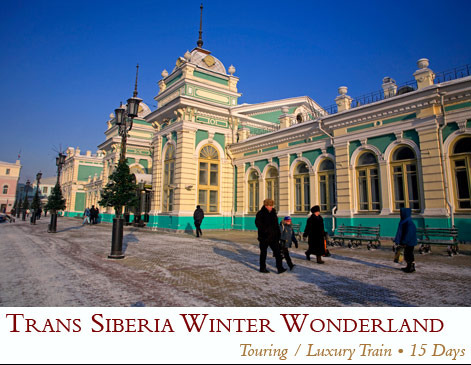 from $13,795* per person
15 Days
February, March
Luxury accommodations

Exertion level: 4

Operator:

Geographic Expeditions

18 people max
Airport near russian federation, moscow
Active & Adventure trips
This is the same rolling epic aboard the Golden Eagle Express as the Trans-Siberian. It too crosses eight time zones and traverses 6,600 miles as it traverses Russia from Moscow to Vladivostok. However, on this very special trip, you will travel (in luxurious comfort of course), through the magical wonderland that is Russia in winter. Also, instead of visiting Kazan, the Golden Eagle calls on Vladimir and Suzdal. The ancient town of Vladimir boasts several of the most beautiful buildings in all of Russia and the picturesque little town of Suzdal is a virtual garden of onion domed churches.
Locations visited/nearby
Russian Federation, Europe
Comments from Facebook
Itinerary
Day 1: arrive in Moscow, meet local guide and transfer to five-star hotel •
Day 2: morning Moscow tour, board Golden Eagle in afternoon, head eastward to the Pacific •
Day 3: city tour of Vladimir and Suzdal •
Day 4: cross into Asia, tour Yekaterinburg •
Day 5: Novosibirsk •
Day 6: onward to Vladivostok •
Day 7: arrive in Irkutsk •
Day 8: by rail to Lake Baikal, with a visit to the charming village of Listvyanka •
Day 9: south around the lake to Ulan Ude and visit to Old Believers village •
Day 10: further south into Mongolia, visit to city of Sukhbaatar, lunch in traditional ger (yurt). •
Day 11: into the Russian Far East, attend onboard lectures, relax, socialize in bar, etc. •
Day 12: along the Amur and Shilka Rivers, close to Chinese border •
Day 13: attain furthest east at Khabarovsk •
Day 14: reach Vladivostok, city tour and farewell dinner and overnight at four-star Hyundai Hotel •
Day 15: flights homeward.
More information from Geographic Expeditions: