Geographic Expeditions - vacations and travel
Costa Rica: River and Rainforest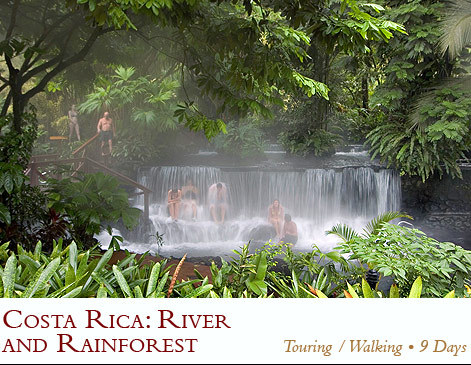 from $1,638* per person
9 Days
Year-round
Boutique accommodations

Exertion level: 4

Operator:

Geographic Expeditions

18 people max
San jose airport, san jose, costa rica
Active & Adventure trips
A land bursting with biology and hospitality, Costa Rica is a treasure-house of flora, fauna, and geologic wonders happily shoehorned into a refreshingly pacific and prosperous little country. Few places enjoy such a good reputation, challenging us to come up with trips that not only do Costa Rica justice but do it in fresh and uncrowded ways.

We're happy to have top-notch Costa Rican partners (they've been awarded the Travel & Leisure Critic's Choice Eco Travel Award for pioneering successful and responsible ecotourism in the country) and an active itinerary that features hikes, river-rafting trips, and birding excursions that weave us among Costa Rica's rain forest. We're able to see an almost extraplanetary habitat when we wend inland from the Corcovado Lodge Tent Camp—a superb beachside retreat on the southern border of Corcovado National Park—and ascend the Camp's unique Tree Canopy. The trip features frequent, year-round, guaranteed departures with the finest award-winning natural history virtuosos in the country, owners and operators of the Tortuga and Monteverde Lodges and the Corcovado Lodge Tent Camp. These are passionate naturalists, who also see "style and flair" as part of their calling.
Locations visited/nearby
Costa Rica, Central America
Comments from Facebook
Special information
This is a custom departure, meaning this trip is offered on dates that you arrange privately with the provider. Additionally, you need to form your own private group for this trip. The itinerary and price here is just a sample. Contact the provider for detailed pricing, minimum group size, and scheduling information. For most providers, the larger the group you are traveling with, the lower the per-person cost will be.
Itinerary
Day 1
ARRIVE SAN JOSÉ When you arrive in Santamaria International Airport, our representatives will
meet you at the ramp. We will help you clear Immigration and Customs and then transfer to the hotel.
Day 2
SAN JOSÉ / CORCOVADO After an early morning welcome and orientation breakfast with your
guide, we transfer to the Pavas Airport for a 1 hour charter flight (single engine Cessna 206) to Carate, 1
mile southeast of Corcovado Lodge. At Carate, we embark on a 30-45 minute walk to the Lodge with our
Corcovado guide. Our luggage will follow on horse-cart.
Corcovado National Park covers 136,347 acres and is considered to be the most biologically diverse
rainforest in Central America. The Corcovado Lodge Tent Camp is located right on the beach on the
Park's southern border. A truly unique place, it is the only facility providing comfortable accommodation
at such close proximity to the famous southern end of the National Park.
After lunch at the Tent Camp, we walk with our guide on the Lodge's Loop Trail which offers an enticing
sampler of the lowland tropical rainforest. The trail winds through Corcovado Lodge property into
regions of abandoned overgrown pasture, second growth forest, and lowland primary rainforest and offers
wonderful views to the Pacific. Vegetation here has never felt a frost. While it may take some luck,
Corcovado provides the best chance to encounter the Costa Rican coatimundi (raccoon relative), tayra
(bushy-tailed weasel), Amazon parrot, parrotlet, poison dart frog, scarlet-rumped tanager, agouti (looks
like a large, long-legged guinea pig), and hermit hummingbird. Because the land adjoins the larger
protected Corcovado National Park, we may see signs of larger mammals - jaguar, tapir, ocelot, and
peccary. We may also see the monkeys common to the Osa Peninsula - spider, white-face, and howler –
and view the habitat of these almost mythical creatures. Our guides love Corcovado and most guests
consider it the highlight of their trip.
Day 3
CORCOVADO In groups of 6 at a time, we will visit the Tree Canopy Platform. After a Platform safety
talk at the lodge, we start the 1-hour guided hike through the Corcovado Lodge Private Nature Reserve to
the Canopy Platform sitting in an emergent tree 115 feet above the forest floor. The Platform gives us the
opportunity to experience the rainforest from a seldom-seen perspective. We may sight white hawks,
howler monkeys, anole lizards, pygmy squirrels, and some of more than 400 species of birds.
Day 4
CORCOVADO After breakfast, we start off on a 6-hour round trip hike to Salsipuedes Bay.
Salsipuedes means "leave if you can." Walking northwest, we cross primary and secondary forest, a
small stretch of mangrove, and beach. The walk is
renowned for its sightings of large flocks of scarlet macaws
feeding on almond trees. We may also see tapir at
Salsipuedes.
Day 5
CORCOVADO / SAN JOSÉ / SAVEGRE A 30-45
minute walk takes us to the Carate airstrip for the 1-hour
flight to San José. We will have lunch in San Jose before
departing on a 3-hour drive to Savegre Mountain Lodge
(7,200 ft.). Once we reach the Lodge, the rest of the
afternoon is free. You may choose to join a horseback
riding trip, go trout
st)
Day 6
CERRO DE LA MUERTE After an early breakfast, we
depart by bus for the Cerro de la Muerte Hike. Beginning at
11,000 feet, we and our local guide walk down the
mountain, through sub-alpine paramo and then the famous
oak forests of the Savegre Valley. Our guide points out
birds like the resplendent quetzal, acorn woodpecker, collared trogon, and flame-colored tanager. The 5-
6-hour hike (likely to be the most strenuous
Day 7
SAVEGRE / PACUARE We depart early for the San Chirí Restaurant located in the town of Paraíso in
Cartago Province. Our whitewater rafting guides will be waiting to take us on the next leg of our
adventure. After a quick change of luggage and breakfast, we head east to the entrance to Hacienda Tres
Equis then switching to a 4x4 shuttle to the put-in location on Pacuare River. Cutting through a rare
pocket of wilderness, the Pacuare River ends in one of the most beautiful river canyon in the tropics.
Depending on road conditions we may walk for under a mile. After orientation and a safety talk, we proceed on a 1-2-hour trip down the river.
Day 8
PACUARE We wake to the sound of the Pacuare River canyon and the smell of the river guide's
cooking. After an early breakfast we embark on a 2-hour guided hike. When we return to camp, rafts are
rigged and we continue our adventure down the river. After 4 hours of rafting, we finish around
mid-afternoon. Tonight we enjoy a farewell dinner gathering.
Day 9
SAN JOSÉ Transfer to Santamaria International Airport 2-3 hours before departure.
More information from Geographic Expeditions: