Geographic Expeditions - vacations and travel
Private Charters to the Galápagos Islands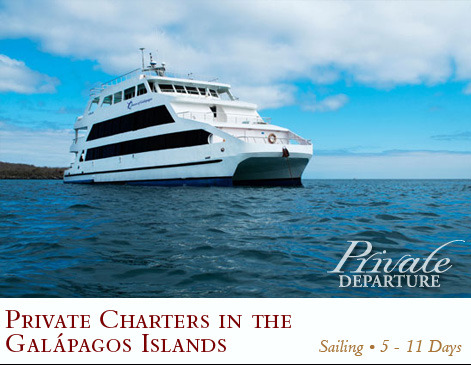 Contact provider for price
11 Days
Year-round
Boutique accommodations

Exertion level: 4

Operator:

Geographic Expeditions

18 people max
Airport, ecuador near quito, ecuador
Boats, Barges & Small Ship Cruises trips
The Galápagos need little fanfare. Darwin started the chorus of praise, amazement, and enchantment more than 170 years ago, and the music hasn't slowed. Here's a unique opportunity to discover the wonders of the magnificently remote archipelago in the company of your closest friends and family: a private charter aboard the luxury sailing vessel, the Queen of the Galapagos.

A stylish, 16-passenger, state-of-the-art yacht, Queen of the Galapagos features a salon and entertainment area, dining room airy sun deck, full bar, and exceptionally spacious en suite cabins with floor to ceiling picture windows. The Queen of the Galapagos is equipped with efficient stabilizers and its ability to cruise at speed allows more time for island excursions and exploration.

What makes the Queen of the Galapagos a supremely memorable experience is our expert crew and senior naturalists (some of the best in the Galapagos) with whom we've had a relationship with for years. On this private voyage you'll thoroughly explore--under the guidance of your on-board naturalist guide--one of the world's geologic and wildlife wonders, encountering amazing marine iguanas (found only on the Galapagos), giant bicentenarian tortoises, equatorial penguins, flightless cormorants, blue-footed boobies, bottle-nosed dolphins, sea lions, lava lizards, more than 600 species of birds, and an endless variety of tropical ?sh, among whom you'll snorkel from the yacht. The Islands are starkly and thought-provokingly beautiful. By cruising gently to and between them on a private charter, you'll have a chance to savor them in solitude and serenity.
Locations visited/nearby
Ecuador, South America, Galapagos
Comments from Facebook
Itinerary
Day 1: Arrive in Quito •
Day 2: Private city tour of Quito •
Day 3: Fly to the Galápagos and board boat •
Days 4–10: Tour the Islands •
Day 11: Depart Quito.
More information from Geographic Expeditions: