Geographic Expeditions - vacations and travel
Machu Picchu and the Urubamba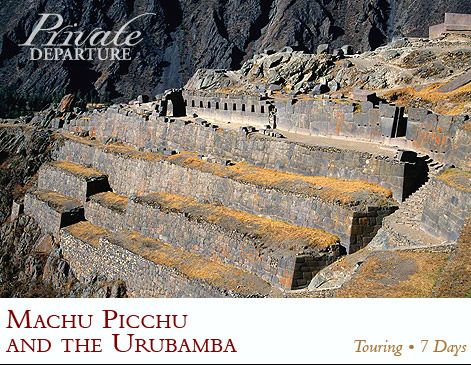 from $3,485* per person
7 Days
Year-round
Boutique accommodations

Exertion level: 4

Operator:

Geographic Expeditions

18 people max
Lima airport, lima, peru
Active & Adventure trips
For some of us, the Incas are rather hazily lumped in there with, let's see, the Aztecs —no, they were up north—the Incas, yes . . . Conquistadors. Pizarro, wasn't it? (Or was it Cortés?) Turns out we should have been more alert; these were absolutely fascinating folks, world-class builders and thinkers. And the story of their downfall is heartrending.

After flying to Lima and on to the old Incan capital of Cusco, we explore the fabled Urubamba Valley ruins of Pisac, Moray, and Ollantaytambo, gazing up at the Andean snow giants that rise above the sacred valley. Now by train up to Machu Picchu, the crown jewel of Incan civilization. "This is the most stupendous approach there has ever been," Sacheverell Sitwell wrote, "to something which in its own right is perhaps the most startlingly dramatic archaeological site in either the New or Old World." And after our dalliance with Machu Picchu we're off to Cusco, "a little city of such supreme interest and historical symbolism, of such variety and punch," Jan Morris has written, "that it combines the compulsions of Stonehenge, a small Barcelona, and a Kathmandu." We'll tour its ruins and wander its charmingly narrow streets, many of which are walled with the Incas' exquisite, inexplicably exact rock-work (this is a good place to send you on a rewarding book search for Charles C. Mann's 1491: New Revelations of the Americas Before Columbus, a masterpiece of good reporting and mind expansion). We return to Lima for an afternoon of sightseeing, taking in the capital's outstanding archaeological museum, which tells the stories of the many civilizations that preceded the Incas and the story of their sudden, grotesque demise.
Locations visited/nearby
Peru, South America, Galapagos
Comments from Facebook
Special information
This is a custom departure, meaning this trip is offered on dates that you arrange privately with the provider. Additionally, you need to form your own private group for this trip. The itinerary and price here is just a sample. Contact the provider for detailed pricing, minimum group size, and scheduling information. For most providers, the larger the group you are traveling with, the lower the per-person cost will be.
Itinerary
Day 1: arrive in Lima, Peru •
Days 2 & 3: fly to Cusco and on to the Urubamba Valley; visit Pisac, Maras, Moray, and Ollantaytambo •
Day 4: train to Machu Picchu, optional day hike on the Inca Trail •
Day 5: Machu Picchu, afternoon return to Cusco •
Day 6: explore Cusco and nearby ruins •
Day 7: fly to Lima, sightseeing, depart Lima.
More information from Geographic Expeditions: