Geographic Expeditions - vacations and travel
Peru Complete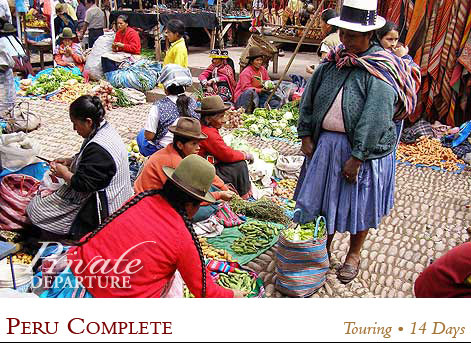 from $6,830* per person
14 Days
Year-round
Boutique accommodations

Exertion level: 4

Operator:

Geographic Expeditions

18 people max
Lima airport, lima, peru
Active & Adventure trips
Our Peru expert Clark Kotula, who lived and worked in Peru for nearly a decade, and knows and admires it like few others, has crafted this look at the country's varietal charms with an eye toward contrasts, from the 11,000-foot depths of Colca Canyon to the manmade wonder of Machu Picchu.

We begin by flying south from Lima to Peru's second-largest city, Arequipa, presided over by the snowy cone of 19,000-foot El Misti. We'll visit Arequipa's historic district, the Santa Catalina Monastery, and the Museum Santuario Andino, where the mummified remains of Juanita, the Ice Princess, now rest. (Juanita was discovered in 1995 near the 20,000-foot summit of Ampato, near Arequipa, by our old friend Johan Reinhard.) We cross a high pass rich in mountain views to our comfortable lodge at Colca Canyon and enjoy a short afternoon hike or a soak in natural hot springs. We'll amble in and around the massive canyon (often billed as the world's deepest), with an uplifting visit to the Cruz del Cóndor viewpoint, where we'll contemplate the Pleistocene soaring of Andean condors, and we'll inspect the ancient canyon aqueducts, and colonial outposts along the rim.

Now a comfortingly Cenozoic flight takes us south to the Peruvian altiplano and Juliaca, on the shores of Lake Titicaca, at 12,500 feet the world's highest steam-navigable lake. We have a couple of eventful days at Titicaca before taking a luxurious train journey to our much-loved Cusco (where, on our June departure, we'll witness the madly festive Inti Raymi festival). And from Cusco we'll branch out to the great Incan sites of Ollantaytambo and Machu Picchu, extolled all too briefly and inadequately in the surrounding pages.

Clark recommends a couple of fine extensions that he thinks add heft to an appreciation of Peru: a trip down to the Amazon to a superb and isolated lodge for a couple of days of naturalistled jungle exploration and a multi-faceted look at Peru's southern coast and the famed Nazca Lines (drawn, some enjoy thinking, by extraterrestrials).
Locations visited/nearby
Peru, South America
Comments from Facebook
Special information
This is a custom departure, meaning this trip is offered on dates that you arrange privately with the provider. Additionally, you need to form your own private group for this trip. The itinerary and price here is just a sample. Contact the provider for detailed pricing, minimum group size, and scheduling information. For most providers, the larger the group you are traveling with, the lower the per-person cost will be.
Itinerary
Day 1: arrive in Lima •
Day 2: morning flight to Arequipa •
Day 3: drive to Colca Canyon •
Day 4: down the canyon for condor viewing •
Day 5: short hike to the catacombs or Uyo-Uyo pre-Incan ruins, afternoon flight to Lake Titicaca •
Day 6: boat trip on Lake Titicaca, visiting floating islands •
Day 7: full day on Isla Suasi, private island reserve •
Day 8: morning on Isla Suasi, drive to pre-Incan ruins of Sillustani en route to Puno •
Day 9: train to Cusco, sightseeing •
Day 10: full-day exploration of Cusco and surrounding ruins •
Day 11: day hike near Ollantaytambo (or touring for nonhikers to Moray/Maras and salt mines), overnight in Sacred Valley •
Day 12: train to Machu Picchu (or one-day Inca Trail hike to Machu Picchu for interested hikers), afternoon in Machu Picchu •
Day 13: sunrise tour of Machu Picchu, return to Cusco in the evening •
Day 14: fly to Lima, day tour, and depart.
More information from Geographic Expeditions: