Geographic Expeditions - vacations and travel
Bhutan: A Hiker's Paradise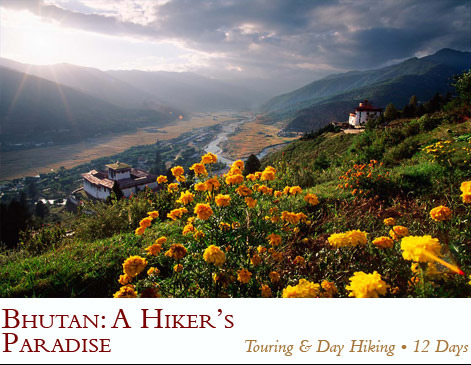 from $6,050* per person
12 Days
February, April, October, November
Boutique accommodations

Exertion level: 4

Operator:

Geographic Expeditions

18 people max
Paro airport, paro, bhutan
Active & Adventure trips
Paradise, Eden. We use these words (and, every once in a while, the dreadfully shopworn Shangri-La) to describe Bhutan. We try to avoid gilding already resplendent lilies, but we're committed to accuracy; as far as we and our many Bhutan travelers are concerned, a trip to the kingdom is a little like going to heaven without all the bother and expense of dying. (Thanks to the master, P. G. Wodehouse, for that line.)

On this particularly paradisiacal trip we take advantage of the kingdom's eyecaressing landscapes with a series of day hikes in some of its loveliest valleys: Paro, Thimphu, Punakha, and Phobjikha. And each night we'll stay in a delightful hotel, guesthouse, or local lodge, forgoing the pleasures of camping for the equal pleasures of Bhutanese hospitality and comfort. The only country in South Asia without a population problem, Bhutan offers the rare chance for escapading in intact landscapes with surprisingly up-to-date amenities close at hand. And the wandering is glorious: wildflowers bursting with life, snow peaks in the distance, idyllic farmhouses, cheery folks waving, and, in the spring, swirling fields of rhododendrons and, in the fall, visits from rare black-necked cranes, among much Edenic else.
Locations visited/nearby
Bhutan, Asia
Comments from Facebook
Itinerary
Day 1: arrive in Paro •
Day 2: hiking in Paro •
Day 3: drive to Punakha •
Day 4: hiking in Punakha •
Days 5: drive to the Phobjikha Valley •
Days 6: hiking in Phobjikha •
Day 7: drive to Wangdiphodrang •
Day 8: drive to Thimphu •
Day 9: hiking in Thimphu •
Day 10: return to Paro •
Day 11: explore Paro, hike to Taktsang •
Day 12: depart Paro.
More information from Geographic Expeditions: