Geographic Expeditions - vacations and travel
Hidden Treasures of Bhutan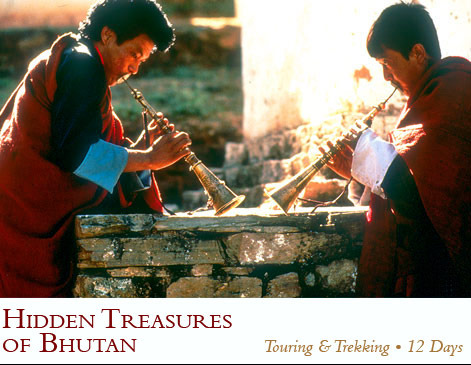 from $4,350* per person
12 Days
February, November, December
Boutique accommodations

Exertion level: 4

Operator:

Geographic Expeditions

18 people max
Paro airport, paro, bhutan
Active & Adventure trips
The kingdom's old capital of Punakha is the heart and soul of Bhutanese culture. It's a marvelous area to explore during the winter months, due to its subtropical climate and low elevations (in the four- to ?ve-thousand-foot range). Mountain views are generally crystal clear, and the landscape is bursting with color: bright yellow mustard alternates with winter wheat and rice on the steeply terraced ?elds, the ubiquitous red chilies (a staple of Bhutanese cuisine) dry on rooftops, and a glorious array of wild?owers carpets the forest-covered ridges.

We commence with a visit to Paro, then head east to Punakha for a beautiful three-day village-to-village trek. We'll be hiking through country that, nearly 500 years ago, was the stomping ground of the famous "Divine Madman" Drukpa Kinley, a giant figure in Bhutanese folklore. We end with a visit to the remote alpine valley of Phobjikha for a glimpse of the rare black-necked cranes who swoop down from Tibet for the winter. One of our early spring departures will incorporate the madly colorful Punakha festival.
Locations visited/nearby
Bhutan, Asia
Comments from Facebook
Itinerary
Day 1: arrive in Paro •
Day 2: explore Paro •
Day 3: drive to Punakha •
Days 4 - 6: on trek •
Day 7: drive to Chuzomsa •
Day 8: drive to the Phobjikha Valley •
Day 9: hiking in Phobjikha •
Day 10: drive to Thimphu •
Day 11: morning in Thimphu, return to Paro •
Day 12: depart Paro.
More information from Geographic Expeditions: