Geographic Expeditions - vacations and travel
The Essence of Bhutan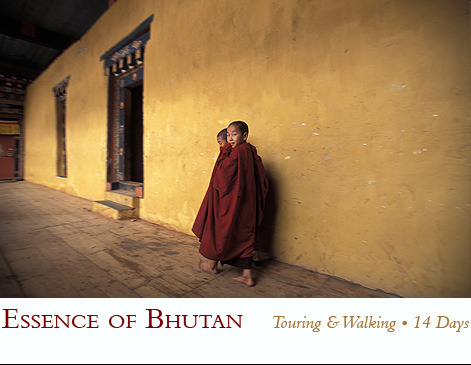 from $6,550* per person
14 Days
March, April, September, October
Boutique accommodations

Exertion level: 4

Operator:

Geographic Expeditions

18 people max
Paro airport, paro, bhutan
Active & Adventure trips
Getting to know Bhutan has been a balm and a revelation to our many GeoEx travelers through the years. Brent Olson, a veteran of three score and more trips to the Dragon Kingdom since we started our program there more than 20 years ago, created The Essence of Bhutan as "a summary of all that draws us to Bhutan: its outstanding people, its sweet scenery, and its vibrant, proud culture." (Vibrancy: Bhutan recently became a parliamentary democracy, with a constitutional monarch, 28-year-old King Jigme Khesar Wangchuck.) Not to be immodest, but we're confident that because of our long experience in the country, our deep affection for it, and the matchless know-how we bring to it, no company can showcase Bhutan like GeoEx.

Ranging through exquisite countrysides, staying in local guesthouses, making day hikes to remote villages and hidden valleys, we immerse ourselves in this unique island of sanity and peace. We'll take close looks at the creation of Bhutanese art forms: thangka painting, textile weaving, and wood carving, art forms that are cherished and used by the Bhutanese. On some of our departures we'll attend one or two of the country's festivals, where the kingdom's vibrant culture kicks up its heels (see Sacred Festivals of Bhutan). And throughout we'll rejoice in the essence of a country that seems to have gotten it right, and is determined to keep it that way.
Locations visited/nearby
Bhutan, Asia
Comments from Facebook
Itinerary
Day 1: arrive in Paro •
Day 2: explore Paro •
Day 3: drive to Punakha •
Day 4: drive to Trongsa •
Day 5: drive to Bumthang •
Days 6 & 7: walks in the sacred valleys •
Day 8: drive to Phobjikha Valley•
Day 9: explore Phobjikha •
Day 10: drive to Wangdiphodrang •
Day 11: drive to Thimphu •
Day 12: return to Paro •
Day 13: explore Paro, hike to Taktsang •
Day 14: depart Paro.
More information from Geographic Expeditions: