Geographic Expeditions - vacations and travel
A Sacred Buddhist Land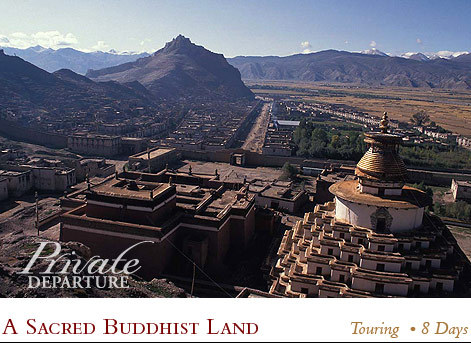 from $3,590* per person
8 Days
Year-round
Boutique accommodations

Exertion level: 4

Operator:

Geographic Expeditions

18 people max
Xining airport, china
Active & Adventure trips
Very much part of Tibet—though split off into a separate province by the Chinese— Qinghai is, of all the places in the world that make the claim, worthy of the title "Roof of the World." Its landscapes are breathtakingly high, barren, and infinite, and its resilient Tibetan culture is inspiring. Our eight-day exploration of this unordinary place begins in Xining (easily accessible from any number of Chinese cities, making it a fine add-on to a trip to Tibet proper). Then we head south, altitudinously, to the "national-level" historical and cultural city of Tongren and its nicely preserved Longwu Temple, a showcase of traditional Tibetan religious art.

Then to the Kumbum, a storied monastery hallowed by the nearby birthplaces of the founder of the Gelug school of Tibetan Buddhism, Tsongkapa, and the 14th Dalai Lama, head of that school and the whole of Vajrayana, or Tibetan, Buddhism. We return to Xining via the vast, bird-thronged Qinghai Lake, set in a depression at a mere 10,712 feet above the distant sea.
Locations visited/nearby
Tibet, Asia
Comments from Facebook
Itinerary
Day 1
ARRIVE XINING (7530 feet) You will be met at the Xining airport by our local representative and
taken to your hotel. Depending on your time of arrival, you may have time to tour the Qinghai Provincial
Museum. Among its collection are stone age artifacts, costumes, works in jade, and exhibits dedicated to
the Silk Road; all of which will provide a solid introduction to the history and culture of this fascinating
region.
Xining, the capital of Qinghai province, is situated on the eastern edge of the Tibetan plateau. Over 35
nationalities reside in Xining, they include Tibetan, Han Chinese, Mongolian, Hui, Tu and Sala; the
traditions of all are quite evident in this growing city. Dine this evening at a local restaurant, and then
stroll through a nearby night market.
Day 2
XINING TO TONGREN (8173 feet) Depart early and drive to
Tongren, the hub of this region's thriving Repkong art culture. The
four hour drive is dotted with interesting stops along the way
beginning with Dangcai Village. This village was home to a great
number of high lamas and living buddhas. Most notably it was the
former home of the 14th Dalai Lama who is currently exiled in India.
You have the opportunity to visit the well-preserved sutra hall where
he practiced Buddhism.
Continue driving to Xuanhuan, a world far removed from its
neighboring Tibetan towns. Xuanhuan is inhabited by the Sala ethnic
group who migrated from Central Asia approximately 800 years
ago. The Sala are strict Muslims and your stop here will include
lunch at a delightful garden-style Muslim restaurant where
traditional fare can be sampled. Afterwards enjoy a leisurely walk
around town to view the main mosque and visit with local families.
Further along you arrive at the old residence of late 10th Panchen
Lama, considered the 2nd most powerful figure in the Tibetan
hierarchy. Complete the drive to Tongren, a town beautifully situated
in a valley with mountain peaks looming above. Upon arrival in the late afternoon, you have time to freshen
up before dinner.
Day 3
TONGREN Buddhism lies at the heart of this town of monasteries and Tibetan monks. Your day starts
fittingly with a pilgrimage walk around Longwu Temple where you witness the daily rituals carried out
by its resident monks. Founded in the 12th century, Longwu is considered one of the most important
monasteries in the Amdo-Tibetan area.
This afternoon is spent at Nianduhu monastery best known for embroidery. Visit some of the art shops
here and watch the masters as they create works of art. The monastery also features a large scale barbola
mural, considered the best in the area. Continue to Guomari Monastery, where the specialty is carving and
sculpture. The focal point here is the Kalachakra Stupa, recognized as the first stupa in Amdo. It was
carved out of sandalwood, the scent of which permeates the hall.
A short walk from the Guomari Monastery takes us to a fort where local families have lived for hundreds
of years. Its maze-like design invites wandering and you do just that under early evening light.
Day 4
TONGREN After breakfast you drive a short distance out of town (approximately 4 miles) to
Sengeshong village, home to the Upper and Lower Wudun monasteries. The original structures date back
over a thousand years, with new chapels having been erected since. The monks here are highly
accomplished in painting Buddhist thangkas
(painted or embroidered banners) and murals.
Your visit here will involve an in-depth
review of these Tibetan arts.
Each monastery houses an art school where,
today, over 90 monks apprentice. You will
visit the school to observe their training
practices and meet with the master artists. The
interior of Upper Wudun is intricately and
elaborately decorated in carvings and
paintings of traditional Repkong motifs.
Lower Wudun is used to host ceremonies and
is also beautifully decorated in carvings and
frescoes.
The afternoon touring is for you to determine. You may wish to visit the Tibetan art galleries or, for a
different perspective on life in this region, you may visit a Tibetan hospital where you will learn about the
traditional methods of healing that are practiced here.
Day 5
TONGREN TO NANZHONG VALLEY (8858 feet) Today you retreat into the Kanubla National
Forest and Geological Park, a landscape punctuated by red sandstone peaks and the meandering Yellow
River. You pass through picturesque Tibetan villages en route to the starting point of your hike in
Nanzhong Valley. For approximately two hours you will hike amidst danxia peaks and dense forest.
On the east side of the valley lays three significant religious sites: Nanzhong Nunnery, Aqing Nanzhou
Monatery and Sang'adeji Monastery. To the west stands Nanzhong peak, considered the sacred place of
the "second dissemination" of Tibetan Buddhism. Tibetan Buddhism was practiced here when the
Chinese kings wanted to abolish it and thus became the source of its revitalization.
Tonight's accommodation is the Nanzhong Nunnery, the largest nunnery in Northwest China. Living
conditions are rustic at best though clean. Enjoy the evening in the company of the resident nuns to learn
about their unique and dedicated lives.
Day 6
NANZHONG VALLEY TO KUMBUN MONASTERY After a
home-made breakfast, you take a short hike to a nearby dam. The return
trip will be made via boat ride.
Lunch will be at a picturesque village overlooking the Yellow River.
From here you drive towards Xining to Kumbun monastery, one of the
six most important monasteries of the Gelukpa (Yellow Hat) school of
Tibetan Buddhism. Built in 1577 in honor of Tsongkapa, the founder
of the Gelukpa School, this remarkable monastery is known for its
numerous figurines carved out of yak butter as well as its frescoes and
thangkas. The compound consists of several temples built on a hillside.
The Da Xingtang (meditation hall) is known for the long thangkas that
adorn the prayer hall. Spend the night at a Tibetan style boutique hotel
in the compound.
Day 7
KUMBUN TO XINING VIA QINGHAI LAKE This morning you drive roughly 3.5 hours to Qinghai
Lake, which sits at 10,500 feet. As its Chinese name indicates, Blue Sea Lake is the country's largest
saline lake into which over twenty rivers and streams empty. Its waters are home to various bird species;
during breeding season (March through early June), the migration of Himalayan-bound birds can be
witnessed.
Enjoy a hike around the lake followed by a picnic lunch on its sand dunes. You then head into the
grasslands where you will join a nomadic family for afternoon tea. We return to Xining this evening,
stopping for dinner en route.
Day 8
DEPART XINING After breakfast, you are driven to the airport in Xining in time for your onward
flight. Geographic Expeditions' arrangements end here.
More information from Geographic Expeditions: