Geographic Expeditions - vacations and travel
Hidden Tribes: Festivals of Guizhou Province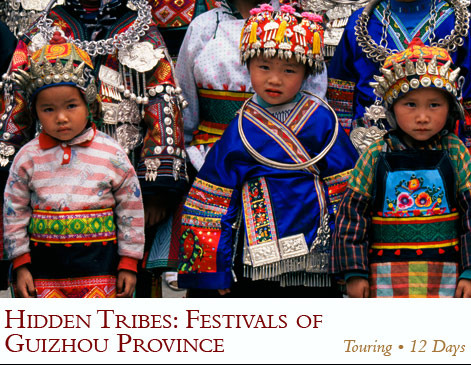 from $6,995* per person
12 Days
March, November
Boutique accommodations

Exertion level: 4

Operator:

Geographic Expeditions

18 people max
Beijing airport, china
Active & Adventure trips
A rare chance to experience rural life in China, Hidden Tribes spins us well beyond the tourist-trod paths for a close and extraordinarily colorful look at the ethnically diverse villages of Guizhou Province, a festival of limestone karsts, spiky hills, and terraced rice ?elds located east of Yunnan, west of Hunan, south of Sichuan, north of Guangxi, and far, far from home.

We meet in Beijing, then ?y south to Guizhou's capital, Guiyang, for 10 days of drives, hikes, and creative wanders in a series of villages set in bamboo groves by clear streams, atop misty hills, inhabited by Miaos, Gejias, and other minorities whose traditions, dances, costumes, and festivals (they hold more than a thousand a year!) are still rather mysterious to anthropologists (and probably the better for it). In the spring, at the sweet Sisters' Meal Courtship Festival, girls in intricate silver headdresses and beautiful embroidered costumes seek out their future husbands. In the fall, we'll be treated to the Lusheng Festival, where young men dance and play wooden reed instruments while costume-clad women sing and dance. Hidden Tribes is a case study in the soul-enriching possibilities of adventure travel.
Locations visited/nearby
China, Asia
Comments from Facebook
Itinerary
Day 1: arrive in Beijing •
Day 2: Beijing to Guiyang •
Day 3: old Han villages •
Day 4: Guiyang to Dazhai via Xiaba •
Day 5: Dazhai to Guiyang via Yandi Miao village •
Day 6: Guiyang to Kaili •
Day 7: Kaili to Zhenyuan via Taijiang (spring); Chonganjiang excursion (autumn) •
Day 8: Zhenyuan to Kaili via Shidong village (spring); Huangping (autumn) •
Day 9: Kaili to Leishan via Jiaogao, Shuidian and Datang villages •
Day 10: Leishan to Kaili via Wuliu and Yangduo villages •
Day 11: Kaili to Beijing via Guiyang •
Day 12: depart from Beijing.
More information from Geographic Expeditions: