Geographic Expeditions - vacations and travel
Highlands of Ladakh: The Hemis Festival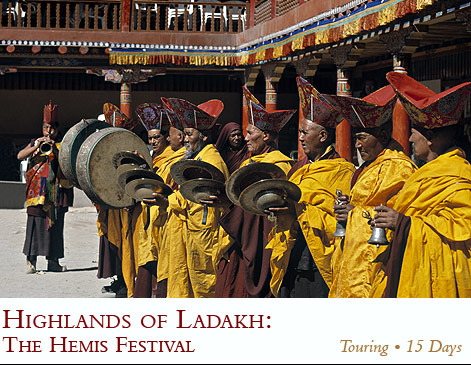 from $4,150* per person
15 Days
June
Boutique accommodations

Exertion level: 4

Operator:

Geographic Expeditions

18 people max
Indira gandhi international airport, new delhi, delhi
Active & Adventure trips
Ladakh, though politically Indian, is emphatically and enduringly Tibetan, culturally, religiously, and geographically. It's a heart-grabbing place, simultaneously austere and warm, vast and intimate. Thinking of Ladakh, we're always reminded of Andrew Harvey's story of his fruitful journey there, inspired by a fellow traveler who told him, "I should kidnap you and take you there myself. . . . It will change your life as it changed mine."

We reach what has historically been called Little Tibet by driving north from the beautiful, forested Manali Valley along a tremendously scenic road through Lahaul and Spiti and into the old kingdom of Zanskar, camping a couple of nights along the way, crossing four high passes (the highest: Tanglang, 17,475 feet). Traveling this road, one GeoExer wrote, "is like trekking—crisp air, grand views, a real mountain feel—without the walking." Now down to the Indus Valley and Ladakh. We spend the next week wandering, visiting the Buddhist monasteries of Thikse, Shey, and Lamayuru, and gazing at the spectacular murals at Alchi Gompa, crescendoing with one of the region's wonderful festivals at Hemis, where monks adorned with colorful garments and often frightful (at times comic) masks perform hypnotic mimes representing various aspects of the religion.
Locations visited/nearby
India, Asia
Comments from Facebook
Itinerary
Day 1: arrive in Delhi •
Day 2: fly to Kullu, drive to Manali •
Day 3: Manali to Tandi •
Day 4: Tandi to Sarchu •
Day 5: Sarchu to Tso Moriri •
Day 6: exploring Tso Moriri •
Day 7: across the Tanglang to Leh •
Day 8: exploring Leh •
Day 9: rafting on the Indus to Alchi •
Day 10: excursion to Lamayuru •
Day 11: Alchi to Hemis •
Day 12: Hemis Festival •
Day 13: Hemis to Leh •
Day 14: Leh to Delhi •
Day 15: depart Delhi.
More information from Geographic Expeditions: