Geographic Expeditions - vacations and travel
Village to Village in Sikkim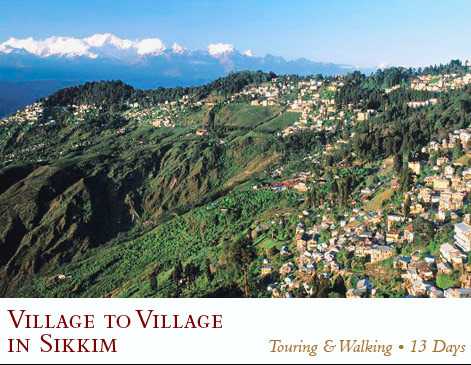 from $5,750* per person
13 Days
February-April, October, November
Boutique accommodations

Exertion level: 4

Operator:

Geographic Expeditions

18 people max
Kolkata airport station, kolkata, west bengal
Active & Adventure trips
Nestled into the heart of the eastern Himalaya and bordered by Tibet, Nepal and Bhutan, Sikkim offers some of the most breathtaking views in India. Beyond the allure of its scenery and fabled mountain, Kangchenjunga, this erstwhile Buddhist Kingdom entices the traveler with its arresting cultural beauty, warm people, and tranquil atmosphere. It is a wonderfully diverse region where ethnic Nepalis, Bhutias (descendants of Tibetans), and Lepchas, Sikkim's aboriginal inhabitants, live in harmony. And as a former Buddhist kingdom, Sikkim is linked to Tibet by more than just an ancient trade route, with over two hundred monasteries of the Nyingma and Kagyu sects dotting its hillsides.

This jaunty trip envelops us in much the same superb scenery that Lt. Col. Howard-Bury described as "magnificent forests of evergreen oaks . . . covered with ferns and orchids and long trailing mosses. . . . It was impossible to imagine anything more beautiful, and every yard of the path was a pure delight." It gives us a good look at Gangtok and Darjeeling (to which we can make day trips from our base at the lovely Glenburn Tea Estate). And between these two Himalayan icons, Village to Village in Sikkim forgoes everyday hotels for the equally satisfying hospitality of the Sikkimese. We'll hike along those purely delightful paths, staying in small, family-run lodges and village homes, visiting active Buddhist temples and monasteries and soaking up a serene, little-known culture.
Locations visited/nearby
India, Asia
Comments from Facebook
Itinerary
Day 1: arrive in Kolkata (Calcutta) •
Day 2: Kolkata •
Day 3: fly to Bagdogra, drive to Gangtok •
Day 4: Gangtok •
Day 5: Gangtok to Yangsum Farm •
Day 6: walk to Rinchenpong •
Day 7: walk to Radhu Kandu •
Day 8: walks around Radhu Kandu •
Day 9: drive to Darjeeling and Glenburn Tea Estate •
Days 10 & 11: walks around Glenburn Tea Estate •
Day 12: Glenburn to Bagdogra, fly to Kolkata •
Day 13: depart Kolkata.
More information from Geographic Expeditions: