Geographic Expeditions - vacations and travel
Festivals of Mongolia: Golden Eagle Festival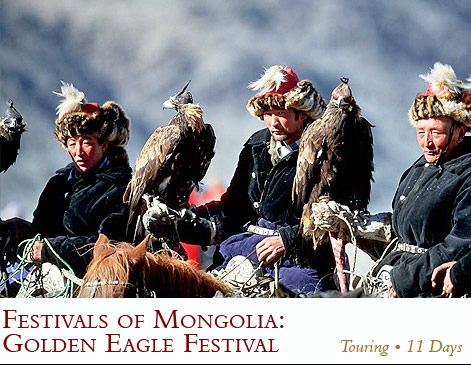 from $4,450* per person
11 Days
October
Boutique accommodations

Exertion level: 4

Operator:

Geographic Expeditions

18 people max
Ulaanbaatar airport, mongolia
Active & Adventure trips
Living in the shadow of the majestic Altai Mountains, the nomadic Kazakhs of western Mongolia live and prosper much as they have for centuries. They move seasonally in search of good pasture for their animals, maintaining one of the last enduring horse-based nomadic cultures in the world.

Sandwiched between China and Russia, the far west of Mongolia is also an area of stunning natural beauty. With forested valleys, clear alpine lakes, expansive meadows carpeted with wildflowers, and spectacular snowcapped peaks (includingKhuiten Uul, the highest mountain in Mongolia), this area is a treasure of unspoiled wilderness – and until quite recently, it was virtually untouched by the outside world.

The Kazakhs in this region still practice an ancient tradition passed down from their Turkic forebears: the art of hunting with trained golden eagles. Eagle hunting has been practiced in Central Asia for thousands of years (Marco Polo, in fact, mentions trained eagles killing a wolf in his book Travels). Although the practice is rapidly disappearing in other centers of Kazakh culture, in Mongolia the tradition is alive and well. Every year, just as the winter hunting season is getting underway, eagle hunters gather from all corners of Bayan Olgii province to celebrate the enduring tradition and to pit their birds against all comers. The competition tests not just the bird's mettle and the hunter's skill, but also the bond between hunter and bird.

In addition to our visit with the Kazakh eagle hunters, we enjoy some time in Khovd aimag (province) exploring another unique aspect of western Mongolian culture: the ancient art of throat singing, or khoomei, as it's known in Mongolia and Tuva. Made famous in recent years by the movie "Genghis Blues," khoomei singing techniques allow one singer to produce two or more tones simultaneously. We meet with local musicians and folk dancers and enjoy a performance featuring various styles of throat singing in an area known throughout Mongolia as the cradle of khoomei.
Locations visited/nearby
Mongolia, Asia
Comments from Facebook
Itinerary
Day 1: arrive in Ulaanbaatar •
Day 2: Ulaanbaatar •
Day 3: fly to Khovd •
Day 4: Tsambagarav Mountains •
Day 5: hunt with eagles, drive to Olgii •
Days 6 & 7: Golden Eagle Festival •
Day 8: fly back to Ulaanbataar •
Day 9 Gorkhi Terelj National Park •
Day 10: return to Ulaanbaatar •
Day 11: depart Mongolia.
More information from Geographic Expeditions: