Geographic Expeditions - vacations and travel
Festivals of Mongolia: Khovsgol Ice Festival and Gobi Camel Festival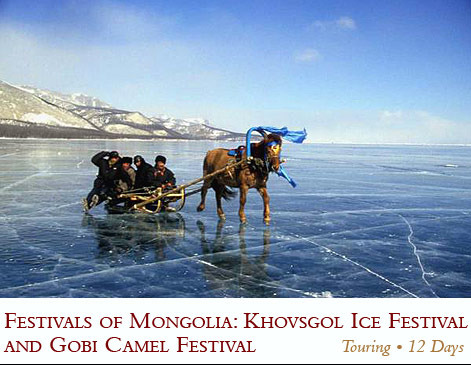 from $4,250* per person
12 Days
February
Boutique accommodations

Exertion level: 4

Operator:

Geographic Expeditions

18 people max
Ulaanbaatar airport, mongolia
Active & Adventure trips
A vast and lonely treasure, Mongolia occupies a space more than three times the size of France, yet its population is only a little over a third that of New York City! So it is no surprise that Mongolia is one of the least densely populated nations in the world.

We have been under its spell for a long time, dating to the days when it appeared in musty atlases as "Outer Mongolia." So, it's with great joy that we introduce people to this magnificent land during the off season. This trip incorporates two enchanting winter festivals: the boisterous Camel Festival in the Gobi and the Ice Festival at Khovsgol Lake, and since it is winter, the droves of tourists are refreshingly scarce – so we may relish the festivities without the crowds.

We begin with an excursion to Khovsgol Nuur (nuur means lake) – "Blue Pearl of Mongolia," a pristine wilderness of clear water, lush meadows and forest-covered mountains. Here we bask in the serene environment around the lakeshore and explore the region extensively by horseback or jeep. And on the surface of the frozen lake, we'll join the local people at the annual Ice Festival.

Then it's on to the heart of the Gobi. Beyond enjoying the ethereal landscapes, we have a chance to look for dinosaur bones, ride the two-humped Bactrian camel, and visit the sublime Yol Valley of the Gurvan Saikhan Mountains (part of the vast Altai Range). And, of course, there's the Camel Festival. Thousands of the country's finest camels show their mettle in races. There's also camel polo, and even a camel beauty pageant!
Locations visited/nearby
Mongolia, Asia
Comments from Facebook
Itinerary
Day 1: arrive in Ulaanbaatar •
Days 2 & 3: Ulaanbaatar •
Day 4: fly to south Gobi •
Days 5 & 6: Gobi Camel Festival •
Day 7: fly to Khovsgol •
Days 8 & 9: Khovsgol Ice Festival •
Day 10: fly to Ulaanbaatar •
Day 11: Ulaanbaatar •
Day 12: depart Ulaanbaatar.
More information from Geographic Expeditions: