Geographic Expeditions - vacations and travel
Mongolia and Siberia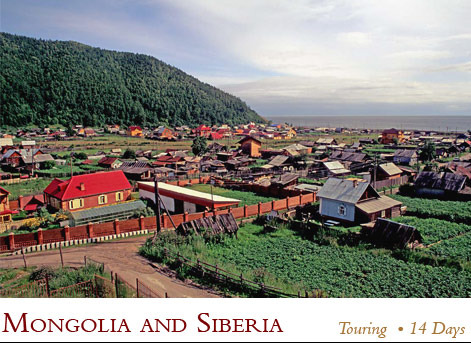 from $6,550* per person
14 Days
July
Boutique accommodations

Exertion level: 4

Operator:

Geographic Expeditions

18 people max
Ulaanbaatar airport, mongolia
Active & Adventure trips
Since the preceding pages are full of paeans to Mongolia, into which we drive on Day 7, let's concentrate here on the Siberian segment of this lovely journey, which centers around glorious Lake Baikal. "A primordial deep lake of diamantine clarity," as Peter Matthiessen wrote in Baikal: Sacred Lake of Siberia, it is, among other things, the world's oldest lake, the deepest (5750 feet at its lowest, with an additional four miles of sediment above the bedrock; the great Baikal Rift, by far the deepest depression on the planet, is seven times as deep as the Grand Canyon), and the most voluminous (holding an astounding 17 percent of the world's fresh water; if all the world's rivers were to drain into an empty Baikal, it would take a year to ?ll). In short, it's unquestionably the most interesting (100,000 freshwater seals, called nerpa, inhabit its northern waters, in the middle of a vast continent!) and surely the most hugely beautiful lake in the solar system (and one still quite pristine, despite media rumors; the Russians are united in protest against any sullying of their national gem).

After a good look at Irkutsk, we make the short drive to Listvyanka, a cottagey little town set on the southern end of the lake. We boat across Baikal and drive to the city of Ulan Ude, a redoubt of Mongolian culture. Our exploration of Buryatia, as this area is called, includes a visit to a village inhabited by Old Believers, Amish-like folk who split from the Russian Orthodox church 350 years ago. And then it's on to Mongolia, with a rousing stop in the booming capital and an essential circuit through the Gobi.


Locations visited/nearby
Mongolia, Asia
Comments from Facebook
Itinerary
Day 1: fly to Irkutsk •
Days 2 & 3: Irkutsk and Listvyanka •
Day 4: cross Lake Baikal, drive to Ulan Ude •
Day 5: Ulan Ude and Buryatia •
Day 6: visit Old Believer village •
Day 7: drive to Khyakta, cross into Mongolia •
Day 8: drive to Ulaanbaatar •
Day 9: fly to Karakorum, visit Erdene Zuu Monastery •
Day 10: drive to Khongo Khan •
Day 11: drive to Khustain Nuruu National Park •
Day 12: drive to Ulaanbaatar •
Day 13: Ulaanbaatar •
Day 14: depart Ulaanbaatar.
More information from Geographic Expeditions: