Geographic Expeditions - vacations and travel
Festivals of Tibet: Ganden Serthang Festival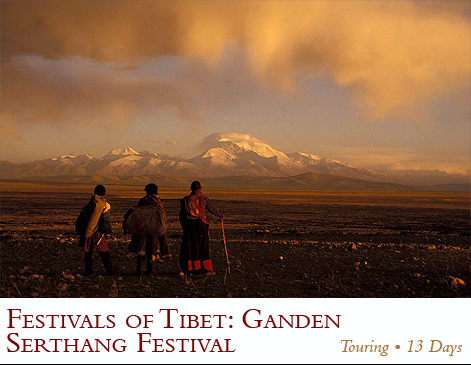 from $3,950* per person
13 Days
July
Boutique accommodations

Exertion level: 4

Operator:

Geographic Expeditions

18 people max
Beijing airport, china
Active & Adventure trips
We created Festivals of Tibet as a bow to our beginnings 28 years ago in a crowded North Face tent up at 16,500 feet in the shadow of Everest. We started out as InnerAsia, grew steadily, branched out to just about every corner of the seven continents, changed our name to Geographic Expeditions, grew lots more, and never wavered in our dedication to introducing people to this heart-expanding, beleaguered, stalwart place.

We offer two versions of Festivals of Tibet. Both editions take us to the Yarlung Valley, Tibet's "Valley of the Kings," where the Tibetan nation arose (and where its oldest temple, Samye, has been lovingly restored after being largely destroyed during the Cultural Revolution), and to a couple of days in Lhasa. And both give us some comfortable, well-supported backcountry camping, allowing us to wake in the still, crisp morning, step outside our tent, and bask in the realization of what for many of us has been a lifelong dream.

Ganden, host of an exceptional annual festival, is one of Tibet's three most important monasteries (Drepung and Sera, near Lhasa, are the other two), called the "Three Pillars" of the Tibetan state. The farthest from the capital, Ganden is beautifully set on a high hillside (see Central Tibet Explorer). The festival we'll take part in is dedicated to Tsongkhapa, the early-15th-century founder of the Gelug school of Vajrayana Buddhism, to which the Dalai Lama belongs. Thousands of pilgrims from all over Tibet, dressed in their regional finery, gather at Ganden, expectantly awaiting the unveiling of a huge appliquéd thangka that depicts the Buddha. The unveiling is accompanied by glorious clanging and various fire offerings and ceremonies throughout the monastery complex.

Locations visited/nearby
Tibet, Asia
Comments from Facebook
Itinerary
Day 1: arrive in Beijing •
Day 2: fly to Tibet, drive to Tsedang •
Day 3: explore the Yarlung Valley, drive to Lhasa •
Days 4 & 5: Lhasa •
Day 6: Ganden Serthang festival, drive to Drigung, camp •
Day 7: Drigung to Reting, camp •
Day 8: Reting to Namtso, camp •
Day 9: Namtso to Shigatse •
Day 10: Shigatse to Gyantse •
Day 11: Gyantse to Lhasa •
Day 12: fly to Beijing •
Day 13: depart Beijing.
More information from Geographic Expeditions: