Geographic Expeditions - vacations and travel
A Mekong Adventure: From Thailand to Laos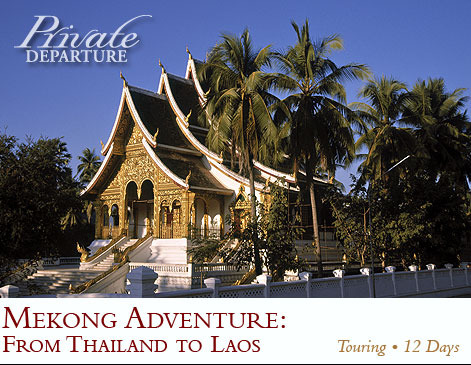 from $5,325* per person
12 Days
October-April
Boutique accommodations

Exertion level: 4

Operator:

Geographic Expeditions

18 people max
Bangkok airport bangkok thailand
Boats, Barges & Small Ship Cruises trips
One of the world's most consequential rivers, the Mekong begins its 2,600-mile course at over 17,000 feet on the Tibetan Plateau and, weaving its way through a great crunch of gorges near Gyelthang, drops into Southeast Asia, where it nurtures a passel of peoples on its way to its delta on the South China Sea. Civilizations have risen and fallen on its banks, and their remains and the ever-bustling commerce and pure Asian liveliness of their successors make it an endlessly colorful and engrossing waterway.

On this illuminating journey we follow the river as it passes through Thailand and Laos, with stops in Thailand's infamous Golden Triangle, the enchanting former capital of Laos, Luang Prabang, and the charming present-day capital of Vientiane. During our voyage we also visit rural villages in out-of-the-way Laos, and the mysterious Plain of Jars.
Locations visited/nearby
Lao, People's Democratic Republic, Thailand, Southeast Asia
Comments from Facebook
Itinerary
Day 1: arrive in Bangkok •
Day 2: Bangkok •
Day 3: into the Golden Triangle via Chiang Rai •
Day 4: Golden Triangle •
Day 5: along the Mekong into Laos •
Day 6: Kamu Lodge •
Day 7: downriver to Luang Prabang (UNESCO World Heritage Site) •
Day 8: Luang Prabang •
Day 9: mountain roads to the Plain of Jars (Phonsavan) •
Day 10: exploring the Plain •
Day 11: on to Vientiane •
Day 12: depart Vientiane.

More information from Geographic Expeditions: