Geographic Expeditions - vacations and travel
Northern Vietnam: Tribes and Treks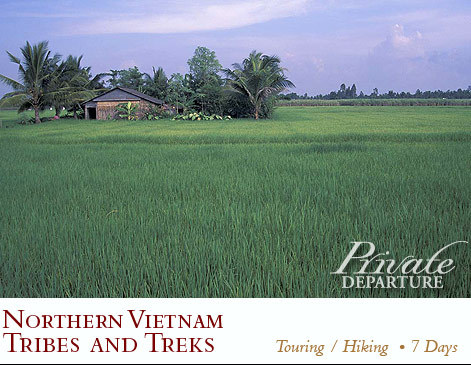 from $2,800* per person
7 Days
Year-round
Boutique accommodations

Exertion level: 4

Operator:

Geographic Expeditions

18 people max
Hanoi airport, vietnam
Active & Adventure trips
We'll travel by jeep and on foot in Vietnam's lush northern hills, the little-known "Tonkinese Alps," walking in 4000-foot hills, past emerald rice paddies and riots of bamboo, pine, and orchids, through small farms and villages, staying in delightful small hotels and guesthouses. Postcardy Sapa is our base for day hikes and village visits, and then we're off to equally engaging Tam Duong for another couple of wandering days before we board an overnight train for Hanoi.
Locations visited/nearby
Vietnam, Southeast Asia
Comments from Facebook
Special information
This is a custom departure, meaning this trip is offered on dates that you arrange privately with the provider. Additionally, you need to form your own private group for this trip. The itinerary and price here is just a sample. Contact the provider for detailed pricing, minimum group size, and scheduling information. For most providers, the larger the group you are traveling with, the lower the per-person cost will be.
Itinerary
Day 1
ARRIVE IN HANOI, TRANSFER TO TRAIN Arrive in Hanoi, the capital of Vietnam, where you are
met at the airport and, time permitting, do some sightseeing. Much of Hanoi still retains an air of
provincial France with shady tree-lined boulevards and green-shuttered villas. En route downtown you
stop at the award-winning Ethnographic Museum which has excellent exhibitions and collections of the
country's many tribes and cultural artifacts. Following dinner, you will transfer to the train station to
board the Victoria carriage to Lao Cai.
Day 2
ARRIVE LAO CAI AND SAPA (approx. 1 hour
driving / 4 hours walking) Arrive Lao Cai early this
morning and drive to the former French hill station of
Sapa via a panoramic winding road through the terraced
mountainsides. Check into your hotel and have breakfast,
then begin your exploration with a walk through beautiful
gardens and lush pine forest. You pass through the Black
Hmong ethnic minority village of Matra, a small village
hidden away from civilization.
This afternoon walk through sculptured rice fields to the
Red Dzao village of Ta Phin. (The Red Dzao are a very
shy and reserved people - the women are easily identified
by their huge red tasseled turbans.) Nearby you'll come
across an abandoned seminary which was attacked by the
Vietnamese in 1952 during the French/Indochina war.
French missionaries originally tried to convert the Hmong
and other tribes to Christianity. Ultimately they were
largely unsuccessful and the Hmong to this day remain
animist with exorcism and spirit worship both widely
practiced. Unlike the Dzao, the Hmong have no written
language and have relied on the oral tradition to hand
down their legends, folklore and songs.
Day 3
EXCURSION TO BAC HA (approx. 5 hours driving / 2 hours boat cruise / 0.5 hours walking)
Drive this morning to Bac Ha to see the Hmong Hoa market in full swing (the Bac Ha market takes place
on Sundays only). Bac Ha is home to several 'montagnards', the French term for the local hill tribes. In
addition to the Hmong and the Hoa, there are Giay, Dzao, Nung, Phula Tai and Kinh minorities to name a
few. It is not for nothing that certain of these tribes got a reputation for imbibing vast quantities of
alcohol. The village is renowned for its fermentation of alcoholic brews, in particular rice and corn wine!
(Bac Ha in late spring is especially pretty when the numerous plum trees are in full blossom.)
After lunch at a local restaurant you drive to Bao Nhai bridge, where you board a local motor boat for a 2
hour cruise on the Chay River. A stop will be made at the Fairy Cave, which is deeply embedded in the
surrounding cliffs. A stop will also be made at Trung Do village, home to the Tay ethnic minority group.
After disembarking we drive back to Sapa.
Day 4
SAPA TO TA VAN (approx. 2 hours driving / 5 hours walking) After breakfast we pay a visit to the
local minority market. There are some 53 ethnic minorities in Vietnam, and the hill tribes in this region
spread west from here into Laos, Thailand and Burma, and north into China. At the market you'll have
the opportunity to see some of these; many still wearing traditional finery.
Leaving the market, we follow a scenic downhill road, and eventually reach Cat Cat village, which is
home to the Black Hmong people. We walk through the terraces past many traditional huts with views of
local people working in the rice fields and children playing. You cross over a lovely waterfall and
adjacent hydro-electric station, then continue along the Muong Hoa river to Y Linh Ho village, another
Black Hmong village. We stop here for a
rest and picnic lunch, and then we trek to
the nearby villages of Lao Chai and Ta
Van. This scenic valley is home to Dao,
Giay and Hmong settlements, each
distinguishable by their colorful
everyday dress. The Dao originated in
China. The men are traditionally skilled
at metalwork and woodwork and make
their own tools and a variety of wood and
bamboo goods. The women are excellent
embroiderers and can sew complex
patterns entirely from memory - the
pattern having been handed down
through the generations. They practice
ancestor worship, although the traditional Vietnamese trinity of Buddhism, Taoism and Confucianism has
also influenced them. Outside many of the houses in the villages you will see large vats of blue indigo.
The women use this to dye the hemp garments they weave. The tribes here are known to use every part of
the hemp plant, so take care when reaching for the tobacco tin! The walk is moderately paced with some
descents into valleys of cascading water. We meet our vehicle on the main road and transfer to our
Ecolodge.
Day 5
TA VAN TO BANHO VIA THANH PHU (approx. 5 hours walking) Your day begins with a walk
down to some local villages through what is without a doubt, some of the most spectacular scenery in
Vietnam. Our first stop is Ban Ho village, which offers stunning views of the valley and rice terraces. One
of the most beautiful villages in the Sapa valley, Ban Ho is home to the Tay minority, and we'll spend
some time interacting with the villagers. After lunch we continue walking along the river and rice paddies
to another Tay village, Thanh Phu, with further views of the breathtaking valley and mountain scenery.
Return to Ban Ho village for overnight stay.
Day 6
DEPART SAPA (approx. 0.5 hours driving, 4 hours walking) This morning we explore Ban Ho
Valley and the surrounding area. We cross the suspension bridge to the other side of the river, where we
continue walking through the rice paddies to the Red Dzao village of Nam Tuong. We stop for a cup of
local tea with the villagers before heading back to Ban Ho Village. If weather and conditions permit, we
can enjoy a refreshing swim in the nearby river. We walk uphill to Su Pan to meet our vehicle for the
drive back to Sapa. Upon arrival we check into the Victoria Hotel for a few hours rest and a shower
before transferring to Lao Cai train station for the overnight train back to Hanoi.
Day 7
ARRIVE HANOI Your train arrives Hanoi early this morning. Transfer to a local restaurant for
breakfast. Hotel, airport transfers or other services are available upon request.
More information from Geographic Expeditions: