Geographic Expeditions - vacations and travel
An Explorer's Antarctica (2011/2012)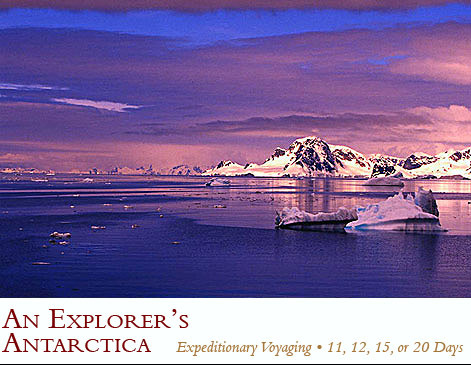 from $4,890* per person
12 Days
November-March
Boutique accommodations

Exertion level: 4

Operator:

Geographic Expeditions

18 people max
Ushuaia airport, argentina
Active & Adventure trips
We board our expeditionary vessel in Ushuaia, Tierra del Fuego, Argentina. Our ice-hardened ships are surprisingly comfortable; they have bar/lounges and libraries and feature private baths for most cabins (they also have a clinic and physician on board, and satellite telephone and fax capacities for incoming calls and faxes). On-board naturalists lecture, hobnob, and help identify the lavish wildlife.

Leaving Ushuaia, we head south into the Drake Passage toward notorious Cape Horn, encountering pack ice and epic bergs—a floating, and thus more fantastic, version of the Alps. Crabeater, Weddell, and leopard seals, pods of orcas, and fleets of seabirds bring the seas and skies to life.

Taking advantage of the long days at the height of the austral summer, we weave in and out of such famous ice and sea-mountain passages and islands as Paradise Bay, Anvers Island, King George Island (dripping with glaciers that descend from its ice cap), Port Lockroy (under 5000-foot "bleak, empty, precipitous, inaccessible" Mount William), Le Maire Channel (one sailor reports being "up against the sea cliff and having 100 meters of water beneath our bow"), and Deception Island (described in Sailing Directions for Antarctica as "one of the most remarkable crater islands in the world," complete with steaming fumaroles and sulfur springs). We'll spend as much time as possible on the Peninsula and the spectacular South Shetlands, Zodiacing ashore to hike, study, and photograph the teeming wildlife. Our longer voyages also include visits to the Falkland Islands and South Georgia, a breath-stopping, 9500-foot rock massif thrust up from the depths, populated by vast congeries of penguins and seals. ("Standing in the midst of a vast king penguin colony composed of a quarter of a million nesting pairs," says our Antarctic man Urs Hofmann, "is a fantastic and very humbling experience.") This comprehensive voyage, combining the wildlife and scenic extravaganzas of the Peninsula and South Georgia, is a polar fan's ultimate plum.


Locations visited/nearby
Antarctica, South America
Comments from Facebook
Itinerary
Day 1
USHUAIA, TIERRA DEL FUEGO, ARGENTINA We spend the night in our host hotel in Ushuaia,
on the island of Tierra del Fuego at the tip of South America.
Day 2
EMBARKATION DAY By late afternoon we'll be sailing the Beagle Channel in to the Drake Passage.
Days 3 – 4
A PASSAGE TO ADVENTURE Anticipation mounts as we cross the Drake Passage. Participate in
briefings and presentations on the Antarctic ecosystem. Watch for seabirds and marine mammals from the
Bridge or deck.
Days 5 – 9
EVERYTHING FOR THE AMBITIOUS ADVENTURER Many factors play a role in shaping the
expedition's progress. Our goal is to give you the best possible active experience limited only by weather
and ice conditions. We attempt to leave the
ship to explore at least twice a day. We will
feel salt spray on our faces as the Zodiac
weaves in and around grounded icebergs.
While on land we may scramble to the top
of a craggy hill for an unforgettable view of
an icy chasm. The really "tough" ones
amongst us may even take a plunge into
frigid Antarctic waters.
Over the course of the austral spring and
summer the sun lingers longer and longer,
slowly melting snow and ice. Penguins mate
and nest, the chicks hatch and fledge. Pods
of whales breach in a deep bay where a calving iceberg has churned up krill, a local delicacy. The natural
cycle of life ensures that every expedition is different and full of surprises!
In Antarctica, silence is so complete that any sound startles; noisy penguins squabbling over prized
pebbles, the boom and crack of a calving glacier in Neko Harbor or Paradise Bay. Then there may be the
sound of our own breathing as we power up an incline on cross-country skis. Our Expedition Team
continually provides opportunities for us to satisfy our curiosity.
The soaring peaks and stark rocks of Lemaire Channel are just the excuse we need to grab our camera
gear for a shooting session from the deck (if the channel is free of ice). Afterward, we'll have a good
excuse to warm up in the lounge while a member of the Expedition Team briefs us on the history of
Antarctic Exploration.
Optional adventures are available on a first come, first served basis. See the dates & rates for details.
In a kayak you could drift past an azure iceberg after a hard paddle. You could descend an ice slope after
an exhilarating climb. There are no ski trails in Antarctica, so you will be breaking trails. While camping,
you could be compelled to reach for the sky, because the stars appear to be only an arm's length away.
Days 10-12
We will return via the Drake Passage to Ushuaia, having walked in the path of the great Antarctic
adventurers. As did Cook, Ross, Scott and Shackleton, we observed the same skies and wondered at the
same vast landscape. And now, like them, we understand the enduring lure of Antarctica.
More information from Geographic Expeditions: