Italian Connection - vacations and travel
Splendors Of Sicily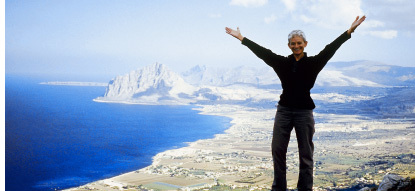 from $4,790* per person
8 Days
April, October
Comfort accommodations

Exertion level: 3

Operator:

Italian Connection

12 people max
Catania airport, catania, italy
Active & Adventure trips

This unique itinerary is the result of years of research enhanced by our Sicilian friends and relatives, and is filled with insider knowledge not found in guidebooks. Get an excellent overview of this fascinating island, as we spend time walking through a great variety of countryside as well as visiting Sicilyís remarkable wealth of archeological sites. Join us and see why this tour was selected by National Geographic Traveler, as one of "50 Tours of a Lifetime."

TRIP HIGHLIGHTS

Purge your soul at the Greek theatre in Taormina, and walk the black lava fields of the fiery Etna volcano where the Cyclops once lived

Follow an ancient Greek road along the protected coast of Vendicari, where flamingos rest by a turquoise sea

Meet Contessa Notarbartolo, descendant of the Sicilian aristocracy, and taste traditional cudurruni baked in a wood-fired oven at her country house

Stroll to the Temple of Concordia, one of the best preserved Greek temples in the world in Agrigento, and see Eraclea Minoa, on a wondrous white beach

Slip backstage for an insider look at a Sicilian puppet theatre, learn how Alfredo & Daniel handcraft each puppet, and watch a rollicking show
Locations visited/nearby
Italy, Europe
Comments from Facebook
Itinerary
Day One
Rendezvous at our hotel in the center of the vibrant city of Catania and drive to the spectacularly situated town of Taormina. Visit the ancient Greek theatre in a stunningly beautiful position overlooking the sea and Mt. Etna. Stroll through the town admiring traces of Roman, Moorish and Spanish architecture, before taking a 5 km (3 mile) walk along an old mule track that zig-zags up the steep terraced hillside. Transfer to the Val di Catania, a fertile valley of citrus groves perfumed with the scent of orange blossoms, where we are treated to a relaxed, delightful lunch of Sicilian specialties prepared by local cooks, including fragrant cudduruni - a stuffed focaccia - baked in a wood-burning oven. Return to Catania in time to join the evening passeggiata in Via Etnea, as we head to dinner for the best fresh seafood in town.
Day Two
We drive through graceful, dusky towns built of black lava stone to the lower slopes of Mt. Etna, the powerful active volcano that dominates Eastern Sicily. Our exciting 12 km (7.5 mile) walk takes us across the lava fields from the 1983 eruption above the town of Randazzo, which the lava flow narrowly missed. Drive to Syracuse, where we will be staying for two nights in the heart of the picturesque old quarter of Ortygia in a stylish hotel just steps from the Duomo. Tonight we dine in a noted restaurant serving the freshest fish and best antipasti in town.
Day Three
Morning visit with a local guide, touring the archeological park and magnificent Greek theatre, still used for performances during theatre festivals. Then itís on to the market, raucous and colorful, with a fabulous variety of fresh produce spilling into the streets. In the afternoon we take an excursion to the ancient ramparts of Syracuse, where Archimedes helped defend his native city from destruction. Later we visit a local friendís workshop, where traditional Sicilian puppets with elaborate costumes are still meticulously handcrafted one by one. Weíll then be treated to a private puppet show replete with sword-brandishing knights and damsels in distress. Free evening for dinner.
Day Four
We drive south to the nature reserve of Vendicari, a sparkling gem of unspoiled coast scented with eucalyptus and wild thyme, and walk for 8 km (5 miles) along the ancient Greek road bordering the impossibly blue sea. Visit the delightful Baroque town of Noto, built of golden sandstone and bedecked with ornate carved facades and fanciful balconies. We indulge in a plate of delicious pasta alla Norma before continuing on to Ragusa, where we stay in a family-run inn for two nights. Ragusa is an undiscovered jewel with few tourists, and we join the local scene for the passeggiata in the beautifully lit piazza, where you might choose a tiny trattoria serving the cannoli of your fondest dreams, or a Michelin-starred ristorante.
Day Five
Our 16 km (10 mile) walk meanders past peaceful farms framed in artful dry-stone walls, and brings us down through a deep canyon shaded by carob trees. We emerge below the intriguing old town of Ragusa Ibla, where fanciful Baroque churches and splendid gardens vie for our attention. During our walk, we stop for a bountiful buffet of local specialties and sample the freshest ricotta from this morningís milk. Tonight is a free evening to stroll the town.
Day Six
We take time off the trail and depart for Agrigento, where a local expert will be our guide through the Valley of the Temples, as we view some of the best preserved Greek temples in the world. Continue on our journey to the spectacularly situated ruins at Eraclea Minoa, a Greek settlement with a magnificent theatre overlooking a solitary white beach. Lunch at a seaside locale before continuing across the island to our attractive hotel located in a tiny port, where fishing boats arrive with the daily catch. Dinner in a family-run seafood restaurant, where we join the locals feasting on great fresh fish.
Day Seven
We begin our 14 km (8.5 mile) walk in the medieval hilltown of Erice, with its charming cobblestone streets and enticing pastry shops. Our walk wanders through unspoiled countryside with breathtaking sea views to a rustic hut, where we enjoy a picnic lunch. Continue past fields of wildflowers stretching endlessly ahead as we zigzag back down the mountain. Tonight we celebrate with a farewell feast, while we are serenaded with Sicilian folk songs.
Day Eight
Morning transfer to Palermo airport. Arrivederci!
More information from Italian Connection: