Adventures In Africa - vacations and travel
Highlights Of Egypt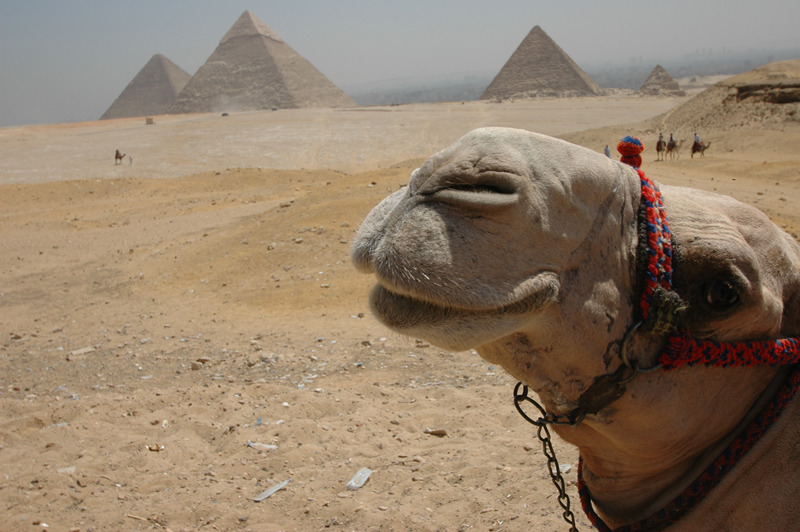 from $2,614* per person
10 Days
Year-round
Comfort accommodations

Exertion level: 3

Operator:

Adventures In Africa

24 people max
Cairo, egypt
Active & Adventure trips
Enjoy the highlights of ancient Egypt on this exciting tour of the Land of the Pharaohs. See Giza's Great Pyramids, the Sphinx, Kom Ombo Temple, and the Valley of the Kings & Queens, just to name a few. Cruise the River Nile for 3 nights on the luxury Nile Adventurer. Customize your trip to add on a visit to Mt. Sinai, the Red Sea, Alexandria or a desert oasis—it's your tour!
Locations visited/nearby
Egypt, Africa, Middle East
Comments from Facebook
Special information
This is a custom departure, meaning this trip is offered on dates that you arrange privately with the provider. Additionally, you need to form your own private group for this trip. The itinerary and price here is just a sample. Contact the provider for detailed pricing, minimum group size, and scheduling information. For most providers, the larger the group you are traveling with, the lower the per-person cost will be.
Itinerary
Day 1 – CAIRO: Arrival at Cairo International Airport. A representative will meet you at the airport and escort you to your hotel in an air-conditioned vehicle. Check in & overnight at Conrad Cairo Hotel.
Day 2 – CAIRO: Enjoy breakfast, then tour Giza. Pyramids: Your Egyptologist will lead you on an unforgettable tour of the Great Pyramids of Giza. The only present-day survivors of the Seven Wonders of the Ancient World, the pyramids are among the world's greatest tourist attractions and never lose their ability to awe visitors. Your tour includes an opportunity to enter inside one of these fabulous monuments and explore the mysteries of its ancient past for yourself. Sphinx: Enter the temple of the mysterious Sphinx, an ancient figure shrouded in legend and mystery. Sakkara: Experience Egypt's long and rich history in our exciting double tour to the city of Memphis and the necropolis of Sakkara. At vast Sakkara you will see the famous Step Pyramid of King Zoser, the first freestanding stone structure in the world. Memphis: At the site of Memphis you will see the ancient capital that once stood as a flourishing metropolis during the time of the Pharaohs. The site is thickly surrounded by lush palm groves and bushes, isolating the old city from modern civilization. In the afternoon, return to the Conrad Hotel. Overnight here. (B)
Day 3 – ASWAN/NILE CRUISE: Have breakfast, then transfer to the airport and fly to Luxor. Upon landing, you can enjoy an optional fly-in tour of Abu Simbel Temples (additional charges apply). Or head straight to check-in on your 5-star Nile cruise boat, the "Nile Adventurer", moored in a private dock in Aswan. During your cruise, onboard entertainment includes authentic folklore dance by a Nubian troupe, and an Egyptian costume party with Arabic music and optional Jellabiya gowns. Lunch is served onboard, then take a short motorboat ride to visit the romantic and majestic Philae Temple on the Island of Agilka. Next visit the Granite Quarries which supplied the ancient Egyptians with most of the hard stone used in pyramids and temples, and which still hold a huge unfinished obelisk. Afternoon tea is followed by a Captain's cocktail party and gourmet dinner. Overnight Nile Adventurer. (B, D, Dr)
Day 4 – ASWAN/NILE CRUISE: Have breakfast, then transfer to the airport and fly to Luxor. Upon landing, you can enjoy an optional fly-in tour of Abu Simbel Temples (additional charges apply). Or head straight to check-in on your 5-star Nile cruise boat, the "Nile Adventurer", moored in a private dock in Aswan. During your cruise, onboard entertainment includes authentic folklore dance by a Nubian troupe, and an Egyptian costume party with Arabic music and optional Jellabiya gowns. Lunch is served onboard, then take a short motorboat ride to visit the romantic and majestic Philae Temple on the Island of Agilka. Next visit the Granite Quarries which supplied the ancient Egyptians with most of the hard stone used in pyramids and temples, and which still hold a huge unfinished obelisk. Afternoon tea is followed by a Captain's cocktail party and gourmet dinner. Overnight Nile Adventurer. (B, D, Dr)
Day 5 – NILE CRUISE: After breakfast, continue cruising to Kom Ombo. Kom Ombo Temple: Visit this temple dedicated to the crocodile-god Sobek. The temple stands at a bend in the Nile where in ancient times sacred crocodiles basked in the sun on the riverbank. Enjoy lunch onboard, then explore the largest and most completely preserved Pharaonic – albeit Greek-built – temple in Egypt, the extraordinary Temple of Horus at Edfu. Have afternoon tea, then cruise to Esna and enjoy an Egyptian Night costume party with dancing and traditional Arabic music. (B, L, D, Dr)
Day 6 – NILE CRUISE/LUXOR: After breakfast, spend the day exploring Luxor, including the West Bank's Valley of the Kings, a vast City of the Dead where magnificent tombs were carved into the desert rocks, decorated richly, and filled with treasures for the afterlife by generations of Pharaohs. You will also have the chance to visit at least one tomb in the Valley of the Queens. Then, visit Hatshepsut Temple. Rising out of the desert plain in a series of terraces, the Temple of Queen Hatshepsut (Ancient Egypt's only female Pharaoh) merges with the sheer limestone cliffs that surround it. Before lunch, have a photo-stop at the Colossi of Memnon, known in Ancient Greek times for their haunting voices at dawn. After lunch, tour the East Bank of Luxor, starting with the strikingly graceful Temple of Luxor dedicated to the god Amun. Proceed to the Temple of Karnak, built over 1000 years by generations of Pharaohs. The great "Hypostyle Hall" is an incredible forest of giant pillars, covering an area larger than the whole of Notre Dame Cathedral. Tonight, enjoy a farewell dinner on board. (B, L, D, Dr)
Day 7 – LUXOR: Enjoy breakfast onboard, then check out. Transfer to the Steingenberger Luxor Hotel where you'll enjoy a free day. Overnight here in Luxor. (B)
Day 8 – FLIGHTS: After breakfast you'll enjoy some free time for exploring before being transferred to the airport for your flight to Cairo. Transfer to the Conrad Hotel. Overnight here. (B)
Day 9 – CAIRO: Enjoy breakfast, then a fascinating tour of 7,000 years of Egyptian history with a visit to the Egyptian Museum of Antiquities. The Museum houses the world's greatest collection of Ancient Egyptian artifacts, including 12 rooms filled with golden treasures from the world-famous tomb of the boy-king Tutenkhamun. Take a fascinating tour of Islamic Cairo, including the beautiful and graceful Mohamed Ali Mosque and the ancient Citadel, a spectacular medieval fortress perched on a hill above the city. Originally built by Salah El-Din in 1176 to fortify the city against the Crusaders, the Citadel was modified and enlarged over the centuries by subsequent rulers; today it is a complex of three mosques and four museums. Proceed to the fascinating Khan El-Khalili Bazaar – reputed to be the largest bazaar in the Middle East. Originally founded as a watering stop for caravans in the 14th century, the bazaar has now grown to vast proportions. As you wander through the labyrinth of narrow streets you will find workshops and stalls selling all manner of things from woodwork, glassware, and leather goods, to perfumes, fabrics, and Pharaonic curiosities. Remember to bargain hard! (B)
Day 10 – CAIRO/FLIGHTS: Enjoy a last morning in Cairo before transfering to the airport for your flight home. (B)
More information from Adventures In Africa: