Adventures In Africa - vacations and travel
Group Kili Trek - Shira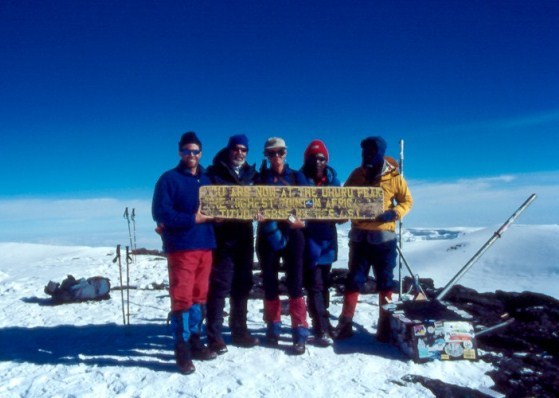 from $3,498* per person
9 Days
December-March, June-October
Comfort accommodations

Exertion level: 3

Operator:

Adventures In Africa

24 people max
Arusha airport, arusha, tanzania
Active & Adventure trips
Join us on this fantastic group Kilimanjaro climb ascending Africa's highest mountain. We combine an 8-day trek on the Shira Route with 1 night at a luxury lodge just outside Arusha. The Shira Route is one of Kili's least used initial ascent routes due to its remote location and high starting elevation, thus we start slow and easy. The many changes of scenery and spectacular hike across the Shira Plateau make this trek truly special. The spectacular hike along the northern circuit affords opportunities to see some animals; possible elephant, buffalo, eland, and signs of many other animals. Due to the rugged terrain and the limited acclimatization time, fitness plays a huge role in the enjoyment and success of this trek. Accommodations are in mountain tents and dining is in our mess tent. Toilet tents with convenient and sanitary portable flush toilets are set up at all camps.

Locations visited/nearby
Tanzania, Africa
Comments from Facebook
Special information
This is a custom departure, meaning this trip is offered on dates that you arrange privately with the provider. Additionally, you need to form your own private group for this trip. The itinerary and price here is just a sample. Contact the provider for detailed pricing, minimum group size, and scheduling information. For most providers, the larger the group you are traveling with, the lower the per-person cost will be.
Itinerary
Day 1 (Friday) – ARUSHA: Arrive at Arusha Safari Lodge on your own (airport transfers can be arranged for an additional cost.) Dinner is served at lodge after a comprehensive climb briefing. Overnight here. (D)
Day 2 – MORUM BARRIER GATE (12,362 ft.) – SHIRA 1 CAMP (12,200 ft.): Departure from Arusha will be at around 7:30am for Londorossi gate, about 4 hours, where you will complete entry formalities. Then continue up by car to Morum Barrier Gate (another hour to reach the trailhead). Upon arrival at trail-head, eat lunch, then commence through heather and moorland which lead to the first camp, (which is a descent) only about 1-2 hours of trekking. The view of Kibo from across the plateau is stunning. Dinner and overnight here. (B, L, D)
Day 3 – SHIRA 1 CAMP - SHIRA 2 CAMP (12,600 ft.): Full day exploration of the Shira plateau; Trek east toward Kibo's glaciered peak, with the option to visit the ancient collapsed Shira cone, the oldest of Kilimanjaro's three volcanoes. Arrive at Shira 2 camp, at 12,600 ft. Shira is one of the highest plateaus on earth, averaging 12,500 feet. Trekking time without the optional excursions is about 3 hours. Dinner and overnight at camp. (B, L, D)
Day 4 – SHIRA 2 CAMP - MOIR CAMP (13,800 ft.): Proceed steadily upward through the heather and into the barren high altitude desert, toward the "Shark's Tooth", to Moir Camp. The trek is about 2-3 hours, and offers a great chance for your body to acclimatize to the altitude. Moir camp is an isolated and seldom used camp affording views over the Shira Plateau. Dinner and overnight at camp. (B, L, D)
Day 5 – MOIR CAMP - BARRANCO CAMP (12,950 ft.): Begin the morning trek heading out of the moorland and into the stark alpine desert, on a steep ridge off the main trail, and begin our venture on the Northern Circuit Route. The total trekking time is about 5 – 7 hours. From the Pofu Campsite you will enjoy a magnificent view into Kenya's wild lands to the north. (B, L, D)
Day 6 – POFU CAMP - RONGAI 3 CAVES CAMP (12,960 ft.): Proceed onward through valleys and over ridges through the alpine desert and moorland, continuing our circuit to the east, enjoying a vast mountain wilderness to ourselves. We arrive at the intersection with the Rongai Route after 4-6 hours trekking. Overnight at Rongai 3 Caves for the night. (B, L, D)
Day 7 – RONGAI 3 CAVES CAMP - OUTWARD BOUND CAMP (15,585 ft.): From here the trail turns steadily uphill. The temperature will grow colder and the landscape more sparse as we near Barafu Camp. Barafu Camp is set on a small, exposed flat area on a ridge, acting a base camp from which you will make your summit attempt at midnight tonight. The trekking time is 4-5 hours. Eat and drink as much as possible before retiring early to your tent for rest and sleep. (B, L, D)
DAY 8 - OUTWARD BOUND CAMP - UHURU PEAK (19,340 ft.) - MWEKA CAMP (10,200 ft.): A midnight wake-up call is the start of a long trek. You begin trekking at 1am up the winding path of endless switchbacks. From your camp to the rim of the crater (Gillman's Point (18,750 ft./ 5,712 m)) to Uhuru Peak, the trekking time is about 7 - 8 hours. The slope is steep, with switchbacks, over loose rock and scree with some boulders as you near Gilman's Point. You will stop at Hans Meyer cave on the way, the famous place where Kilimanjaro's first western climber described in his journals. Once you arrive at Gilman's Point at the edge of the crater, the trail to the summit is less demanding, and is reached after a further 1½-2 hours along the snowy crater rim (depending on the season). After a short time at the summit, re-trace your steps back to Gilman's Point, then summon your strength again for further descent to Mweka Camp for the night. (B, L, D)
DAY 9 - MWEKA CAMP - MWEKA GATE (6,000 ft.)/ARUSHA: Descend straight to the gate (2 - 3 hours), where you'll have lunch and will be awarded climbing certificates. Private transfer back to Arusha, and drop at the hotel of your choice (hotel priced separately), or drop at JRO airport (B, L, D)
More information from Adventures In Africa: