Elevate Destinations - vacations and travel
Honduras Eco-Retreat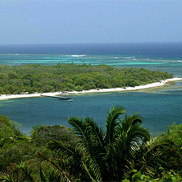 from $3,500* per person
8 Days
Year-round
Comfort accommodations

Exertion level: 3

Operator:

Elevate Destinations

24 people max
San pedro sula international airport, honduras
Active & Adventure trips
This retreat combines the best of the Honduran rainforest and beach ecologies. Your exploration of Pico Bonito National Park and the Bay Islands will leave you awed and renewed by Nature's powers. Community action options are included in for your journey.
Locations visited/nearby
Honduras, Central America
Comments from Facebook
Special information
This is a custom departure, meaning this trip is offered on dates that you arrange privately with the provider. Additionally, you need to form your own private group for this trip. The itinerary and price here is just a sample. Contact the provider for detailed pricing, minimum group size, and scheduling information. For most providers, the larger the group you are traveling with, the lower the per-person cost will be.
Itinerary
Day 1
Pico Bonito Lodge
Arrival Pico Bonito
Arrive into San Pedro Sula International airport and change planes for your internal flight to La Ceiba. Once in la Ceiba airport be met by a representative from Pico Bonito lodge for the 20min transfer to the lodge.
The Pico Bonito lodge is a beautiful, luxury eco-lodge located on the edge of the Pico Bonito National Park enjoying views of the "Nombre de Dios" mountain range, the 8,000ft Pico Bonito Summit and surrounding rainforest. The lodge is a 200 acre protected area with numerous trails within the property & leading into the adjacent national park so nature hikes are in easy access and wildlife is abundant. For birdwatchers there are observation towers from where you can spot some of the 325 species of birds and there is also a butterfly farm on-site. There are 22 luxury cabins discreetly located in the rainforest scenery, a restaurant and bar looking onto lush gardens and the swimming pool.
Day 2
Pico Bonito Lodge
Cacao Lagoon
You will be picked up from your hotel & transferred to Cacao Lagoon, where you will be able to meet the local people of this fishing village, living an authentic, traditional life. Jump in the kayaks and paddle through the mangroves, always along the shore so that you can see as much wildlife as possible--birds, butterflies, bats and howler monkeys. Reaching the beachside of Cacao Lagoon, paddle into the Caribbean and try kayaks in the waves. The beach here is picturesque, serene and deserted. After a fruity beach picnic, paddle back to your starting point and for the transfer back to your hotel for free time to relax or explore. Other tours available in this area include white water rafting, horse-riding on the beach
Day 3
Pico Bonito Lodge
Cuero y Salado
Transfer from your hotel to this wildlife refuge situated 33km from La Ceiba-- home to many endangered animal species found within the mangrove canals proceeding from the rivers Cuero and Salado. There is a mixture both fresh and salt water here, the reserve being right at the ocean's edge. From La Union, catch a ride on the old railway to reach this wildlife refuge, and then explore the mangrove lagoons by boat or canoe. Manatees, monkeys, alligators and a variety of birds are all part of the highlights of this protected and diverse habitat run by the foundation FUCSA. Most frequently seen wildlife: Howler monkeys, more than 200 species birds (Herons, kingfishers, gallinules) and butterflies, manatee, alligators.
Day 4
Palmetto Bay
Nature Hike & Transfer to Roatan
In the morning embark on a guided nature hike into the Pico Bonito reserve to see various species of wildlife and enjoy the tropical rainforest scenery and the many rivers and waterfalls of the area. Lunch is included back at the lodge. Afternoon transfer to La Ceiba airport for the short 20min flight over to the island of Roatan and the 20min transfer to your remote beach lodge.
Palmetto Bay is located in a very secluded position only reached by a dirt road and offers guests a huge stretch of private beach. The hotel is actually made up of a number of privately owned 1 and 2 bedroom villas set in beautiful gardens full of tropical flowers which attract butterflies, parrots and humming birds. All windows are slats which can be opened for 360 degree views of these gardens. From the beach you can walk out to the reef which is ideal for snorkeling.
Day 5, 6, & 7
Kanantik
Free Days at the Beach
A free day at the beach lodge: your choice of snorkeling, diving, fishing or other local tours
Day 8
Departure
More information from Elevate Destinations: