Elevate Destinations - vacations and travel
Honduras Green Honeymoon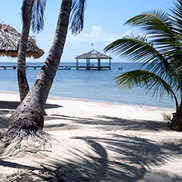 from $3,500* per person
11 Days
Year-round
Comfort accommodations

Exertion level: 3

Operator:

Elevate Destinations

24 people max
San pedro sula international airport, honduras
Family & Friends trips
This honeymoon combines the best of the Honduran rainforest and beach ecologies. Your exploration of Pico Bonito National Park and the Bay Islands will leave you awed and renewed by Nature's powers. Community action options are included in your journey.
Locations visited/nearby
Honduras, Central America
Comments from Facebook
Special information
This is a custom departure, meaning this trip is offered on dates that you arrange privately with the provider. Additionally, you need to form your own private group for this trip. The itinerary and price here is just a sample. Contact the provider for detailed pricing, minimum group size, and scheduling information. For most providers, the larger the group you are traveling with, the lower the per-person cost will be.
Family oriented trip.
Itinerary
Day 1
Arrive & Transfer to Copan
Arrive into San Pedro Sula airport and be met by your driver for the private transfer to Copan Ruinas (3hrs) and up to the unique and beautiful lodge of Hacienda San Lucas. You will be met by flowers and wine in your room and enjoy a romantic candlelit dinner.
Hacienda San Lucas
Hacienda San Lucas is an authentic Spanish colonial hacienda which has been lovingly restored by owner Flavia Cueva into an romantic, atmospheric eight room boutique lodge. It is situated on the hillside overlooking the picturesque Copan valley and indeed from the garden you can see the temple tops of the Copan site itself! The décor is tasteful and comfortable and the gardens and general areas are beautiful. The restaurant is a unique blend of traditional and international cuisine. Behind the hotel are lots of walking trails (also great for bird watching), and there is even a small archaeology site called Los Sapos right there on the property. Flavia is a very spiritual person and has also now set up a Yoga studio and offers spiritual retreats.
Facilities: 8 Rooms, Restaurant, Bar, Gardens, Yoga Studio
Location: Hillside setting just outside the town of Copan Ruinas. 15min transfer from town.
Day 2: Finca El Cisne & Dinner with an Archaeologist
You will be met by your guide Carlos, to begin your full day excursion out to "Finca El Cisne". Carlos's family owns the farm, "Finca El Cisne": he will take guests on a tranquil horseback ride or hike through the farmlands and beautiful scenery of the Copan Valley followed by a hearty farmhouse lunch cooked by Carlos's mother where you can also taste the coffee grown here. In the afternoon guests explore the coffee and cardamom plantations and learn about cattle ranching. This wonderful tour finishes with a dip in the hot springs on the way back to your hotel.
In the early evening guests are transferred to the home of renowned archaeologist Dr David Sedat where they will have a personal presentation from David on some of his work at Copan over the past 16 years, followed by a home cooked dinner.
Day 3: Copan Archaeology Site, Bird Park & Hot Springs
Guests are transferred to the Archaeology site at Copan. Here they enjoy a guided tour of this beautiful site, which is famous for its intricately carved stelea & hieroglyphic stairway as well as its comprehensive museum. When ready, guests return to Copan and to the Bird Park for lunch. After lunch guests enjoy a walk in the lush, shady river valley location of the Copan Bird Park where a local guide will accompany them to see and interact with a number of beautiful tropical birds that have been rescued from locales all over Honduras. As the day begins to cool off, guests then transfer to the Copan Hot Springs in the lush tropical surroundings to enjoy relaxation in a variety of natural pools. After a fun packed day we transfer back to Hacienda San Lucas for dinner and overnight.
Day 4: Transfer to Pico Bonito
Arrive into San Pedro Sula International airport and change planes for your internal flight to La Ceiba. Once in la Ceiba airport, you will be met by a representative from Pico Bonito lodge for the 20min transfer to the lodge. At the lodge, you will be welcomed by flowers and wine, and a special greeting.
Pico Bonito Lodge (Eco Lodge)
The Pico Bonito lodge is a beautiful, luxury eco-lodge located on the edge of the Pico Bonito National Park enjoying views of the "Nombre de Dios" mountain range, the 8,000ft Pico Bonito Summit and surrounding rainforest. The lodge is a 200 acre protected area with numerous trails within the property & leading into the adjacent national park so nature hikes are in easy access and wildlife is abundant. For birdwatchers there are observation towers from where you can spot some of the 325 species of birds and there is also a butterfly farm on-site. There are 22 luxury cabins discreetly located in the rainforest scenery, a restaurant and bar looking onto lush gardens and the swimming pool.
Facilities: Restaurant, Bar, Pool, 200 acres of private nature reserve, Conference Centre
Location: 30mins from La Ceiba Airport. 3 Hours from san Pedro Sula Airport. 20min flight to Roatan Island.
Day 5: Cacao Lagoon
Guests are picked up from their hotel & transferred to Cacao Lagoon, where they will be able to meet the local people of this fishing village, living an authentic, traditional life. Then guests jump in the kayaks and paddle through the mangroves, always along the shore so that they can see as much wildlife as possible. In this area guests should see lots of birds, butterflies, bats and howler monkeys. Reaching the beachside of Cacao Lagoon we paddle into the Caribbean and try our kayaks in the waves. The beach here is picturesque, serene and deserted. After a fruity beach picnic, we paddle back to our starting point and are met for the transfer back to their hotel for free time to relax or explore.
Day 6: Cuero y Salado
Guests transfer from their hotel to this wildlife refuge situated 33km from La Ceiba, home to many endangered animal species which are found within the many mangrove canals proceeding from the rivers Cuero and Salado. There is a mixture of both fresh and salt water, the reserve being right at the ocean's edge. From La Union, we catch a ride on the old railway to reach this wildlife refuge, and then by boat or canoe we explore the mangrove lagoons. Manatees, monkeys, alligators and a variety of birds are all part of the highlights of this protected and diverse habitat run by the foundation FUCSA. Most frequently seen wildlife: Howler monkeys, more than 200 species birds (Herons, kingfishers, gallinules) and butterflies, manatee, alligators.
On your final night in Pico Bonito you will have a special private dinner organized in the Pico Bonito grounds overlooking the river in lush tropical scenery.
Day 7: Nature Hike & Transfer to Roatan
In the morning, embark on a guided nature hike into the Pico Bonito reserve where you can see various species of wildlife and also enjoy the tropical rainforest scenery and the many rivers and waterfalls of the area. Lunch is included back at the lodge. In the afternoon, transfer to La Ceiba airport for the short 20min flight over to the island of Roatan and the 20min transfer to their remote beach lodge – Palmetto Bay.
Palmetto Bay
Palmetto Bay is located in a very secluded position only reached by a dirt road and offers guests a huge stretch of private beach. The hotel is actually made up of a number of privately owned 1 and 2 bedroom villas set in beautiful gardens full of tropical flowers which attract butterflies, parrots and humming birds. All windows are slats, which can be opened for 360 degree views of these gardens. From the beach you can walk out to the reef, ideal for snorkeling.
Facilities: Selection of 1 and 2 bedroom Villas, Restaurant, Bar, Beach, Dive Shop
Location: Remote Location – 30mins from the airport.
Days 8, 9 & 10: Free days at the beach
Free days at the beach lodge to book locally your choice of snorkeling, diving, fishing or other local tours.
Day 11
Departure
Transfer to Roatan airport for your internal flight to San Pedro Sula (Via La Ceiba) to connect with your international connection.
More information from Elevate Destinations: