Karma Quest - vacations and travel
Heart of the Annapurnas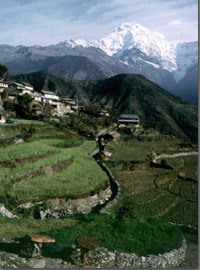 from $1,975* per person
19 Days
April, May, November
Comfort accommodations

Exertion level: 3

Operator:

Karma Quest

15 people max
Kathmandu, nepal
Active & Adventure trips
The Annapurna Sanctuary - indeed an Abode of the Gods - lies in central west Nepal near the lakeside town of Pokhara. This 13-day trek takes you deep into the lap of 20,000+' peaks, revered by the local Gurung people. You'll start the trek from Pokhara (3000') and ascend gradually to 13,800', traversing breathtaking rhododendron forests (in full bloom in spring) and stunted bamboo. Staying in local lodges invites cheerful banter with villagers, many the families of retired British Gurkha officers with impeccable English! Visit the Annapurna Conservation Area Project (ACAP) office in Ghandruk, and learn about local efforts to conserve this natural and cultural wonderland.
Locations visited/nearby
Nepal, Asia
Comments from Facebook
Itinerary
Day 1-2
Travel from US to Bangkok (or Delhi), overnight
Day 3
Fly to Kathmandu, check in and visit Swayambunath Temple
Day 4
Full day sightseeing to Bhaktapur & Patan medieval cities and the award-winning Patan museum.
Day 5
Scenic drive to Pokhara, Trek to Dhampus (5810') Dhampus offers a spectacular panorama of the Annapurna range, well deserved after a steep climb this first day up a never-ending staircase, shared with village farmers.
Day 6
Trek to Landrung (6800'). Trek through rhododendron forests bursting with spring color, and grass-thatched Gurung villages. 6 hrs.
Day 7
Trek to Chomrung (6700') Cross the Modi Khola (river), and ascend through stair-stepped fields and forest to Chomrung, gateway to the Annapurna Sanctuary. Sunset turns Annapurna South ablaze. 5-6 hrs.
Day 8
Trek to Dovan (8000') Descend through village rice fields to cross a suspension bridge. Enter the Modi Khola gorge and climb through rhododendron and bamboo forests. 5-6 hrs.
Day 9
Trek to Machhapuchhare Base Camp (12,000') From Dovan the trail soon enters the Sanctuary, crossing glacial streams. Reach Machhapuchhare Base Camp in 6-7 hrs, with its splendid, panoramic views of snow-bound peaks Hiunchuli, Annapurna I, Annapurna III, and Machhapuchhare, the famous 'Fish Tail.' A sight to remember!
Day 10
Trek to Annapurna Base Camp (ABC) (13,430') Rise early to catch the first sun rays on the peak summits and assure a clear view. Climb a short but strenuous distance to ABC, from where opens an unbelievable 360° degree view of even more peaks, including the South Face of Annapurna I, III, IV, Annapurna South, Machhapuchhare, Singha Chuli, Tent Peak and Hiunchuli.
Day 11
Trek to Bamboo (7600'). Make your way easily down valley. Notice this unusual thick bamboo forest, passing beneath brimming waterfalls. 5-6 hrs.
Day 12
Trek to Chomrung (6700') Revisit Rhododendron and oak forests. 5 hrs.
Day 13
Trek to Ghandruk (4000') A welcome site, at the end of a long climb up from the Modi Khola. This model village boasts of hydro-electricity and active conservation groups as well as souvenir shopping. 6 hrs.
Day 14
Ghandruk Rest, and spend the day exploring Ghandruk, where women spin wool in flagstone courtyards. Visit ACAP visitor center and a local museum.
Day 15
Trek to Birethanti (3600'), Drive to Pokhara Stone-staircases - and last views of the Sanctuary's peaks - accompany you down to Birethanti. This bougainvillea-adorned, riverside village is an ancient trade center between Pokhara and Tibet. 4-5 hrs. Overnight in a hotel in Pokhara.
Day 16
Flight to Kathmandu Explore Pokhara in the morning, fly to Kathmandu, now seeing the grand Himalaya from a bird's eye. Transfer to hotel.
Day 17
Free time to explore and shop in Kathmandu.
Day 18
Depart Kathmandu (or extend your stay in Nepal with a 2 night/3 day Jungle Safari excursion to Chitwan. Please inquire.
Day 19 -
Arrive in US
More information from Karma Quest: