Karma Quest - vacations and travel
Tracking Ecotourism (and a Yak's Tail) Through Langtang, Nepal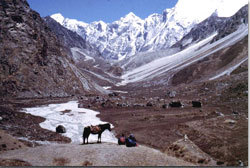 from $2,150* per person
20 Days
April, November
Comfort accommodations

Exertion level: 3

Operator:

Karma Quest

15 people max
Kathmandu, nepal
Active & Adventure trips
On this 12-day trek up the spectacular Langtang Valley, you'll hike through an ever-changing landscape of lush rhododendron and oak forests to glaciated meadows and soaring peaks. Langur monkeys and ghoral (mountain goats) are easily spotted along the stream, while Himalayan thar dot the cliffs on high. You'll meet village leaders and youth with whom KarmaQuest founder Wendy Brewer Lama worked to establish community-based ecotourism. You'll track the benefits of ecotourism, while learning from villagers and national park staff about ongoing wildlife and forest conservation.

This moderately strenuous trek begins at 6,000 ft, and climbs gradually to 13,000+ ft, following the Langtang Khola (river) and the legendary "tail of a yak" -- as did the Tibetans who settled and thus named this magnificent glaciated valley centuries ago.

Beginning and ending in Kathmandu, this 20-day trip (ex-US) includes tours of Kathmandu's world heritage cultural sites, ecotourism orientation and cultural programs, and visits to favorite Kathmandu spots.
Locations visited/nearby
Nepal, Asia
Comments from Facebook
Itinerary
Day 1-2 Travel from US,

then route to Kathmandu. Overnight as per your routing.

Day 3 Fly to Kathmandu

Sightseeing to Swayambhunath temple

Day 4 In Kathmandu:

Sightseeing to Patan Durbar Square, and the award-winning Patan Museum. Slide show: Langtang Ecotourism Project.

Day 5 Drive to Dhunche, Gateway to Langtang National Park.

Join village youth on a cultural walk Camp (6400')

Day 6 Trek to Riverside Camp:

Orientation to Langtang National Park. Begin trek, following a shaded path along the Langtang River (6600'). 4-5 hrs

Day 7 Trek to Forest Meadow:

Continue hiking through cool temperate forests. Lunch at Lama Hotel with village leaders. Camp in meadow (8500'). 5 hrs

Day 8 Trek to Ghora Tabela:

Trek to Ghora Tabela - "horse stables" - set in the glacially carved upper Langtang Valley. Watch for the legendary semi-wild yak! Afternoon free. (9800'). 3 hrs.

Day 9 Trek to Langtang Village:

A half-day trek to an active farming settlement. Visit community projects and camp in this friendly village. Watch for Himalayan thar (wild mountain goat) on the high cliffs (11,200')

Day 10 In Langtang Village:

Spend a day in the village, visiting a 200-year-old monastery and a traditional home, and learning about community conservation projects. Traditional dances with villagers in the evening.

Day 11 Trek to Kyangjin Gompa:

Arrive mid-day at Kyangjin Gompa, surrounded by glaciers and snowy peaks up to 22,000' in elevation, including Langtang Lirung. Visit cheese factory (12,800') 3-4 hrs.

Day 12 Trek to Upper Langtang Valley:

Enter a Tibet-like landscape, where herders graze their yaks, and snow leopard roam. Camp beneath snow-topped peaks (13,000+'). 5 hrs

Day 13 Explore and Return to Kyangjin Gompa:

Day hike to mountain viewpoints, explore side valleys and return to camp at Kyangjin Gompa.

Day 14 Trek to Ghora Tabela:

Follow the mani (prayer) stonewalls to Ghora Tabela, part traditional villages and stone houses (9800'). 4-5 hrs

Day 15 Trek to Bamboo, where the Valley's best handicrafts are sold.

Watch for goral (wild goats) and monkeys in the bamboo groves. (6500') 4-5 hrs

Day 16 Trek to Syabrubensi, Drive to Kathmandu:

Overnight at hotel. 3-4 hrs

Day 17/18 In Kathmandu:

Guided sightseeing tours of historic Bhaktapur, Pashupatinath temple, and a special visit to an orphanage. Free time for shopping and R&R. A final traditional Nepali meal and cultural program.

Day 19 Depart Kathmandu,

in transit.

Day 20 Arrive in US


More information from Karma Quest: