Karma Quest - vacations and travel
Trans-Himalaya Tour: Kathmandu Overland to Qomolangma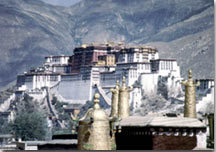 from $2,950* per person
17 Days
September
Comfort accommodations

Exertion level: 3

Operator:

Karma Quest

15 people max
Kathmandu, nepal
Active & Adventure trips
Tibet is a land of immense natural beauty and a fascinating culture built around an unbending Buddhist faith. Some of the truly memorable experiences you'll encounter are the images of wispy white clouds against an expansive azure sky, the endless yak-trimmed grassland, the vibrant pink, peach, lavender-colors of exposed, twisted earth, the people's spirit in their eye and in their places of worship. Driving from Kathmandu to Lhasa, across the vast Tibetan plateau, awakens a yearning to further explore this stark landscape of holy lakes, hidden caves, clustered mud house villages, and wildlife inhabited pasture land.

Your own pilgrimage will begin in Kathmandu, Nepal, visiting Bhaktapur and Patan, cities renowned for their medieval charms and richly carved wood and metal artistry. The dirt highway leaves Nepal's lush green valley behind as it climbs up to the Tibetan moonscape, crossing several passes above 15,000 ft. on the Friendship Highway to Lhasa. En route, you will visit Everest ("Qomolangma" to the Tibetans) base camp, the sprawling Tashilhunpo Monastery in Shigatse, and the stunning Kumbum Chorten and Palkhor Monastery in Gyantse. In Lhasa, you'll tour the Potala Palace, the Jokhang, and outlying monasteries before returning to Kathmandu by air - one of the most spectacular flights on earth! - before returning home.
Locations visited/nearby
Tibet, Asia
Comments from Facebook
Itinerary
Day 1-2 Fly USA en route to Kathmandu
(overnight in Delhi, Bangkok, or other cities, depending upon your routing.)
Day 3 Arrive in Kathmandu: KarmaQuest
staff will meet you at the Tribhuvan International Airport and transfer you to your hotel in downtown Kathmandu (15-20 min. from airport). Karma-Quest staff will meet with the group later for a briefing, and to collect your passport photos and passport for the Tibet visa.
Day 4 Kathmandu:
Half-day sightseeing in the morning, visiting Bhaktapur and Patan. Bhaktapur is a lovely well-preserved medieval city located about 13 km east of Kathmandu city. You'll enjoy a walk through the cobble stone streets, seeing artisans and some of the most beautiful temple art in Nepal. Patan is another ancient capital city overflowing with temples an award-winning museum.
Day 5 Kathmandu- Kodari/Zhangmu
(244km.) From Kathmandu, drive about 5 hrs to Zhangmu (just inside the Tibet border) in the morning, lunch en route. The road passes through the steep terraced Nepalese countryside - a sharp contrast to what lies ahead. At Friendship Bridge (the Nepal-Tibet border) you'll meet your Tibetan guide. Overnight stay at Zhangmu (2300 m/7500 ft)
Day 6 Zhangmu to Nyalam:
Following an historic trade route, revived today, the road wends far above a spectacular gorge brimming with waterfalls, and then climbs dramatically up switchback curves onto the dry Tibetan plateau. Overnight at Nyalam in a Tibetan hotel.
(3720 m/12,000 ft).
Day 7 Nyalam to Shegar:
Shortly after departing Nyalam, you'll visit an ancient meditation cave of the well-loved teacher/saint, and poet, Milrepa. Continue driving across this lovely yet stark landscape, watching for Tibetan antelope or wild ass as you go. Lunch stop at old Tingri. Stay at Qomolangma Hotel in Shegar (4359 m/14,500 ft)
Day 8 Drive to Rongbuk Monastery:
Early in the morning, cross Pang La (16,900 ft), with breath-taking views of Qomolangma. From this angle, it stands visibly higher than any of the surrounding peaks. Lunch at Rongbuk and overnight at Rongbuk Guest House. Visit Everest Base Camp (5090 m/16,800 ft). Rest of day free to wander in the lap of Mt. Everest, or visit mountaineering camps.
Day 9 Everest Base Camp/Rongbuk to Shegar:
Visit the ruins of an historic fortress at Shegar, built out of a craggy rock pinnacle overlooking - and once protecting the town. Overnight at hotel.
Day 10 Shegar/Shigatse (240 km): Continue eastward on the Friendship Highway to Lhatse, you'll cross the 5,220 m/17,230 ft Gyatsola Pass, the highest pass on the road to Lhasa. Take a side trip to visit Sakya Monastery, home of the Sakya sect of Tibetan Buddhism, a large fortress-like monastery complex with expansive prayer chambers noted for their huge timbers. Shigatse is the second largest town in Tibet and the capital of Tsang, lying 354 km west of Lhasa at an altitude of 3,810 m/12,570 ft. Overnight in a hotel.
Day 11 Shigatse/Gyantse:
Morning visit to the impressive Tashilhunpo Monastery, home of Tibet's Panchen Lama, a sprawling complex with a gigantic Maitreya (Future Buddha) statue. Various temples contain ornate reliquary chortens. Visit Shigatse's outdoor market for some real treasures. Continue your drive to Gyantse (90 kms), once at the crossroads of trade with India. The monastery compound is presided over by the still intact fortress perched atop a nearby mountain. Visit the Kumbum Chorten (shrine) and Palkhor Monastery. Overnight in a hotel in Gyantse (3950 m/13,000 ft.).
Day 12 Gyantse/Lhasa:
You'll continue on a full day picturesque drive to Lhasa, crossing Karola Pass at 5,010m/16,500 ft, Kambala Pass at 4,794 m/15,820 ft. and past the brilliant turquoise blue Yamdrok Tso (Lake). Descending into the Lhasa Valley, the road crosses the Tibetan lifeline river Brahmaputra also known as Yarlung Tsangpo, before reaching the capital town Lhasa (264 km). Stay in the Shambala Hotel (3,640 m/12,000 ft), located near the Jokhang temple in central Lhasa.
Day 13-14 Lhasa:
Visit the Jokhang Temple, situated in the heart of Old Lhasa, housing Tibet's most precious religious relic, a golden Shakyamuni Buddha which was brought as a gift by the Chinese Princess Wen Cheng on the occasion of her wedding to the Tibetan King, Songtsen Gompo. Surrounding the Jokhang Temple is the bustling Barkhor market place, where Tibetans circumambulate the Jokhang, and the social focus of Lhasa. Also visit Norbulingka, the summer palace of the Dalai Lama, and Sera Monastery, where monks debate as they have for centuries. Visit the Potala Palace, an image synonymous with Tibet. It sits imposingly atop a hill overlooking Lhasa, built by the first and foremost king of Tibet, Songtsen Gompo, and expanded to its present size during the 17th century by the fifth Dalai Lama. This 13 story, 1000 room citadel served as the headquarters of the former "church-state" of Tibet and was home to successive Dalai Lamas. O/N at Shambala Hotel.
Day 15 Lhasa Area:
Visit Ganden Monastery, located east of Lhasa. Once the largest monastery complex in the Lhasa area, it was largely destroyed during the Cultural Revolution, and is now being restored. Walk the kora (path around the monastery complex), a restful respite from busy Lhasa, with a picnic lunch on the hills overlooking the Kichu River.
Day 16 Lhasa/Kathmandu:
Early pickup for transfer to the Gonggar Airport (96 km from Lhasa) for the spectacular flight to Kathmandu. Transfer to hotel. The rest of the day is free to shop or explore on your own.
Day 17 Depart Kathmandu:
Transfer to airport for your flight home.
More information from Karma Quest: