Karma Quest - vacations and travel
A Pilgrimage Trek: Gyama to Samye -- Lhasa and Central Tibet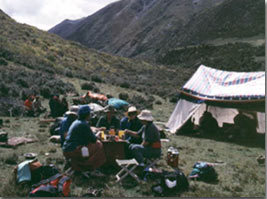 from $2,990* per person
17 Days
October
Comfort accommodations

Exertion level: 3

Operator:

Karma Quest

15 people max
Kathmandu, nepal
Active & Adventure trips
The plane from Kathmandu pierces the clouds and slices between Mt. Everest and Kangchenjunga on its way to Lhasa. During four days in Lhasa, you'll acclimatize to these lofty heights and tour the breath-taking summer and winter palaces (the Potala) of His Holiness the Dalai Lama, and join Tibetan worshippers inside the massive butter-lamp lit Jokhang Temple. Visit a nunnery and thehistoric monasteries of Lhasa Valley, join new friends for a traditional Tibetan feast, and stroll the back lanes of Lhasa where Khampa warriors and reincarnate lamas stroll.

Tibetans earn merit toward a better next life by doing kora (circumambulating a holy place) and visiting sites where their beloved Guru Rinpoche once meditated. Join local pilgrims on the Ganden Monastery kora,high above the Kichu River Valley, before embarking on the trek. From the farming valley of Gyama, you'll climb gradually to Tseb La (17,000') and Kampa La (16,450'). Camping invites evening sightings of wildlife (giant marmots, mountain ungulates) and the starriest clearest skies imaginable.

Over the pass, you'll enter a valley of roses and pass by countless holy sites, meditation caves and ancient chortens (stupas) following centuries of pilgrims' footsteps. The trek ends at Samye Monastery, Tibet's first monastery, recently restored in full grandeur. Finally, a trip to the "Valley of the Kings" - the cradle of Tibetan civilization. Fly back to Kathmandu.
Locations visited/nearby
Tibet, Asia
Comments from Facebook
Itinerary
Day 1-2 Fly US to Bangkok,
overnight
Day 3 Fly Bangkok to Kathmandu:
Visit Swayambhunath Temple, overnight
Day 4 Kathmandu:
Stroll Bhaktapur's medieval cobbled lanes and palaces.
Day 5 Fly over the Himalaya to Gonggar airport, drive to Lhasa (12,000')
Day 6-7-8 Sightseeing in Lhasa:
The Potala and Norbulingka Palaces,
Jokhang Temple, a nunnery, Drepung Monastery, and time to stroll the Barkor. Tibetan dinner with friends. Overnight Shambhala Hotel.
Day 9 Drive to Ganden Monastery:
Circumambulate its kora and visit restored temples. Enjoy a picnic overlooking the stark landscape. Camp at nearby Gyama Valley, 13,000'
Day 10 Begin the trek,
considered "one of central Tibet's finest moderate treks" (McCue, Trekking in Tibet). Ascend through pastures where yak herders camp in yak wool tents. Camp beneath the stars at 14,400'
Day 11 Continue gradually,
hiking through fragrant dwarf rhododendron and juniper. Magnificent views unfold. Camp close to 15,800'.
Day 12 Cross Tseb La and Kampa La
("la" means pass) and descend through a series of meadows where nomadic herders camp. (14,000')
Day 13 End Trek at Samye:
Descend through vales of flowers and rushing streams. Visit meditation caves. Cross the dry plains to Samye, its chortens gleaming from a distance. Overnight in guesthouse.
Day 14 Samye Monastery:
Visit monastery compound. Drive to Yarlung Valley, "Valley of the Kings" and Yumbulakhang, the oldest building in Tibet. Overnight in hotel in Tsetang or near airport.
Day 15 Early morning flight to Kathmandu:
Free time in Kathmandu.
Day 16 Fly Kathmandu to Bangkok
Day 17 Fly to US
More information from Karma Quest: