Karma Quest - vacations and travel
Treasures of Kangchendzonga: Darjeeling and Sikkim, India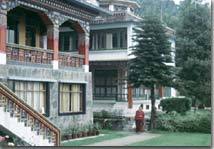 from $3,050* per person
20 Days
October
Comfort accommodations

Exertion level: 3

Operator:

Karma Quest

15 people max
Delhi, india
Active & Adventure trips
KarmaQuest offers this special trip to Sikkim and Darjeeling, in support of Sikkim's efforts to promote community-based ecotourism. In keeping with KarmaQuest's commitment to ecotourism, proceeds from this trip will go to the Kangchendzonga Conservation Committee for its environmental education activities in Yuksom.

The trip begins in historic Delhi, from where you'll fly to the base of the Himalaya, and climb by road to Darjeeling, famed for its tea. In Sikkim, you'll spend 9 days trekking through Sikkim's pristine forests, camping beneath snow-covered peaks, including Mt. Kangchendzonga (3rd highest peak in the world), guardian of Sikkim and Kangchendzonga National Park. Before and after the trek, you'll visit Sikkim's premier monasteries, Pemayangtse and Rumtek, and rest your feet at the charming Martam Village Resort, before a final night in Gangtok.
Locations visited/nearby
India, Sikkim, Asia
Comments from Facebook
Itinerary
Day 1-2 Travel from US to Delhi,
overnight at hotel.
Day 3 Fly Delhi to Bagdogra, drive to Darjeeling
The road winds up to Darjeeling's hilltop perch. Settle into a charming hotel in time for afternoon tea. (7000')
Day 4 Darjeeling:
Spend the day visiting the Himalayan Mountaineering Museum, the zoo, and the Tibetan refuge center. Stroll along the old Chowrastha arcade.
Day 5 Drive Darjeeling to Pemayangtse: Visit a tea estate en route to Sikkim. Drive to Pemayangtse/ Pelling, where you'll overnight in a Sikkimese style hotel. (6800')
Day 6 Pemayangtse to Yuksom:
Awake to a bird's eye view of Kangchendzonga and surrounding peaks. Visit Pemayangtse Monastery and Khechepalri (wish-fulfilling) Lake, and then drive to Yuksom to learn about conservation and ecotourism activities. Camp (5840')
Day 7 Trek Yuksom to Sachen:
Begin with a morning trek (about 4 hrs) through the rich and diverse forests of Kangchendzonga National Park. Watch for an amazing variety of birds, trees and medicinal plants. A gentle up and down, following the Prek Chu (river). Camp at 7,000'.
Day 8 Trek Sachen to Tsokha:
Ascend through a magical forest of towering rhododendron and fir trees: "one of the most beautiful forests in all the Himalaya." Rhododendrons in all colors -- red, pink, white, yellow, lavender -- adorn the trail. Camp at 10,760'.
Day 9 Trek Tsokha to Dzongri:
Ascend through a magical forest of towering rhododendron and fir trees: "one of the most beautiful forests in all the Himalaya." Camp at 12,600'.
Day 10 Dzongri Rest Day
Acclimatization day: early morning hike to a view point. Visit a yak herders' camp. Enjoy a "day off." Camp at 12,600'.
Day 11 Trek Dzongri to Thangsing:
Descend into the upper Prek Chu valley, crossing alpine meadows and fir and rhododendron forests. Camp in a wide glaciated valley, framed by glacial moraine. Climb to a lookout point on Kangchendzonga. Camp at 12,000'.
Day 12 Trek Thangsing to Samiti:
After lunch, continue up a long valley, amidst aromatic rhododendron shrubs, once illegally collected for making incense, a Buddhist offering. Mt. Kangchendzonga looms on the horizon. Camp near a small lake at Samiti, the peaks overhead, camp at 13,500'.
Day 13 Trek Samiti to Goechela to Thangsing:
Rise before sunrise to catch the best views of the peaks. Cross glacial till, alongside a massive glacial lake, and beneath ice-capped Himalayan peaks. Climb slowly up the last rise to Goechela (16,200'), for an exhilarating close-up view of Mt. Kangchendzonga. Descend beyond Samiti, to overnight in camp at Thangsing (12,000').
Day 14 Trek Thangsing to Tsokha:
Take an alternate route from Thangsing to Phedang, hiking through a magical forest of towering firs. Sikkim's forests are a source of much pride, and are protected inside this national park. Camp at Tsokha.
Day 15 Trek Tsokha to Yuksom:
It's all downhill from here. Descend to through temperate and sub-tropical forests, alive with butterflies, birds, and lush greenery to reach Yuksom by mid-afternoon. Overnight at hotel. Stroll through Yuksom's small bazaar or re-visit KCC to check with its naturalists on the flora and fauna you've seen.
Day 16 Drive Yuksom to Temi:
(4 hrs), winding up and down through Sikkim's vertical landscape, passing scattered villages where cardamom grows. Building and maintaining Sikkim's roads are an engineering feat. Visit Temi Tea garden. Overnight at Temi. Visit a family home.
Day 17 Martam:
Drive to Martam (3 hrs): Visit Rumtek Monastery, center of the Kagyu sect of Tibetan Buddhism: a masterpiece of color and pageantry where the Karmapa reigns. Overnight at Martam Village Resort. Watch for birds, or stroll the quiet village.
Day 18 Drive to Gangtok:
Visit Do-Drul Chorten, one of the Sikkim's most important Buddhist sites, and the nearby Institute of Tibetology with historic Buddhist scripts and ritual objects. A final shopping spree, and farewell dinner. Overnight in Gangtok.
Day 19 Drive to Bagdogra, fly to Delhi.
Overnight or connect to flight onward.
Day 20 Arrive in US
More information from Karma Quest: