Karma Quest - vacations and travel
Summertime Quest for the Snow Leopard and the Ancient Buddhist Culture of Ladakh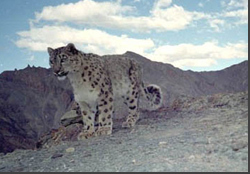 from $3,450* per person
18 Days
July
Comfort accommodations

Exertion level: 3

Operator:

Karma Quest

15 people max
Delhi, india
Active & Adventure trips
KarmaQuest has teamed up with the Snow Leopard Conservancy and Ladakhi partners in ecotourism to offer this one-of-a-kind trip -- trekking through snow leopard country in Ladakh, India. Your visit will help support local farmers to protect these endangered wild cats and generate income for education and jobs in these remote mountain villagers.

The trek through Hemis National Park takes you through mountainous terrain where some of the world's remaining 4,500-7,000 snow leopards roam. You are sure to find markings and evidence of these magnificent cats on this trip and who knows, you may be lucky and see one!

While on trek, you'll spend a night or more in the picturesque, high terrain villages of Rumbak and Yurutse, hosted in simple, clean farmhouses ("homestays") where you'll share a home-cooked meal and partake in the day's activities, be it farming, butter-making, or English lessons with the children. The villagers here have made a commitment to conserve the snow leopard in exchange for assistance in setting up ecologically sound tourism enterprises, including homestays and nature guiding services that have turned their innate knowledge and hospitality into income-generating livelihoods. The Snow Leopard Conservancy, The Mountain Institute, and UNESCO (advised by KarmaQuest owner Wendy Lama) have helped in these efforts.

In addition to the wildlife-viewing trek, you'll experience the rich culture and traditions of Ladakh, in village homes and at some of the best preserved Tibetan Buddhist monasteries in the world. Some were built in the 10th century and still actively functioning today.
Locations visited/nearby
India, Sikkim, Asia, Ladakh
Comments from Facebook
Itinerary
Day 1- Arrive in Delhi.
Rest from your travels or explore Delhi on your own. Overnight in hotel.
Day 2 - Delhi Sights:
Enjoy a day sightseeing in Delhi. Overnight in hotel.
Day 3 - Fly to Leh,
explore Leh and acclimatize: After a trip briefing, relax on your own before a welcome dinner. Hotel accommodations. (11,500 ft)
Day 4 - Walking Tour of Leh:
A guided walking tour of Leh Palace, Victory Peak, the old quarter, LEDeg gift shop and offices (a local conservation organization), and the SLC office. Hotel accommodations.
Day 5 - Leh:
Visit Ph-yang Monastery: attend the Ph-Yang Tsedup festival for the entire day and return to Leh. The huge thangka of Skyoba Giksten Gombo is hung in the courtyard during the festival.
Day 6 - Leh to Alchi:
Drive to Ulleytokpo Ethnic Resort, perched high above the Indus River gorge. Continue driving to the magnificent 10th century Alchi Monastery. Overnight in Ulley's furnished tented camp.
Day 7 - Alchi to Leh by vehicle:
Enroute visit the restored Basgo Palace, perched atop a craggy mount, and Liker Monastery with its giant outdoor Buddha. Return to Leh. Overnight in a hotel.
Day 8 - Drive and trek to Rumbak:
Enter Hemis National Park, and trek about 3 hrs to Rumbak village. Visit the local Ladakhi village homestays. Overnight in a homestay (or tent).(12,500 ft.)
Day 9 - Rumbak to Yurutse:
Visit a small monastery and talk with villagers about their conservation activities. After lunch, trek towards Yurutse, watching for wildlife. Overnight in tents. (13,500 ft.)
Day 10 - Yurutse to Skyu:
Follow a zigzag path up a steep slope leading to Ganda La pass (14,400ft). After 2 hrs of descent, arrive in the valley of Markha and shortly you reach Skyu. Hiking time: 5-6 hrs. Overnight in tents. (11,500 ft)
Day 11 - Skyu to Markha:
Cross the river and barren plains to arrive at Chaluk. Climb towards Markha village. Hiking time: 5-6 hrs. Camp beyond the village and near the river. (12,100 ft)
Day 12 - Markha to Thachungtse:
Follow the Markha Valley to Thachungtse via Hankar village. Hiking time: 5-6 hrs. Overnight in tents. (13,600 ft)
Day 13 - Thachungtse to Nimaling:
Trek to Nimaling, where sheep, goats, and yaks graze beneath Kang Yatse (Nimaling Peak). Hiking time: 4-5 hrs. Overnight in tents. (15,500 ft.)
Day 14 - Acclimatization day with day hikes:
Explore, and catch upon on journals, reading. A rest day. (15,500 ft)
Day 15 - Nimaling to Shang Sumdo: Climb to Kongmaru La (16,700 ft), with excellent views of the Ladakh range and the Indus valley. Cross the pass and proceed to Shang. Hiking time: 6-7 hrs. Overnight in tents. (12,000 ft)
Day 16 - Shang Sumdo to Hemis to Leh:
Walk to Hemis Monastery (2 hrs), one of the oldest and richest monasteries in Ladakh. Drive to Thiksey Monastery, and continue to Leh, via Shey Monastery (3 hrs driving and monastery visits). Check into the hotel.
Day 17 - Leh:
Explore on your own, shopping for color souvenirs. Enjoy a farewell dinner of traditional Ladakhi food. Overnight in a hotel.
Day 18 - Leh to Delhi, Departure on International Flight Home:
Rise early and transfer to the airport for the flight to Delhi. Free time in DelhiArrive in Delhi. Transfer to the international airport for your flight home.
More information from Karma Quest: