Karma Quest - vacations and travel
For the Birds! A Celebration of Black Necked Crane Conservation in Bhutan & Ecotourism in Sikkim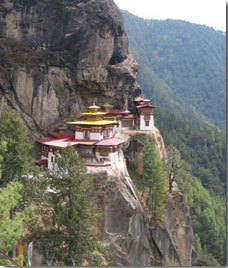 from $3,900* per person
20 Days
October
Comfort accommodations

Exertion level: 3

Operator:

Karma Quest

15 people max
Delhi, india
Active & Adventure trips
Each winter a flock of endangered Black Necked Cranes fly over the Himalaya from Tibet to winter in the marshy meadows of Phobjikha Valley, Bhutan. There, villagers welcome the cranes' arrival as an auspicious sign and blessing. KarmaQuest invites you to join us in Phobjikha to see the cranes, and to help support the local crane conservation efforts. You'll also visit Bhutan's stunning Dzongs (fortress monasteries), its capital Thimphu, and the quiet valley of Paro, overseen by the cliff-top Tiger's Nest Monastery.

Bringing you the best of both worlds, this cultural odyssey first takes you to the neighboring Indian state of Sikkim -- a garden paradise rich in biodiversity, Buddhist traditions and warm hospitality. Highlights include a guided nature walk through Kangchendzonga National Park, teeming with bird-life and medicinal plants; a walking tour of Gangtok, Sikkim's capital city; and visits to Rumtek Monastery and Temi Tea Estate.
Locations visited/nearby
Bhutan, Asia
Comments from Facebook
Itinerary
Day 1-2 Oct 30-31 Travel from US to Delhi:
Overnight Delhi
Day 3- Nov 1 Delhi:
½ day guided sightseeing to historic sites. Overnight Delhi
Day 4-Nov 2 Martam:
Fly to Bagdogra, and drive 4 hrs to Sikkim. Overnight at peaceful Martam Village Resort, a village-like setting with lovely thatched roof cottages, well tended gardens and delicious Sikkimese style food. Overnight Martam Village Resort.
Day 5-Nov 3 Martam:
Rise early for excellent birding. Visit Rumtek Monastery, seat of the Kargyu sect of Tibetan Buddhism. Stroll through the forests and enjoy village hospitality. O/N Martam Village Resort
Day 6-Nov 4 Gangtok:
Drive 1 hr to Gangtok. Visit the Institute of Tibetology, Dodrul Chorten, and Enchey Monastery. Free time to shop. Overnight Gangtok.
Day 7-Nov 5 Drive to Yuksom:
Drive (5 hrs) through the undulating countryside of forests and villages, crossing the Tista and Rangit Rivers. Visit a tea estate and taste fresh Sikkimese tea. Overnight Yuksom.
Day 8-Nov 6 Yuksom village:
Visit the coronation site of Sikkim's first king (Choegyal). Take a forest walk, and learn about local conservation efforts. Overnight Yuksom.
Day 9-Nov 7 Pelling: Drive to the wish-fulfilling Kechepalri Lake, and on to Pemayangtse Monastery (2 hrs), an artful wonder. Overnight at hotel in nearby Pelling.
Day 10-Nov 8 Drive Pelling to Phuntsoling, Bhutan:
Drive 5-6 hrs through the tea gardens and northern plains of West Bengal, India, entering Bhutan at Phuntsoling. Overnight at Druk Hotel, Phuntsoling.
Day 11-Nov 9 Phuntsoling to Thimphu:
Drive (5-6 hrs) to Thimphu, Bhutan's quaint capital. This windy road climbs from the plains into the clouds that mark Bhutan's mountain landscape. Fantastic views await. Overnight Thimphu.
Day 12-Nov 10 Thimphu:
Visit the colorful Sunday market, where farmers and traders barter their wares. Stroll 'downtown' Thimphu, taking in local life and shopping. Overnight Thimphu
Day 13- Nov 11 Drive Thimphu to Phobjikha:
(4 hrs), crossing Dochula (10,000') with its panoramic Himalayan views. Overnight in a guesthouse, Phobjikha.
Day 14-Nov 12 Phobjikha: Black Necked Crane Viewing:
Rise early to see the cranes in their roost, rising slowly to fly to their daytime feeding area in the Phobjhika marshlands. Learn more about the cranes at the Visitor Information center. Visit Gangtey Monastery. Overnight in guesthouse, Phobjikha.
Day 15-Nov 13 Drive to Punakha:
(2 hrs), visiting the impressive Punakha Dzong, set between two sacred rivers. Walk to Chimi Lhakhang, a small monastery whose founder was known as the Divine Madman, and said to cure infertility. Overnight Punakha.
Day 16 Nov 14 Drive to Thimphu:
(2 hrs) through incredible mixed forests: Visit the Folk Heritage Museum, the paper factory and painting school. Overnight Thimphu
Day 17 Nov 15 Drive to Paro:
After lunch, walk to a typical Paro village to experience life of a Bhutanese farmer and sight birds. Overnight Paro
Day 18 Nov 16 Paro:
Hike to the base of Taktsang (Tiger's Nest) Monastery, perched atop a high cliff. Visit the Paro Dzong, and the watchtower museum. Overnight Paro
Day 19 Nov 17 Fly Paro to Delhi
Day 20-Nov 18 Depart and Arrive in US
More information from Karma Quest: