Karma Quest - vacations and travel
Trekking with the Nomads of Kyrgyzstan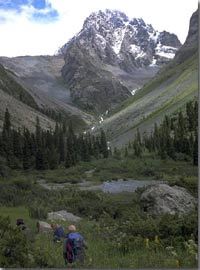 from $3,050* per room
20 Days
July
Comfort accommodations

Exertion level: 3

Operator:

Karma Quest

15 people max
Bishkek, kyrgyzstan
Active & Adventure trips
The Central Asian Republic of Kyrgyzstan offers some of the finest trekking in the world, combining spectacular mountain scenery with the fascinating lifestyle of the nomad herders. Every summer the Kyrgyz people drive their livestock to the high mountain pastures, called "Jailoo," where they live in traditional felt yurtas, produce wool felt carpets, and make a fermented drink from mare's milk.

Your days in Kyrgyzstan will be spent hiking amidst the wildflowers and alpine meadows of the Tien Shan range, camping near crystal-clear lakes or beside nomad camps, observing first hand how these hardy people live. This trip is specially planned to coincide with two cultural festivals that show off the national cuisine, ancient oral folklore traditions, and incredible horseracing skills of Kyrgyzstan.

You'll also stay with families trained in homestay operations as part of a community-based ecotourism program with which KarmaQuest owner Wendy Lama is assisting. Kyrgyz culture is rich and vibrant: you'll see demonstrations of women making the colorful shyrdaks (felt carpets), visit an amazing archaeological site with 8th century petroglyphs (see photo left), and learn about the communities' efforts to build the rural economies after the collapse of the Soviet Union support system. A refreshing stop at natural mountain hot springs, and an overnight on the shores of Issyk Kul Lake promise true relaxation. The capital city Bishkek, framed in snow-capped mountains, offers a wealth of shopping for colorful Kyrgyz handicrafts, a fine international cuisine, and friendly Kyrgyz people amidst parks and tree-lined streets.
Locations visited/nearby
Kyrgyzstan, Asia
Comments from Facebook
Itinerary
Day 1-2-3
Travel to Bishkek. Arrive early morning. Rest at hotel. City tour.
Day 4 Bishkek to Cholpon-Ata
Visit Osh Market. Drive (300 km/187.5 miles) east across Kyrgyzstan's scenic high pasturelands to Issyk Kul (Lake), at 1609 m/5300 ft elevation. Overnight in a guesthouse.
Day 5 A horse-racing festival and travel to Jety-Oguz
(80 km). Visit the Festival of Kyrgyz national horse games, for a day of revelry and wild horse racing amidst colorful costumes and fun. After lunch, transfer to Jety-Oguz by vehicle (80 km/128 mi), crossing the pass Jety-Oguz (2800 m/9,184 ft). Overnight at a yurta camp in "Flower Valley." (2250 m/ 7,380 ft)
Day 6 Cuisine Festival: After breakfast, visit the Festival of National Cuisine and Kyrgyz Folklore in "Flower Valley." Overnight at a yurta camp in "Flower Valley." (2250 m/ 7,380 ft)
Day 7 Trek a 16 km hike, with a local shepherd as your guide. Camp near the base of Tilety Pass at 3000 m/9850 ft
Day 8 Trek
Cross Tilety Pass (3800 m) – 3 hours -- on foot, bringing you to the Karakol Gorge. Continue another 10 kms/6 miles along an ancient nomads' path leading to a tented camp near a traditional, nomads' rest spot.
Day 9 Trek
Continue hiking amidst this spectacular mountain scenery (8 km) from Karakol Gorge to the "Orphan" mountaineers' shelter. Stop in the shelter for a rest and lunch. Camp in tents.
Day 10 Trek
to the Ala-Kul Mountain Lake (3600 m), more than 70 meters deep and of incomparable beauty. From the lakeshore, you can see a spectacular glacier -- the source of the milky blue lake waters. Cross the pass Ala-Kul (3860 m / 12,660 ft) in the afternoon (4 hrs), Camp in tents (3100m/10,168 ft).Camp near lakeside.
Day 11 Trek
4 hours to the Altyn-Arashan resort (2450 m), and relax in natural thermal baths. After lunch, transfer by vehicle to Karakol. Overnight in a guesthouse.
Day 12 Karakol/Kochkora
Enjoy a leisurely morning, and the sights of a Karakol city tour. Drive 270 km to Kochkorka, where you'll overnight in a family run accommodation.
Day 13 Kochkor to Song Kul
Visit a felt carpet workshop and participate in making your own felt carpet, or shop for carpets and souvenirs made by local women. Then drive from Kochkor to Song-Kul Lake (150 km), one of Kyrgyzstan's loveliest mountain lakes. Stay on the shore of Song-Kul in a yurta, the traditional home of the nomadic shepherds.
Day 14 Trek
Drive (about 60 km) to the starting point of your second trek and continue by foot, enjoying an impressive view of Song-Kul and the surrounding hills. Camp in tents.
Days 15-17 Trek (3-days)
through the Moldo Too mountain range along a trail used by ancient nomads. The path goes through valleys and passes from 3400 m to 3700 m above sea level, through flower-covered meadows and mountains inhabited by Lammergeyer vultures, where herds of horses, cows and sheep graze around the herders' yurtas. Camp in tents on trek. After the trek transfer to Naryn (200 km), and overnight in a guesthouse or family accommodation in Naryn.
Day 18
Drive 400 km/250 mi back to Bishkek. Rest and relax, overnight in a hotel.
Day 19 Sightseeing and shopping in Bishkek.
Day 20 Depart Bishkek early morning for home
More information from Karma Quest: