Karma Quest - vacations and travel
Darjeeling and Sikkim: A Cultural Tour and Home Visit with KarmaQuest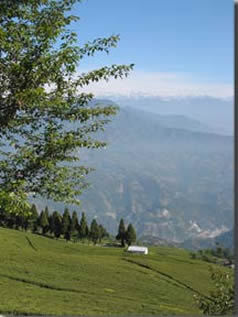 from $2,750* per person
15 Days
December
Comfort accommodations

Exertion level: 3

Operator:

Karma Quest

15 people max
Delhi, india
Active & Adventure trips
KarmaQuest has specially designed this journey to Darjeeling and Sikkim to give you a taste of daily life in a Himalayan kingdom. A highlight of the trip will be staying on Karma Lama's family farm house in Temi, where you will see how cardamom is grown and how a traditional family home in Sikkim lives. You'll share farm-grown meals of organic produce served with Sikkimese hospitality and family specialties, visit a nearby tea estate, and take a pilgrimage hike to the world's largest statue of Guru Rinpoche - who introduced Buddhism to Tibet in the 8th century.

This 14 day (in-country) cultural tour begins in Darjeeling, tucked into the Himalayan foothills of northeastern India, where you'll stay in a charming hotel, sipping tea that is grown less than a mile away. Darjeeling became popular among British ex-pats in the late 19th-early 20th centuries as a 'hill station' and retains a colloquial charm. A winding mountain road descends to cross the Rangit River that separates Darjeeling from Sikkim.

Your tour of Sikkim begins with a visit to Sikkim's pre-eminent Pemayangtse Monastery and a stroll to holy Lake Kechopalri, where wishes are granted to the pure of heart. You'll visit Yuksom where you'll be guided on walks through the village and a lovely oak and rhododendron forest, and learn about community-based ecotourism activities underway, with support from KarmaQuest. You'll visit Tashiding Monastery, with its giant mani (prayer) stones, and continue the scenic drive to stay with families in Kuzing and Temi. You'll spend three nights in Gangtok, the capital of Sikkim, sightseeing and attending the sacred and colorful Kagyet Dance festival.

Locations visited/nearby
India, Asia
Comments from Facebook
Itinerary
Day 1 Depart US en route to Delhi
Day 2 Arrive in Delhi: Our ground staff will meet and greet you on arrival and transfer you to your hotel. Overnight in Delhi.
Day 3 Fly Delhi to Bagdogra, drive to Darjeeling: Morning transfer to domestic airport in Delhi. Flying south of the Himalaya, you'll see a snow-covered horizon of the world's tallest peaks. Drive 4-5 hrs to Darjeeling, arriving in time for afternoon tea at your heritage hotel. (Elevation 7000') )
Day 4 Darjeeling: From this hilltop vantage, you'll see Mt. Kangchendzonga, third highest peak in the world, and other snowy peaks of Nepal and Tibet. Tour sights mentioned above (the museum, zoo) and take a ride on the toy train as it chugs along a narrow gauge line. Overnight in a cozy Victorian room.
Day 5 Darjeeling to Pemayangtse/Pelling: Descend to cross the Rangit Khola (river) separating Darjeeling from Sikkim and on to Pemayangtse Monastery (4+ hrs). Pemayangtse Monastery is the one of the most important and oldest monasteries of Sikkim. Overnight in Pelling (6700').
Day 6 Kechopalri, a Wish Fulfilling Lake, & Yuksom: After breakfast, drive to one of Sikkim's holiest pilgrimage sites - Kechopalri Lake - known to Hindus and Buddhist for granting visitors' wishes in exchange for an offering. Continue on to Yuksom: seat of Sikkim's first king's (Choegyal's) coronation, this village now boasts ecotourism that benefits local farmers and herders. Overnight in Yuksom (5800').
Day 7 Yuksom: Day Hike and Village Visit: In describing how the villagers wanted their community to look, they titled it the "Switzerland of Sikkim," for the idyllic calendar photos that paper their walls. Learn about these villagers' efforts to conserve their cultural traditions and the natural environment from the Kangchendzonga Conservation Committee. Overnight in Yuksom
Day 8-9 Tashiding Monastery, Homestay in Kuzing: Drive two hours to Tashiding, and circumambulate the monastery and its giant painted mani stones. Continue to Kuzing, where you'll meet your home-stay hosts and hostesses for a two-night stay in a traditional family home. Enjoy real Sikkimese hospitality and home-made delicacies, while observing life in the home and on the farm. Overnight in Kuzing.
Day 10 Drive to Temi: Enjoy a guided morning walk to a Bon monastery. Then drive to Temi, a lovely pastoral setting surrounded by tea gardens and forests alive with bird calls. In the evening, unwind with a traditional drink of fermented millet called tongba, before a dinner of delicious rice and curries. Overnight in family home in Temi (5500')
Day 11 Temi: Today after a breakfast of fresh milk-tea and traditional snacks, and weather permitting, you'll take a hike to a lookout point where the giant statue of Guru Rinpoche sites, and visit the nearby tea estate to learn about how tea is grown and made. Enjoy the evening with traditional drinks and observing life in the home and on the cardamom farm. Overnight in Temi.
Day 12 Gangtok: Drive to Gangtok (about 2 hrs) where you'll check into a Sikkimese style hotel. You'll visit Do-Drul Chorten, one of the Sikkim's most important stupas containing holy relics of reincarnate lamas, and the Institute of Tibetology, a museum/study center of sacred historic texts and artifacts. Overnight in Gangtok. (5800') .
Day 13 Kagyet Dance: Today attend an all-day Buddhist dance ritual performed by masked and silk robed monks. This dance is performed yearly at Lossang time, which marks the coming of a new year. It is indeed a rare privilege to witness such an authentic demonstration of religious celebration, as few Westerners have. Return to & overnight in Gangtok.
Day 14 Visit Rumtek Monastery: This morning you'll drive an hour to Rumtek Monastery, seat of the Karmapa, who heads the Kargyu sect of Tibetan Buddhism. Built in the traditional Tibetan style, the monastery is a masterpiece of color and religious art, crowning a hilltop facing Gangtok. The reliquary chorten (stupa) of the Karmapa lineage is most impressive. Overnight in Gangtok.
Day 15 Drive to Bagdogra, fly to Delhi and the US: Transfer (4-5 hrs) to Bagdogra for your domestic flight to Delhi. (Our services end in Bagdogra). Transfer to the international airport where you'll await your flight to the US, arriving in the US the same calendar day.
More information from Karma Quest: