Ashanti African Tours - vacations and travel
Land of the Lobi's 11 Day Tour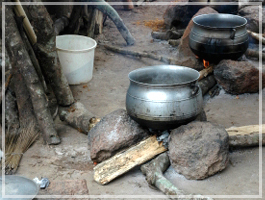 from £799* per person
11 Days
Year-round
Comfort accommodations

Exertion level: 3

Operator:

Ashanti African Tours

24 people max
Accra ,ghana
Active & Adventure trips
Ashanti's Land of the Lobi's 11 day eco tour takes us to one of the remotest corners of the country to meet and spend quality time with the Lobi community of the Upper West region. We will be staying with the community near Wechiau hippo sanctuary which was voted the 3rd best conservation destination in the world by the independent newspaper in the UK 2000. The Lobi tribe originate from Burkina Faso, their migration to Ghana was mainly due to good trade at local markets and also tribal conflict. The Black Volta River acts as the boarder between Ghana and Burkina Faso and is found only 1 kilometre away from where we stay. This close proximity allows the locals from either side to travel to local markets selling their farm produce and wares, something which has not changed in centuries. Their culture and traditional values are still intact today as they remain virtually untouched by outside influence, the ladies can still be seen wearing traditional lip plugs which is thought to enhance their beauty. Obviously seeing the hippos and knowing our presence there is helping in their protection is a major highlight of this trip, however our Land of the Lobi's tour has much more to offer besides. We travel through many regions during this tour that include Greater Accra, Eastern, Ashanti, Brong-Ahafo, Northern, Upper West and Central with our main emphasis being mixing with the locals. We experience the cultural traditions and values of all the tribal communities we come into contact with during our adventure. Our accommodation ranges from hotels, in the towns and cities, to small guesthouses and traditional tribal homesteads, in the more rural areas we visit. Our group sizes are small as we firmly believe low impact touring is the best way of preserving the beautiful places we visit. Our aim is to send you home having had a true Ghana experience and we are positive that your 11 days with us will be an unforgettable experience that will live in your memory forever.
Locations visited/nearby
Ghana, Africa
0 testimonials about this trip.
Reviewer:

Marcy, Leah and Shana Bernbaum

I and my two daughters (ages 26 and 30) just returned from a month's trip to West Africa where we visited Morocco, Mali, and Ghana. For all three trips we went through travel companies (local companies in Mali and Ghana and an Australian company - Intrepid - in the case of Morocco). While we thoroughly enjoyed all three visits, as well as finding them very educational, the one that really stood out was the one to Ghana. A large part of our positive experience is due to the way Ashanti African Tours organized and managed our trip. The highly positive experience started with planning the trip. I told Mark that I was a retired foreign service officer with USAID, had spent most of my life in development (including living in Kenya), that I am a frustrated applied cultural anthropologist who is very interested in the cultures of the countries I visited, and that I didn't want a typical "tourist" trip. I also told him that my daughters (a fourth year medical student and a school teacher) were also very interested in programs with an ecological focus; as well as education and health systems in Ghana. Based on what we told him, Mark put together a trip that covered all of our interests. In 7 days and six nights (unfortunately we had limited time) he organized a trip that collectively met our interests. We went to Kumasi which is the seat of the Ashanti kingdom where we visited a Museum on the grounds of the King's Palace. We went to craft villages near Kumasi where we saw Kente cloth being weaved. We went to a Cacao plantation (cacao is one of Ghana's major experts), which my school teacher daughter was very interested in given she had done a unit on chocolate with her students. We went to two fascinating ecotourism spots supported by USAID: a forest with sacred monkeys (including a grave yard for the monkeys) attached to two villages where the people worshipped the monkeys; a hippo reserve attached to a fascinating village (where we stayed in a compound built for visitors and had the local villagers come to dance for us, very spontaneous, they had lots of fun as did we!). In both cases we went into family compounds in the villages and had a chance to talk to family members. We also went to a game park which is known for elephants. What we particularly liked about the trip was that, with the exception of the visit to the game park, we didn't see any other tourists: we ate in local restaurants, stayed in hotels (2 and 3 star) which were primarily frequented by Ghanaians. In addition, and a real treat, we went to Mark's home in Kumasi for dinner where -- in addition to having a wonderful Ghanaian dinner -- we met and talked to Mark's wonderful Ghanaian extended family. The trip was definitely value for money. Another plus was that accompanying us on the tour (in addition to Mark and his brother in law who is the driver) was a gentleman who had just been named Ghana Cultural Guide for the year 2006 by the government. He was terrific: we learned so much from him (we also learned a lot from Mark, it was fascinating getting his take on customs and culture in Ghana as well as the take of the cultural guide). We also loved the exchange: Mark was as interested in us as we were in him and Ghana. This made, early on, for a wonderful atmosphere in the car and as the trip developed. Finally, I really appreciated Mark's sincere interest in the country. In addition to the program being a "responsible" travel program, Mark is personally very interested in becoming involved in integrated rural development through eco-tourism. He would like to support a community living near a wildlife program with opportunities for income through tourism, assure conservation of the wildlife, and assist the community with development needs (water, solar energy, education, etc.). Ashanti African Tours are a terrific company, in my humble opinion

5

Reviewer:

Mrs. Holly Pierce

located in

California

My husband and I have travelled to many out-of-the-way spots on this earth, always under the guidance of major adventure travel companies. When it came to Ghana which finds itself on no major companiesí itineraries, we knew we were taking a chance by signing on by internet for a cultural tour of Ghana with a company unknown to us. What a delightful surprise it was to travel with Mark William's Ashanti African Tours! Our group was small and we never felt as if we received less than the most attentive treatment. Tropical Ghana is not for the faint-hearted, but our team made every possible effort to ensure our safety, comfort and pleasure. With Mark, Peter and Prince's longstanding ties with the locals, our group of six were able to see things and connect with people in a way not possible within the parameters of a larger crowd-the itinerant palm wine brewers, the dealer of West African antiques hidden away in a nondescript neighbourhood, a cheerful group of Ghanaian nurses on holiday. And you ain't seen nothing' 'til you've seen the huge, smiling king of the Ashanti's dance for his rapturous subjects-His Majesty's still got that swing! As a long-time resident of Ghana and with his team of the most knowledgeable national guides, Mark Williams and Ashanti African Tours deliver an authentic and stimulating experience-and create warm bonds of friendship-you will not soon forget.

5

Reviewer:

Doris, Uncle Tommie, Millard and Sherelle (Septemb

Dear Mark, Diana, Corner, Lydia, Peter, Mama, family and friends: There are not enough words in the entire world that would express our sincere thoughts, love, and care that we have for each of you. Each of you must come to visit us in the U.S. This is an order! Thank you Mark and Diana for taking all the uncertainty out of this tour for us, the scheduling and unscheduling, the yes, then - No! Changes and re-arranging. We owe you so,-so-,so-,so-much. To invite all of us into your personal lives, your home, fed us, and made each of us to feel welcome. I, (we), will never be able (in a million years) to tell you - Thank you. We will see you in July 2007. We all had a great time.

5
Comments from Facebook
Special information
This is a custom departure, meaning this trip is offered on dates that you arrange privately with the provider. Additionally, you need to form your own private group for this trip. The itinerary and price here is just a sample. Contact the provider for detailed pricing, minimum group size, and scheduling information. For most providers, the larger the group you are traveling with, the lower the per-person cost will be.
Itinerary
Day 1

Our experienced guides will meet with you at the Kotoka International airport Accra and transfer you to your hotel. After checking you in your cultural guides offer you Akwaaba (welcome) and brief you on all aspects of your trip.

Day 2

The beginning of an adventure that will live in the memory forever, we collect you from your hotel and set off for Kumasi passing through the Akwapim range en-route, offering outstanding views of Accra in the distance. We pass through Aburi craft village, Boti waterfalls (seasonal) and visit a family making traditional glass beads before reaching Kumasi capital of the Ashanti region of Ghana.

Day 3

A morning dedicated to exploring the markets and city centre of this wonderful city. We spend quality time in Adum Kumasi's commercial hub, before experiencing Kejetia West Africa's largest outdoor market. In the afternoon we will be spending time in the ancient craft villages found within touching distance of the city centre. We meet the local communities of Ntunso renowned for Adinkra and Kente, during our time with the locals we learn about their cultural values and the history behind these traditional cloths.

Day 4

After breakfast we learn the process of traditional brass casting with a visit to Sokoban Krofrom masters in this art. After seeing the skilled craftsman at work we set off on the beginning of our Northern adventure first stop first stop is Techiman and the sacred monkeys of Boebeng-Fiema. We spend the afternoon with the community walking trails into the forest to see the Mona and black and white colobus monkeys, whilst learning the history behind their protection and why they are perceived to be sacred.

Day 5

The day starts with a buzz as we set of for the Wechiau community hippo sanctuary, stopping at a traditional Sudanese style mud and stick mosque en route. We arrive at Wechiau which was voted the 3rd best conservation destination by the Independent news paper (UK) in 2000. We spend the afternoon and evening with the local Lobi community, enjoying traditional music around our bonfire under the beautiful African night's sky.

Day 6

An early morning river safari in traditional dug out canoe viewing the endangered hippos being protected along the beautiful Black Volta River. We return to our lodge before setting off for an afternoon in Wechiau meeting and mixing with the locals, we visit the chief's palace and have the option of sleeping at the hippo hide in the evening.

Day 7

After a leisurely breakfast we bid farewell to our new friends in Wechiau before setting off for Mole National Park Ghana's largest and best game viewing park. We stop at Larabanga mosque before arriving at our hotel where we relax and enjoy our evening meal whilst watching the sunset over the savannah woodland and enjoying the feeling of being so close to nature.

Day 8

A morning foot safari around the watering holes with armed guide, getting extremely close to African elephants the worlds largest land mammal on foot. After a morning of wildlife viewing we set off for Kumasi stopping at the beautiful Kintampo waterfall en route.

Day 9

A morning visit to the National cultural centre and Prempeh II Jubilee museum found in one of the oldest suburbs of Kumasi. We set off for Cape Coast passing through Obuasi en route, on our arrival we visit the Cape Coast Castle a UNESCO World heritage site, for a thought provoking journey through Ghana's tragic enslaved African trade era.

Day 10

A morning visit to the world famous Kakum Canopy walkway, found in Kakum National Park, a beautiful tropical Guinea rainforest which supports over 40 mammal species and 300 species of birds. Afterwards we visit a coco farm, palm nut plantation and traditional palm wine tapers. In the afternoon we enjoy some time in the fishing town of Elmina before a relaxing early evening at one of Ghana's most beautiful beaches.

Day 11

Sadly your final day with us in Ghana, after a leisurely breakfast we set off for Accra visiting the National Museum and Cultural Centre on our arrival. We enjoy an early evening meal before your transfer to the airport after a wonderful 11 days with Ashanti African Tours in Ghana.
More information from Ashanti African Tours: