Kensington Tours - vacations and travel
12 Day Mekong Cruise to Angkor Wat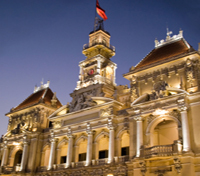 from $2,988* per person
12 Days
Year-round
Comfort accommodations

Exertion level: 3

Operator:

Kensington Tours

12 people max
Ho chi minh city, vietnam
Boats, Barges & Small Ship Cruises trips
Start off with a full day tour with your private guide and driver to the Cu Chi Tunnels- the fascinating underground complex used during the Vietnam War. You will then move from your hotel in Ho Chi Minh City to begin your adventure up the Mekong River. The Mekong runs from the Tibetan Plateau through China's Yunnan province and onwards towards Burma, Thailand, Laos, Cambodia and Vietnam. You will explore evergreen islands and the floating market of Cai Be, Vinh Long, and the tribal villages in Chau Doc on this fascinating cruise through Vietnam and Cambodia. Visit the Killing Fields, pagodas and palaces of Phnom Penh, and the bustling markets along the Tonle River. Finish up on land with a tour of the spectacular ancient metropolis of Angkor Wat.
Locations visited/nearby
Cambodia, Southeast Asia
0 testimonials about this trip.
3 testimonials about the provider, Kensington Tours:
Reviewer:

Rinat Goren, 2009

located in

Central America

"Just wanted to thank you. We are back from Costa Rica and had a wonderful trip. Everything worked really well, on time and we had really good time. Also, I wanted to comment on your contacts in Costa Rica- they were very responsive, helped solve problems on the spot and it was very reassuring to have them there."

5

Reviewer:

Nita Duncan, 2009

located in

Egypt & Ancient Lands

"For any single traveling woman - no fear! I, a single 61 year old female, traveled through Egypt & Jordan with absolutely no fear or concern for my safety. Not because I am brave but because there was no external cause for fear. The representatives who met me at the airports, the guides (especially Sam), and the drivers were all wonderful and very informative. The tour was first class and I would love to take another with Kinsington Tours and will recommend them to all my friends."

5

Reviewer:

Marie, 2009

located in

Asia

"We are back and we had a wonderful trip. Everything was perfectly organized, with the right balance between time with a guide and free time. We were very lucky with the weather, no rain at all except for a 20 minutes thunderstorm in Dalat. Halong Bay was very clear all the time although it is supposed to be foggy during the day. The Metropole was perfect, the best breakfasts ever, the boat, Jasmine, wonderful and we were only 14 people instead of 44…,the Palm Garden in Hoi An very nice, the Ana Mandara in Nha Trang, pure Heaven, the Sofitel in Dalat beautiful, almost empty and a very friendly staff."

5
Comments from Facebook
Special information
This is a custom departure, meaning this trip is offered on dates that you arrange privately with the provider. Additionally, you need to form your own private group for this trip. The itinerary and price here is just a sample. Contact the provider for detailed pricing, minimum group size, and scheduling information. For most providers, the larger the group you are traveling with, the lower the per-person cost will be.
Itinerary
Day 1 Ho Chi Minh City
Ho Chi Minh City (Saigon) is more modern than other Vietnamese cities, and has retained its French colonial influences. The streets are jam-packed with mopeds and scooters, often carrying whole families. Highlights in the city include the colorful Emperor of Jade Pagoda, an excellent example of a Chinese temple. The Hôtel de Ville is a wonderful example of French colonial architecture. The twin towers of Notre Dame Cathedral have been a familiar landmark in Ho Chi Minh City since the 1880s. The War Remnants Museum bears witness to the suffering inflicted on the Vietnamese people during the Vietnam War in the 1960s and 1970s. Other sites relevant to that era are Reunification Hall and the former US Embassy. An interesting excursion from Saigon is a visit to the Cu Chi Tunnels in which the South Vietnamese Communists concealed themselves and from which they launched attacks on US soldiers.
Enjoy a private transfer with English Speaking Driver between Ho Chi Minh City airport and your hotel.
Kensington Tours donates a portion of proceeds to our charitable initiative www.kensingtoncares.com which supports education-based initiatives in disadvantaged communities.
The Renaissance Riverside is located in the heart of Saigon's business district, the Renaissance Riverside Hotel Saigon offers first-class hospitality, comfortable rooms and modern amenities. After a long day, relax at the poolside terrace or enjoy a leisurely dinner at Kabin, known as one of the finest Chinese restaurants in the city. Take a dip in the rooftop pool and visit the Health Club for an invigorating workout with the latest gym equipment. Otherwise, simply enjoy the incredible views of the Saigon River and stroll to museums, galleries and other area attractions. You'll find that the hotel's central location, panoramic views and impeccable service makes this the ideal place to stay while visiting Ho Chi Minh City.
Overnight at Renaissance Riverside.
Day 2 Ho Chi Minh City
Tay Ninh is home to the unique Cao Dai sect. The religion is a hybrid of Buddhism, Taoism, Confucianism and Christianity. The Cao Dai Temple at Tay Ninh has been described as a Walt Disney fantasia of the East. The interior is truly engaging as statues of Jesus, Buddha and the Hindu god, Brahma, stand side by side. Depart your hotel early morning by private vehicle and English speaking Driver and take the opportunity to watch the worshippers in their white long tunics during noon mass. After lunch, visit Cu Chi tunnels, an amazing complex of underground tunnels used during the Vietnam war. Lunch is included.
Overnight at Renaissance Riverside.
Day 3 Mekong River
The Mekong is one of the world's major rivers. It is the 12th-longest river in the world, and 7th longest in Asia. (discharging 475 km3/114 cu mi of water annually). Its estimated length is 4,350 km (2,703 mi), and it drains an area of 795,000 km2 (307,000 sq mi). From the Tibetan Plateau it runs through China's Yunnan province, Burma, Thailand, Laos, Cambodia and Vietnam. All except China and Burma belong to the Mekong River Commission. A South Asian regional association, Mekong-Ganga Cooperation is named after this river. The extreme seasonal variations in flow and the presence of rapids and waterfalls have made navigation extremely difficult.
Transfer at 0900 to the Delta Port of My Tho by coach arriving at 1100 for check in followed by port and immigration formalities. Sail upstream during lunch and in the afternoon we moor near Cai Be and make a fascinating trip by traditional junk to explore evergreen islands and at the former Imperial residence, the An Kiet House. Overnight moor mid-stream Cai Be.
Experience Vietnam and Cambodia by luxury cruise. The atmosphere on board is informal and relaxed. A Pandaw river cruise is a deeply tranquil vacation experience. Our staterooms are 168 sq feet (12 sq meters) which makes them amongst the roomiest afloat. They are full of character and comfort. Our colonial style promenade and observation decks, saloon bar / lecture theatre and single sitting dining room make these ships amongst the smartest and most stylish of small ships. We began twelve years ago as essentially an adventure experience, and whilst accommodation and service now is of a top standard, we refuse to compromise our tradition of respecting our passengers' independence and individuality. There is a very high level of care on board a Pandaw with impeccable service. We have a ratio of one staff member for every two guests. We do not offer special treatment to the many celebrities; everyone who buys a Pandaw ticket is a VIP and receives the same level of service.
Overnight at Mekong Cruiser.
Day 4 Mekong River
We take a morning junk trip around Cai Be to see a floating market, and go ashore to visit the French Gothic Cathedral and colorful port area, with its colonial buildings, delightful flower gardens and local rice paper manufacturers. We return to the ship and cruise over to Vinh Long to visit a Bonsai Garden and fruit farm, followed by visit to a brick and pottery factory. We return to the ship and cruise past Vinh Long City and evergreen islands. The remainder of the day is spent cruising through the Mekong Delta.
Overnight at Mekong Cruiser.
Day 5 Mekong River
From the main Mekong channel at Tan Chau we travel down the canals and backwaters by local ferry boat. At Chau Doc we transfer to small boats to visit a Cham tribal village and a cat fish farm. We take a trishaw ride round this fascinating town of fine French-colonial buildings and see its bustling market. Return to the ship by boat for lunch and cast off for the Cambodian border for the usual formalities. Evening cruise up the broad Mekong channel, which is an international shipping route. Moor overnight just downstream from Phnom Penh.
Overnight at Mekong Cruiser.
Day 6 Mekong River
The capital of Cambodia retains its French charm. The city has several impressive wats, including Wat Ounalom, Wat Phnom and the newly-painted Wat Lang Ka. Pride of place goes to the Royal Palace and to the spectacular Silver Pagoda, one of the few places in Cambodia where artifacts embodying the brilliance and richness of Khmer culture were preserved by the Khmer Rouge. The National Museum is another highlight, with outstanding displays of Khmer crafts. An afternoon excursion is arranged to the Killing Fields and the Khmer Rouge's grim Tuol Sleng or S21 detention centre situated in the suburbs of the city then shopping at the Russian market or Central market. More happily, Phnom Penh has a lively night life, and some passengers choose to dine ashore or try one of the capital's many watering holes; a favorite being the Foreign Correspondents' Club.
Overnight at Mekong Cruiser.
Day 7 Mekong River
This morning depart for the one hour drive to Oudong which functioned as the former capital of Cambodia between the early 17th century and late 19th century. Nowadays Oudong still holds great significance as the three hills are home to various stupas containing the remains of several former Khmer Kings. Upon arrival, climb up the main stairway, over 500 steps, leading to the newest of the temples at the top of the hill. Admire the sweeping views of the surrounding countryside before continuing to the riverside town of Kampong Tralach. Visit a pagoda hidden in between trees and surrounded by local villages. Continue to your private boat where a catered lunch is set up. Cruise the Tonle Sap River downstream towards Phnom Penh while enjoying lunch as well as the sights and sounds of riverlife. Arrive mid to late afternoon in Phnom Penh where you disembark and transfer back to your hotel.
Overnight at Mekong Cruiser.
Day 8 Mekong River
Morning journey upriver to the hilltop pre-Angkorian temple of Wat Hanchey. Dating to the 8th century, these ancient brick structures characterize the architecture of the Chenla Empire which predated the glories of Angkor. Sail back downstream over lunch for an exploration of the Kampong Cham Area. We travel by bus to the 12th century Angkorian temple of Wat Nokor. This colorful temple is unique in Cambodia, as a modern Wat is set within the ruins of an ancient temple. We continue to the eco village of Cheungkok supported by the French-Cambodian NGO AMICA and the Kampong Cham orphanage, supported by the Pandaw ProBono programme.
Overnight at Mekong Cruiser.
Day 9 Mekong River
We glance by the capital Phnom Penh in the early morning to change pilots, and then sail the Tonle River which connects Tonle Lake with the Mekong and Bassac Rivers that merge at Phnom Penh. This river journey is a highlight of the trip. Temples abound along the river banks at Kampong Chnang, and we see the rich tapestry of Cambodian rural life. This is a busy rural port town with bustling markets. Mooring mid-stream, we make a truly wonderful motor boat excursion into the lakeside wetlands that form the mouth of the river. Here a stunning variety of birdlife may be seen and of considerable interest are the great fish traps.
Overnight at Mekong Cruiser.
Day 10 Siem Reap
Siem Reap is famous for the magnificent temples at Angkor. This ancient and astounding temple complex is what remains of the capital of the once mighty Khmer civilization. Angkor Wat itself, built AD 879-1191 to honor the Hindu god Vishnu, is often hailed as one of the most extraordinary architectural creations ever built, with its intricate bas reliefs, strange acoustics and magnificent soaring towers.
The great lake dominates Cambodia and is over 150 Km in length. Here bird life is profuse, and from the middle of the lake one cannot even see the shores. There is a great stillness and tranquility as we pass floating fishing villages. Because the water levels of the lake and river vary a great deal according to the time of year and rainfall, we will then either:
1. High water, approximately August to November - Cross the Tonle Lake at dawn and 1000 disembark at Siem Reap Port for onward coach transfer to the Koulen II restaurant arriving by 1100.
2. Low water, approximately November to August - Coach transfer at 0700 from Prek Dom on the Tonle River to the Koulen II Restaurant in Siem Reap stopping at Kampong Thom. Packed lunch and refreshments provided. Arrive at Siem Reap by 1200.
Private transport with English speaking guide between the boat and your hotel.
Popular among celebrities and industry professionals, the Victoria Angkor Resort & Spa offers comfort, elegance and superb refinement in the heart of Siem Reap. The building's graceful colonial architecture of the 1930's provides a sense of peaceful tranquility while its enchanting design creates a feeling of harmony with its natural surroundings. Gaze at the magnificent swimming pool, framed by lavish tropical gardens, from the seclusion of your private balcony. Indulge in the multitude of first-class dining options, from French gastronomy to traditional Khmer dishes or experience one of the resort's renowned themed gala dinners. Rejuvenate your mind and body at Le Lotus Blanc Spa and experience why people the world over continue to flock to this mesmerizing resort.
Overnight at Victoria Angkor Resort & Spa (4+*).
Day 11 Siem Reap
Enjoy a 10 minute ride in a tethered Hot Air Balloon to admire the stunning view of the hidden temples. This is not private and on your day of touring you may choose the morning (6AM) time slot or go between 3pm and 4pm.
Meet at the hotel or airport and transfer for sightseeing. Visit the South Gate of Angkor Thom, the Bayon temple complex, as well as Takeo and Ta Prohm temples. Lunch at a local restaurant. Continue with a visit to the Angkor Wat temple complex and enjoy watching the sunset on Phnom Bakheng before returning to your hotel.
Overnight at Victoria Angkor Resort & Spa (4+*).
Day 12 Siem Reap
Airport transfer with private vehicle, driver, and English speaking guide. Note: departure tax leaving Siem Reap is not included in the tour price (USD$25 per person).
Depart from Siem Reap International airport - end of itinerary.
Overnight at Depart.
More information from Kensington Tours: