Kensington Tours - vacations and travel
9 Day China Exclusive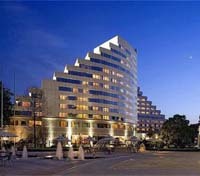 from $3,546* per person
9 Days
Year-round
Comfort accommodations

Exertion level: 3

Operator:

Kensington Tours

12 people max
Airport, china near shanghai, china
Active & Adventure trips
Experience the luxury of top hotels, deluxe rooms, a personal expert guide, private car and driver, and exclusive sights. Avoid mass travel and enjoy a personalized adventure to the best sights in China. Start in Shanghai, a symbol of the modern economic emergence of the world's most populous nation. Fly to Xi'an, the ancient first capital of the empire and view the magnificent Terra Cotta army protecting the tomb of the emperor. Finish in Beijing with tours of Tiananmen Square, the Forbidden City, Temple of Heaven, Ming Tombs, and the spectacular Great Wall of China. Enjoy a Peking dinner and VIP Opera show.

Locations visited/nearby
China, Asia
0 testimonials about this trip.
3 testimonials about the provider, Kensington Tours:
Reviewer:

Rinat Goren, 2009

located in

Central America

"Just wanted to thank you. We are back from Costa Rica and had a wonderful trip. Everything worked really well, on time and we had really good time. Also, I wanted to comment on your contacts in Costa Rica- they were very responsive, helped solve problems on the spot and it was very reassuring to have them there."

5

Reviewer:

Nita Duncan, 2009

located in

Egypt & Ancient Lands

"For any single traveling woman - no fear! I, a single 61 year old female, traveled through Egypt & Jordan with absolutely no fear or concern for my safety. Not because I am brave but because there was no external cause for fear. The representatives who met me at the airports, the guides (especially Sam), and the drivers were all wonderful and very informative. The tour was first class and I would love to take another with Kinsington Tours and will recommend them to all my friends."

5

Reviewer:

Marie, 2009

located in

Asia

"We are back and we had a wonderful trip. Everything was perfectly organized, with the right balance between time with a guide and free time. We were very lucky with the weather, no rain at all except for a 20 minutes thunderstorm in Dalat. Halong Bay was very clear all the time although it is supposed to be foggy during the day. The Metropole was perfect, the best breakfasts ever, the boat, Jasmine, wonderful and we were only 14 people instead of 44…,the Palm Garden in Hoi An very nice, the Ana Mandara in Nha Trang, pure Heaven, the Sofitel in Dalat beautiful, almost empty and a very friendly staff."

5
Comments from Facebook
Special information
This is a custom departure, meaning this trip is offered on dates that you arrange privately with the provider. Additionally, you need to form your own private group for this trip. The itinerary and price here is just a sample. Contact the provider for detailed pricing, minimum group size, and scheduling information. For most providers, the larger the group you are traveling with, the lower the per-person cost will be.
Itinerary
Day 1 Shanghai
Shanghai is the symbol of "New China", bustling and busy with excellent shopping. With an eclectic architectural mix from Asian infused Victorian and Art Deco to 21st Century avant-garde, Shanghai is an exciting, ever-changing metropolis. Popular attractions range from the Jade Buddha Temple, Yuyuan Garden and Shanghai Museum to modern wonders like the Oriental Pearl Tower. Landmarks of the city include the French Concession and historic waterfront known as the Bund. Shanghai is an excellent base from which to explore the canal towns of the Yangtze delta as well as nearby Suzhou or Hangzhou. Shanghai will host the 2010 World's Fair.
Transfer to/from airport with private vehicle, driver, and English-speaking guide.
Opening in late 2009, the ninth property in The Peninsula Hotels' portfolio fronts the historic Bund with spectacular views of the Bund, Huangpu River, Pudong and the gardens of the former British Consulate, and blends with the historic architecture of its landmark neighbors along the Bund -- a UNESCO-designated Modern Heritage Site.
Overnight at Peninsula Shanghai (5*).
Day 2 Shanghai
Full day private guided tour of Shanghai Museum, Jade Buddha Temple, and Yu Garden with deluxe lunch. Shanghai Museum is a veritable treasure house of ancient Chinese art and houses 120,000 precious relics. Bronzes, pottery, paintings and calligraphies are distinctive features of the Museum's collection. The Jade Buddha Temple is one of the most popular sights in Shanghai containing rare white jade Buddhas brought from Burma in the nineteenth century. Yuyuan Garden is the largest of Shanghai's ancient gardens with architectural styles of the Ming and Qing Dynasties. The garden has six areas, each with its own style, the most popular being the Grand Rockery in the center.
Overnight at Peninsula Shanghai (5*).
Day 3 Shanghai
Full day private guided tour of Suzhou with deluxe lunch by train. Suzhou is located in the center of the Yangtze Delta and is known both for its gardens and canals since 42% of the city is covered by water, including a vast number of ponds and streams. Built in 514 BC, Suzhou is an ancient city with a 2500 years' history. The streets and rivers go side by side while the water and land routes run perpendicular. Today visit the Garden of the Master of Nets, Humble Administrators Garden, the Suzhou Museum designed by I. M. Pei and tour the Grand Canal by boat.
Overnight at Peninsula Shanghai (5*).
Day 4 Xi'an
Xi'an was the capital of China's first emperor whose tomb is guarded by the world famous terracotta warriors.
Enjoy an airport transfer in Shanghai with a private vehicle, driver, and English-speaking Guide.
Direct flight from Shanghai to Xi'an.
Take an airport transfer by private car with an English-speaking guide.
Half day private guided city tour taking in some highlights of Xian – the ancient capital of China for over 1100 years. Start with some of the 370,000 exhibits at the Shaanxi History Museum, quite simply one of the nation's best. Next stop is the City Wall. The walls, ramparts, gates and watchtowers from one of the oldest and most complete city defences still stand ready to repel attackers. Built in the 13th century on the foundations of the original Tang Forbidden City surrounding the city centre, you can walk, rent a bike or take an electric cart around the full 14km circuit, with great views of the city on either side. Finish with the Great Mosque, located In the heart of Xi'an's Muslim quarter, this is one of the largest Islamic mosques in China. Remarkable for the melding of Chinese architecture with Islamic practice, the courtyards align from east to west facing Mecca. The pavilions, halls and gateways are wonderfully decorated, and this is an active place of worship for the Hui descendants of Silk Road traders and travellers.
Shangri-La Hotel Xian has the very best of the city right on its doorstep such as the finest in shopping and entertainment. The hotel is just a 30-minute drive from Xian International Airport, and is within easy reach of many top tourist attractions. The hotel's 386 guest rooms and suites set a new standard for deluxe accommodation in Xian and offer four trendsetting designer restaurants. With luxurious spa treatments and a fully equipped health club with heated pool, it's the perfect place to soothe mind, body and soul. Whether you're traveling for pleasure, Shangri-La Hotel, Xian offers exceptional levels of hospitality to further enhance your enjoyment of this magnificent city.
Overnight at Shangri La .
Day 5 Xi'an
Take a full day private guided tour of the Terra Cotta Army, Banpo Museum and the Buddhist Wild Goose Pagoda with a deluxe lunch. China's greatest archaeological excavation - over 7,000 terra cotta life size warriors and horses arranged in battle formations symbolically guard the Mausoleum of Emperor Qin Shi Huang, the first Emperor of the Qin dynasty (246-209 BC). The Neolithic Banpo Village has nearly 10,000 production tools and the remains of 45 houses on display.
Enjoy your VIP seats at the Tang Dynasty Dinner Show with private car transfers. At each performance there are over 100 artists who entertain with a colorful spectacle of dance and music symbolizing the splendor of the Tang Dynasty, regarded as the most progressive and prosperous era of Imperial China.
Overnight at Shangri La .
Day 6 Beijing
Beijing is China's foremost city and capital for twenty four successive emperors. Some of the major sights include: Forbidden City, Tiananmen Square, Temple of Heaven, Great Wall and Summer Palace. The complete range of Chinese cuisine can be found in the capital, and evening entertainment is superb.
Take an airport transfer by private car with an English-speaking guide.
Direct flight from Xi'an to Beijing.
Take an airport transfer by private car with an English-speaking guide.
You will be picked up from your Beijing hotel and taken on a half day private guided tour of Tiananmen Square and the Forbidden City with a deluxe lunch. Tiananmen Square was built in 1417 during the Ming Dynasty and was the front door of the Forbidden City. The present square stretches a vast 440,000 square meters and features Tiananmen Tower, Monument to the People's Heroes, Great Hall of the People, Mao Zedong Memorial Hall. The Forbidden City is the world's largest palace complex with 9,999 buildings across 74 hectares, surrounded by a six meter deep moat and a ten meter wall, and divided into two parts. The Outer Court was where the emperor exercised his supreme power over the nation. The Inner Court was where he lived with his royal family. Fourteen emperors of the Ming dynasty and ten emperors of the Qing dynasty reigned here until 1924.
Fairmont Beijing Hotel is within a short driving distance to Forbidden City or Tiananmen Square, the Embassy District, Oriental Plaza or Wangfujing, and China World Trade Centre. The hotel offers natural-lit rooms with floor-to-ceiling-windows that are furnished in contemporary Chinese style. The gate-form architecture showcases natural light-filled interiors accented by contemporary Chinese artworks, creating a sense of space and luxury living in the heart of China.
Overnight at Fairmont Beijing Hotel .
Day 7 Beijing
Private guided tour of the Summer Palace and Temple of heaven with deluxe lunch. The Summer Palace occupies an area of 294 hectares (726.5 acres), three quarters of which is water. Classically designed as an archetypal Chinese garden, it is ranked amongst the most noted gardens of the world and was listed as a World Heritage Site in 1998. The Temple of Heaven was built in 1420 AD during the Ming Dynasty to offer sacrifice to Heaven. The most magnificent buildings are The Circular Mound Altar (Yuanqiutan), Imperial Vault of Heaven (Huangqiongyu) and Hall of Prayer for Good Harvest (Qiniandian) - which are connected by a wide bridge called the Sacred Way. Drive to the Dashanzi Art District, home of Beijing's vibrant and emerging modern art community. Centred around the 1950's factory now known as Space 798, this area is a wonderful place to explore both for art lovers and those seeking to discover some of the modern creativity emerging in Beijing. Lunch is included.
Overnight at Fairmont Beijing Hotel .
Day 8 Beijing
Enjoy a full day private guided tour with lunch at the Great Wall at Mutianyu located 45 miles northeast of Beijing. This section winds along lofty, cragged mountains for 1.4 miles. Construction was started in the Northern Qi Dynasty (550 - 577) and was restored in the early Ming Dynasty (1368 - 1644). Built mainly from granite with 8m walls and 5m wide at the top, it is notable for its 22 watchtowers. Lunch is included.
Enjoy a private deluxe dinner at a fine local restaurant. Then transfer by private car to your VIP seat at Huguang Huiguan Peking Opera show (optional Acrobatic Show on request).
Overnight at Fairmont Beijing Hotel .
Day 9 Beijing
Take an airport transfer by private car with an English-speaking guide.
Kensington Tours donates a portion of proceeds to our charitable initiative www.kensingtoncares.com which supports education-based initiatives in disadvantaged communities.
Depart from Beijing International airport - end of itinerary.
Overnight at Depart.
More information from Kensington Tours: