Kensington Tours - vacations and travel
5 Day Phu Quoc Extension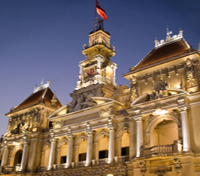 from $500* per person
5 Days
Year-round
Comfort accommodations

Exertion level: 3

Operator:

Kensington Tours

12 people max
Ho chi minh city international airport, vietnam
Active & Adventure trips
Explore the soft secluded beaches, stunning sunsets, and swaying palm trees on Phu Quoc Island including flights to and from Ho Chi Minh City.
Locations visited/nearby
Vietnam, Southeast Asia
0 testimonials about this trip.
3 testimonials about the provider, Kensington Tours:
Reviewer:

Rinat Goren, 2009

located in

Central America

"Just wanted to thank you. We are back from Costa Rica and had a wonderful trip. Everything worked really well, on time and we had really good time. Also, I wanted to comment on your contacts in Costa Rica- they were very responsive, helped solve problems on the spot and it was very reassuring to have them there."

5

Reviewer:

Nita Duncan, 2009

located in

Egypt & Ancient Lands

"For any single traveling woman - no fear! I, a single 61 year old female, traveled through Egypt & Jordan with absolutely no fear or concern for my safety. Not because I am brave but because there was no external cause for fear. The representatives who met me at the airports, the guides (especially Sam), and the drivers were all wonderful and very informative. The tour was first class and I would love to take another with Kinsington Tours and will recommend them to all my friends."

5

Reviewer:

Marie, 2009

located in

Asia

"We are back and we had a wonderful trip. Everything was perfectly organized, with the right balance between time with a guide and free time. We were very lucky with the weather, no rain at all except for a 20 minutes thunderstorm in Dalat. Halong Bay was very clear all the time although it is supposed to be foggy during the day. The Metropole was perfect, the best breakfasts ever, the boat, Jasmine, wonderful and we were only 14 people instead of 44…,the Palm Garden in Hoi An very nice, the Ana Mandara in Nha Trang, pure Heaven, the Sofitel in Dalat beautiful, almost empty and a very friendly staff."

5
Comments from Facebook
Special information
This is a custom departure, meaning this trip is offered on dates that you arrange privately with the provider. Additionally, you need to form your own private group for this trip. The itinerary and price here is just a sample. Contact the provider for detailed pricing, minimum group size, and scheduling information. For most providers, the larger the group you are traveling with, the lower the per-person cost will be.
Itinerary
Day 1 Phú Quoc
Phú Quoc (known as Koh Tral by Cambodians) is the largest island of Vietnam. Administratively the island is part of Kiên Giang province. The district of Phú Quoc includes the island proper and 21 smaller islets. Tourism plays an important part of the economy with the beaches being the main attraction. Phu Quoc is served by Phu Quoc Airport with air links to Ho Chi Minh City (Saigon's Tan Son Nhat Airport and Rach Gia's Rach Gia Airport). Plans are in progress for a new international airport for the island. Phu Quoc is also linked with Rach Gia and Hà Tiên by fast ferry hydrofoils.
Relax during this short domestic flight travelling from Ho Chi Minh City to Phu Quoc, Vietnam.
You will be picked up by private car and English speaking guide and transfer between Phu Quoc aiport and your hotel in the Long Beach area.
La Mercure is located on Phu Quoc Island and boasts a remarkable style reminiscent of a French colonial seaside mansion. Set in lush tropical gardens on a beautiful stretch of beach, the resort boasts evocative design comprising a rich blend of dark woods, fine linens and mosaic tiles, complemented by large terraces with sweeping views. In addition to 43 rooms with private balconies, the exotic La Veranda Resort features two restaurants, a lounge bar, swimming pool, and water sports centre and day spa.
Overnight at Grand Mercure La Veranda.
Day 2 Phú Quoc
Your guide will pick you up and transfer to Coi Nguon. See the international recognized Phu Quoc ridge back dogs, the sea eagles and the traditional Phu Quoc house found in the early 20th century. We will take you to a Phu Quoc Pearl Farm where you will learn the procedures of pearl production. A wide collection of cultured pearls is also displayed. Your guide will then take you to Sao beach. Continue by private car to the Ham Ninh Fisherman Ancient Village and experience the simple life of the fishermen. Test your bartering skills in the colourful and cheerful marketplace from vendors in conical palm hats sitting on the ground offering fresh sea food. The last stop is a Pepper garden and a traditional fish sauce factory. Learn about the production of famous Phu Quoc fish sauce and enjoy the unique aromatic flavor of this special sauce.
Chen La Resort & SPA. is located in a quiet bay, which allows the Guests to enjoy the peace of Phu Quoc Island and at the same time the exclusive atmosphere that the location suggests. The Resort is born after a long passionate study in order to be integrated and to respect the uncontaminated nature of the bay and of the coastal zone. The Architecture of the resort is inspired by the local environment and the realization of the 36 Bungalows (24 sea view Villa, 6 Jacuzi Villas and 6 Pool sea view Villa) followed a project to minimize as much as possible the nature impact.
Overnight at Chen-La Resort & Spa.
Day 3 Phú Quoc
You will be picked up by your English speaking Guide today for a half day of trekking in the untouched rainforest. Hike through waterfalls and mountains and enjoy the amazing scenery this area has to offer.
Your guide will pick you up at your hotel and take you to the gulf of Thai Land of Phu Quoc island for a fishing excursion on your own catamaran. Enjoy a special day with friends or family. Our boat service will be pleased to cook your meal with the fish captured. Return back to your hotel around 2pm.
Overnight at Chen-La Resort & Spa.
Day 4 Phú Quoc
At 8.00 AM, your guide will pick you up to explore the wonders of An Thoi archipelago by boat. This underwater world is visually impressive from above and below the water. The diverse mangroves, beaches, hidden coves and uninhabited islands are all part of the beauty of Phu Quoc island. Here, you will have a chance to experience the meaning of remote and undiscovered as we head out in our own charter boat to explore some hidden spots in the 12 An Thoi islands due south of Phu Quoc. Have lunch at local restaurant, in the afternoon, snorkel numerous remote locations, and discover an uninhabited island. Fishing can also be done along the way. Your guide will take you back to the hotel at 5PM.
Overnight at Chen-La Resort & Spa.
Day 5 Ho Chi Minh City
You will be picked up by private car and English speaking guide and transfer between Phu Quoc aiport and your hotel in the Long Beach area.
Enjoy this short domestic flight from Phu Quoc to Ho Chi Minh City, Vietnam.
Kensington Tours donates a portion of proceeds to our charitable initiative www.kensingtoncares.com which supports education-based initiatives in disadvantaged communities.
Depart from Ho Chi Minh City International airport - end of itinerary.
Overnight at Depart.
More information from Kensington Tours: