Kensington Tours - vacations and travel
7 Day Family Fiji Islands by Helicopter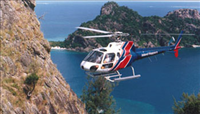 Contact provider for price
7 Days
Year-round
Comfort accommodations

Exertion level: 3

Operator:

Kensington Tours

12 people max
Nadi airport, fiji
Family & Friends trips
Bula! If you're after a kidtastic adventure through the tropical islands of Fiji this is it! Boasting endless miles of beaches & a vast assortment of exotic wildlife these idyllic islands are a perfect escape from the rest of the world. Children of every age will love discovering the scenic hills, mountains & beaches of Fiji's Coral Coast. Stay at the family friendly Outrigger on the Lagoon in bures (Fijian wood-&-straw huts with no TVs) a sunny 5* located on Fiji's main island, Viti Levu, before transferring by helicopter to the Castaway Island Resort on Mamanuca. There play on serene white beaches, go wild on a dolphin safari, snorkel through coral reefs, have massage at the spa while the kids are being babysat, or daydream in a hammock before heading home recharged & ready to return to this island paradise. Customize your families adventure with an assortment of custom activities & excursions)

Locations visited/nearby
Fiji, Australia and Pacific
0 testimonials about this trip.
3 testimonials about the provider, Kensington Tours:
Reviewer:

Rinat Goren, 2009

located in

Central America

"Just wanted to thank you. We are back from Costa Rica and had a wonderful trip. Everything worked really well, on time and we had really good time. Also, I wanted to comment on your contacts in Costa Rica- they were very responsive, helped solve problems on the spot and it was very reassuring to have them there."

5

Reviewer:

Nita Duncan, 2009

located in

Egypt & Ancient Lands

"For any single traveling woman - no fear! I, a single 61 year old female, traveled through Egypt & Jordan with absolutely no fear or concern for my safety. Not because I am brave but because there was no external cause for fear. The representatives who met me at the airports, the guides (especially Sam), and the drivers were all wonderful and very informative. The tour was first class and I would love to take another with Kinsington Tours and will recommend them to all my friends."

5

Reviewer:

Marie, 2009

located in

Asia

"We are back and we had a wonderful trip. Everything was perfectly organized, with the right balance between time with a guide and free time. We were very lucky with the weather, no rain at all except for a 20 minutes thunderstorm in Dalat. Halong Bay was very clear all the time although it is supposed to be foggy during the day. The Metropole was perfect, the best breakfasts ever, the boat, Jasmine, wonderful and we were only 14 people instead of 44…,the Palm Garden in Hoi An very nice, the Ana Mandara in Nha Trang, pure Heaven, the Sofitel in Dalat beautiful, almost empty and a very friendly staff."

5
Comments from Facebook
Special information
This is a custom departure, meaning this trip is offered on dates that you arrange privately with the provider. Additionally, you need to form your own private group for this trip. The itinerary and price here is just a sample. Contact the provider for detailed pricing, minimum group size, and scheduling information. For most providers, the larger the group you are traveling with, the lower the per-person cost will be.
Family oriented trip.
Itinerary
Day 1 Coral Coast
The Coral Coast has been a popular holiday destination for many years. It was one of the first areas in Fiji to be developed for tourism, with a number of large hotels and smaller accommodation options. Located on the south-western side of the main island of Viti Levu, it is easily accessed from the coastal Queen's Highway that runs between Nadi and Suva. The beaches vary along this coastline ... mostly white sand beaches. The view looking out to sea, with the waves breaking on the fringing reef is extremely attractive.
Relax upon your arrival as you have a Meet & Greet service on arrival with shell leis and 500ml of Fiji Water. Your tour guide will escort you and will assist you with check-in at the hotel. During your transfer to the hotel your tour guide will explain the itinerary and all the necessary details of your adventure.
Private transfer from the Airport to Coral Coast/Outrigger.
Kensington Tours donates a portion of proceeds to our charitable initiative www.kensingtoncares.com which supports education-based initiatives in disadvantaged communities.
Placed amidst 40-acre garden setting, the Outrigger on the Lagoon is nestled in Coral Coast on the island of Viti Levu. This property offers 207 modern air-conditioned hotel rooms and 47 bungalows that come together in a style reminiscent of a traditional Fijian village. Guests can dine at the Ivi Restaurant that serves contemporary international dishes with Pacific influences in an intimate old world plantation-style setting. Adjoining Vale Ni Kana and Ivi restaurants, and set amid tropical gardens and meandering waterways, the Takia Bar offers a wide range of exotic cocktails, international coffees, liquor and cold beer.
Overnight at Outrigger on the Lagoon.
Day 2 Coral Coast
Take an early morning stroll along the calm beachfront and later on, enjoy a relaxing swim in the impressive fresh-water pool.
Overnight at Outrigger on the Lagoon.
Day 3 Coral Coast
Enjoy time at leisure to explore at your own pace, or relax at your hotel.
Overnight at Outrigger on the Lagoon.
Day 4 Mamanuca Islands
The Mamanuca group of islands is located just a few kilometers off the western side of Fiji's main island of Viti Levu. It is one of Fiji's most popular resort destinations with a number of beautiful islands and reefs. With names such as Treasure Island, Beachcomber Island, Tokoriki and Vomo to name a few, these islands evoke palm tree fringed beaches and pristine blue lagoons. The Mamanuca Islands are a perfect place to experience a tropical paradise in the South Pacific.
Transfer from Outrigger Fiji to Castaway Island Resort by helicopter. Enjoy the beautiful coastline from the sky as you make your way to your next island, Mamanacu.
At Mamanuca you can decide to do nothing, and relax on one of the boundless hammocks, or underneath a palm tree or you can take part in some of the optional activities available. Enjoy snorkelling with beautiful coral reefs right in front of you, or jump on one of the many glass bottom boats and see the magnificent fish and coral below, try some night hand line fishing or big game fishing. Alternatively, parasailing, jetskiing and waterskiing are all readily available. This island has excellent children's activities making it great for families. Please ask your Sales Advisor about any of these tour options if you are interested.
Castaway Island Resort Fiji is a 174-acre private island in the heart of the Mamanuca Group with easy access to neighbouring islands for exploring and a truly relaxing holiday atmosphere. Spacious traditional thatch bures ((Fijian wood-and-straw hut/cabins) with hand painted tapa material and high ceilings are spread along the beachfront and in the garden setting. The property features sixty-six bures with spacious interiors, all with modern inclusions. Castaway offers white sandy beaches and a clear lagoon for swimming. Facilities includes resort restaurants where you can dine along the water's edge, 5*PADI Gold Palm diving, and various other resort activities.
Overnight at Castaway Island Resort.
Day 5 Mamanuca Islands
Explore the Mamanuca Island with Castaway's stylish 28 foot speedboat "Teivovo", powered by a 400 horse power engine, it is capable of reaching speeds of more than 60 mph. "Teivovo" takes her name from the traditional Fijian warrior's dance or "meke", and translated means "challenge". Sight & chase dolphins while they swim up close to the boat. It's a truly wonderful experience to see the dolphins bursts of speed, swift and sometimes playful within their natural environment. During your dolphin adventure you will get to see some of the beautiful tropical island resorts in the Mamanuca Islands. After you have had a chance to watch the dolphins, the boat will return back to Castaway island Resort.
Overnight at Castaway Island Resort.
Day 6 Mamanuca Islands
Enjoy time at leisure to explore at your own pace, or relax at your hotel.
Overnight at Castaway Island Resort.
Day 7 Nadi
Launch transfer from Mamanuca to Port Denerau.
Avail of a private transfer from Nadi to Denarau.
Private guide to assist you with any of your departing needs.
Depart from International Airport. End of itinerary.
Overnight at Depart (Int`l Airport) (standard).
More information from Kensington Tours: