Kensington Tours - vacations and travel
6 Day Active Southern Adventure (Granada)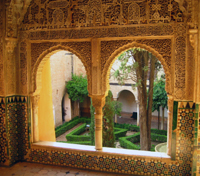 from $2,766* per person
6 Days
Year-round
Comfort accommodations

Exertion level: 3

Operator:

Kensington Tours

12 people max
Granada airport, spain
Active & Adventure trips
Enjoy uncovering the rich, multi layers of Andalusia as you delve into the various elements that make up this unique region's culture and customs. Composed of private tours with local English speaking experts, including a tour of the UNESCO sight of the Alhambra Palace, an authentic Flamenco show, a private guided tapas and wine tour, a walking tour through the historical Albaicin neighbourhood and a day spent exploring the Alpujarra mountains admiring the natural surroundings of Granada, this tour is filled with the best Andalusia has to offer. Relax and spend time discovering the city of Granada and surrounds at leisure between your organised activities. (Other activities available on request). With private airport transfers, beautiful accommodation and private tours throughout, you will truly feel that you have experienced this magical region to the full.

Locations visited/nearby
Spain, Europe
0 testimonials about this trip.
3 testimonials about the provider, Kensington Tours:
Reviewer:

Rinat Goren, 2009

located in

Central America

"Just wanted to thank you. We are back from Costa Rica and had a wonderful trip. Everything worked really well, on time and we had really good time. Also, I wanted to comment on your contacts in Costa Rica- they were very responsive, helped solve problems on the spot and it was very reassuring to have them there."

5

Reviewer:

Nita Duncan, 2009

located in

Egypt & Ancient Lands

"For any single traveling woman - no fear! I, a single 61 year old female, traveled through Egypt & Jordan with absolutely no fear or concern for my safety. Not because I am brave but because there was no external cause for fear. The representatives who met me at the airports, the guides (especially Sam), and the drivers were all wonderful and very informative. The tour was first class and I would love to take another with Kinsington Tours and will recommend them to all my friends."

5

Reviewer:

Marie, 2009

located in

Asia

"We are back and we had a wonderful trip. Everything was perfectly organized, with the right balance between time with a guide and free time. We were very lucky with the weather, no rain at all except for a 20 minutes thunderstorm in Dalat. Halong Bay was very clear all the time although it is supposed to be foggy during the day. The Metropole was perfect, the best breakfasts ever, the boat, Jasmine, wonderful and we were only 14 people instead of 44…,the Palm Garden in Hoi An very nice, the Ana Mandara in Nha Trang, pure Heaven, the Sofitel in Dalat beautiful, almost empty and a very friendly staff."

5
Comments from Facebook
Special information
This is a custom departure, meaning this trip is offered on dates that you arrange privately with the provider. Additionally, you need to form your own private group for this trip. The itinerary and price here is just a sample. Contact the provider for detailed pricing, minimum group size, and scheduling information. For most providers, the larger the group you are traveling with, the lower the per-person cost will be.
Itinerary
Day 1 Granada
Granada's rich Moorish history and the spectacular backdrop of the Sierra Nevada mountains have long inspired the spirit of romance among inhabitants and visitors alike. The old city has changed little in hundreds of years, and the incomparable Alhambra palace is an architectural masterpiece that should not be missed.
A welcome package with your vouchers, a city map, train tickets (if relevant) and any other touristic information that we deem you may find useful will be waiting for you upon your arrival at your first hotel on your trip.
Upon your arrival, you will receive a special Welcome Gift along with your Welcome Package. Enjoy your time in Spain!
Meet your driver for a private airport transfer.
Enjoy a guided exploration of the Albaicín, the old Moorish quarter of Granada with your private English speaking Guide. You will be shown how this medieval Islamic city has kept its identity into the modern age, as your Guide explains its history and character in anecdotal style. As you walk through its cat's cradle of twisting alleyways you will come across stunning views of the city, the majestic Alhambra palaces and, beyond, the often snow-capped mountains of the Sierra Nevada. You will pass by churches built on the sites of mosques, stroll underneath the walls of the scented gardens of carmens, and stop in squares to take in the slow rhythms of daily life in this most traditional and yet singular neighborhood. The walk can be taken in the afternoon, with refreshments in one of the many Arab tea rooms (included), or around sunset when the excursion includes stops in a couple of local bars to sample the tapas (the small dishes of food that accompany one's drinks in Granada - included in tour price). On weekdays, you will have the option to visit a delightful delicatessen which specializes in local products (extra virgin olive oils, cured meats and hams, cheeses, patés and sweets) which you will be able to taste along with local wine and sherry (included in tour price).
This modern hotel is in the centre of Granada, 50 metres from the nearest shopping centre, 200 metres from the Renaissance cathedral, and 1.5 kilometres from the famous Alhambra. The 42 guestrooms are decorated in dramatic contemporary style with striking furnishings; rooms have wireless Internet, satellite television, and minibars with complimentary bottled water. Guests can enjoy international cuisine in the hotel's restaurant, relax in the hotel's bar, and unwind in the wellness centre with a massage, spa treatment, or a swim in the small pool.
Overnight at Hospes Palacio de los Patos (5*).
Day 2 Granada
Enjoy a private tour with a local guide as you visit the UNESCO world heritage site of the Alhambra palace and gardens. On a rocky hill, on the banks of the River Darro, protected by mountains and amongst the eldest quarter in the city, the Alhambra rises up like an imposing castle with its distinctive reddish stone in its ramparts that prevent the outside world from seeing the delicate beauty enclosed within. Originally designed as a military area, the Alhambra became the residence of royalty and the court of Granada in the middle of XIII century. Throughout the XIII, XIV and XV centuries the fortress became a citadel which housed two main areas: the military area (or Alcazaba) and the medina (or court city) where Charles V Palace was built after the city was taken by the Catholics. The complex of monuments has also an independent palace opposite the Alhambra; The Generalife, which is surrounded by orchards and beautiful gardens which you will also visit. (Tour includes entrance into the palace).
Enjoy a half day horseriding. In the foothills of the Sierra Nevada, some 30 minutes from Granada, lies the delightful village of Dílar on the edge of which is a small, well-kept riding stables with some twenty horses. Here you will be given a mount which best fits your requirements, be you a beginner or a rider with some experience. Once saddled up you'll be led by the local English-speaking guide on a gentle ride of around 2 hours duration, which will take you into beautiful pine forests, open countryside and alongside the crystal-clear mountain waters of the Río Dílar. The time of the ride will depend on the season, with rides in the summer months being in the morning and late afternoon. Loose clothing, with comfortable footwear (not sandals) and hat are recommended. (Includes services of an English speaking Guide and Private return transportation from Granada).
Overnight at Hospes Palacio de los Patos (5*).
Day 3 Granada
See inside life in one of Granada's most singular districts, the Sacromonte (meaning "sacred mountain") with an English speaking Guide. This informative 3 hour private guided walk will introduce you to the history and legends that have grown up around its c.17 site of pilgrimage, the Abadía de Sacromonte, and tell you of the centuries-long presence of the gypsies, who lived in its famous cave dwellings, as some families still do to this day. These are the caves made famous by flamenco zambras: raucous, spontaneous, communal performances which would often last the entire night. You will see how life was – and still is - lived in these caves at an imaginative folklore museum, set in several caves on a hillside in the Sacromonte, from where you will enjoy splendid views over the Alhambra and the city. (Includes English speaking Guide, taxi from your hotel or central meeting point to start of walk and entrance to museum). The walk is easy, although there are some steps to climb and some of the streets are cobbled. Comfortable footwear should be worn. (Your guide will pick you up from your hotel, and drive to the starting point of the tour).
Enjoy a private Flamenco dancing lesson. One of Andalucía's badges of cultural identity, Flamenco is especially in the traditionalist heart of Granada. Many visitors seek out flamenco performances but few get the chance to try out for themselves this vibrant and graceful dance, and the opportunity is not to be missed. Whether you are a complete novice or already have some experience, you will be surprised at how quickly you can pick up the essentials, and all ages and levels are catered for. Your teacher - a native of Granada and dancer practically all her life - radiates enthusiasm and that quintessential Andalucían characteristic, alegria (happiness!). She has extensive experience of teaching flamenco to many nationalities and has worked abroad in the United States and Germany. The classes usually take place in a dance studio but can sometimes be arranged in a unique cave museum in the Sacromonte district of Granada, an area with strong flamenco roots (the class is two hours long and entrance to the museum is included for a self-guided visit). Comfortable shoes advisable, with a (low) heel if possible.
Enjoy navigating the custom of tapas with a local expert. Going out for drinks and tapas – or "tapeando" – is an event enjoyed throughout Spain, and everywhere has its local variations. The frustration that many visitors experience is that this can mean never quite knowing the "rules of the game", and a feeling that the authentic bars and tapas are eluding them. A local resident guide will steer you away from the comfortable but bland, sit-down options and take you into the places where locals go, jostling at the bar for elbow-room, and sampling some great dishes amid a lively atmosphere. There is an option to sample vegetarian tapas if requested. (Includes drinks & tapas in three different bars). (Vegetarian on request).
Overnight at Hospes Palacio de los Patos (5*).
Day 4 Granada
Enjoy the day on the coast playing in the water doing various water sports! The Mediterranean coastline of Granada Province is known as the "Costa Tropical" – the sheltered climate allows for mangos, bananas, avocados and sugar cane, among other sub-tropical crops, to be grown here. At the horseshoe-shaped bay of La Herradura conditions are ideal for the practice of various aquatic sports. Today you will have the chance to try out two: sea-kayaking and sailing. Paddling through the azure waters of the Mediterranean in a two-man kayak, you will explore the rocky coastline near La Herradura, led by an expert guide. Snorkels and masks are carried on the excursion, at no extra cost, so that you can have a go at looking for some of the many species of fish and coral found along the Tropical Coast. After lunch at a beach restaurant (included) where the traditional Spanish dish of paella is prepared on an open, wood-burning stove, relax on the beach for a while before a mid-afternoon excursion in a sailing boat rounds off the day in style. (Includes services of English speaking Guide, snorkeling and boat rental, lunch and return transfer from Granada). Loose clothing, comfortable footwear, swimwear, towel, sunscreen and hat are required.
Overnight at Hospes Palacio de los Patos (5*).
Day 5 Granada
Enjoy time at leisure to explore at your own pace, or relax at your hotel.
Overnight at Hospes Palacio de los Patos (5*).
Day 6 Granada
Meet your driver for a private airport transfer.
Kensington Tours donates a portion of proceeds to our charitable initiative www.kensingtoncares.com which supports education-based initiatives in disadvantaged communities.
Depart from International Airport. End of itinerary.
Overnight at Depart (Int`l Airport) (standard).
More information from Kensington Tours: