Kensington Tours - vacations and travel
12 Day Spain Signature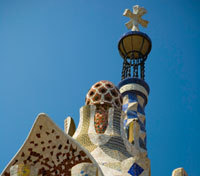 from $4,248* per person
12 Days
Year-round
Comfort accommodations

Exertion level: 3

Operator:

Kensington Tours

12 people max
Barcelona airport, barcelona, spain
Active & Adventure trips
Start your tour in Barcelona. Strategically located on the Mediterranean, Barcelona enjoys a temperate climate, a magnificent historical centre, is the epicentre of all things gastronomic, and an architect's dream with the many art deco buildings scattered throughout the city. Famous for its shopping and infamous for its nightlife! Fly to Granada and the spectacular Alhambra Palace perched on a cliff top overlooking this historic ancient city. Combining centuries of architecture and three major religions, it is a fascinating city to explore in the company of your expert guide. Continue by train to Cordoba to see the "Mezquita de Cordoba" a grand cathedral built inside one of the world's largest mosques. Onward by train to Seville and a downtown packed with superlatives and built with the money of the New World. The world's largest cathedral, twin mosque towers as in Marrakech, and tapas laden bars ready for exploration. Take the high speed train to Madrid, home of the Royals, the enormous city centre public garden known as El Retiro, the Prado museum and the Plaza Major. Your private expert guide will introduce you to the city, and you'll continue on a tour to the stunning UNESCO world heritage sight of neraby Toledo. Enjoy a flamenco show before you leave - and reflect on a spectacular visit to Spain! Que bueno!
Locations visited/nearby
Spain, Europe
0 testimonials about this trip.
3 testimonials about the provider, Kensington Tours:
Reviewer:

Rinat Goren, 2009

located in

Central America

"Just wanted to thank you. We are back from Costa Rica and had a wonderful trip. Everything worked really well, on time and we had really good time. Also, I wanted to comment on your contacts in Costa Rica- they were very responsive, helped solve problems on the spot and it was very reassuring to have them there."

5

Reviewer:

Nita Duncan, 2009

located in

Egypt & Ancient Lands

"For any single traveling woman - no fear! I, a single 61 year old female, traveled through Egypt & Jordan with absolutely no fear or concern for my safety. Not because I am brave but because there was no external cause for fear. The representatives who met me at the airports, the guides (especially Sam), and the drivers were all wonderful and very informative. The tour was first class and I would love to take another with Kinsington Tours and will recommend them to all my friends."

5

Reviewer:

Marie, 2009

located in

Asia

"We are back and we had a wonderful trip. Everything was perfectly organized, with the right balance between time with a guide and free time. We were very lucky with the weather, no rain at all except for a 20 minutes thunderstorm in Dalat. Halong Bay was very clear all the time although it is supposed to be foggy during the day. The Metropole was perfect, the best breakfasts ever, the boat, Jasmine, wonderful and we were only 14 people instead of 44…,the Palm Garden in Hoi An very nice, the Ana Mandara in Nha Trang, pure Heaven, the Sofitel in Dalat beautiful, almost empty and a very friendly staff."

5
Comments from Facebook
Special information
This is a custom departure, meaning this trip is offered on dates that you arrange privately with the provider. Additionally, you need to form your own private group for this trip. The itinerary and price here is just a sample. Contact the provider for detailed pricing, minimum group size, and scheduling information. For most providers, the larger the group you are traveling with, the lower the per-person cost will be.
Itinerary
Day 1 Barcelona
In Barcelona, and throughout Catalonia, there are two official languages: Catalan, the language of the Catalans, and Spanish, the official language of Spain.Wherever you are in Barcelona, there's always something to see nearby around the neighbourhood or district: jewels of home-grown Catalan architecture, modernisme, and contemporary architecture, markets that are a treat for the senses, treasures of the ancient Roman and medieval city, parks where you can unwind … And the best thing of all is, you don't have to be a great explorer to find and discover all of Barcelona's neighbourhoods. Barcelona is legendary for its nightlife, but don't venture out for dinner before 11pm, the restaurants don't really get going till midnight, and the clubs start hopping from the wee hours till dawn.
Meet your driver for a private airport transfer.
A welcome package with your vouchers, a city map, train tickets (if relevant) and any other touristic information that we deem you may find useful will be waiting for you upon your arrival at your first hotel on your trip.
Your private English-speaking guide will show you the central highlights of Barcelona. If you are interested in a certain era in history or have an interest in a particular artist, let your Kensington consultant know in advance as we can tailor your tour. Roman, Gothic, Modern......Gaudi, Picasso, Miro.....or enjoy some culinary delights with a gastronomy tour.
Modern hotel housed in a 19th-century building and located in Barcelona's city centre, just 200 metres from the Rambla Cataluna. The 77 guestrooms have light, modern decor and offer satellite television, direct-dial phones and Internet access. Hotel Granados 83 guests can swim in the hotel's pool, relax with a drink in the bar, and order snacks from the room service menu.
Overnight at Granados 83 (4*).
Day 2 Barcelona
Visit the art galleries and/or museums of your choice in Barcelona with this Articket which entitles you to free admission to seven of the most important and remarkable museums and art centres in Barcelona: Picasso Museum, Fundacion Joan Miro, Casa Mila, Fundacion Antonio Tapies, Museo Nacional de Arte de Catalunya (MNAC), Museo de Arte Contemporaneo de Barcelona (MACBA) and Centro de Cultura Contemporanea de Barcelona (CCCB). The Articket can be used once at each museum and at any time during a period of six months, so you can use it whenever you like throughout your stay in the city. Exchange your voucher for the Articket at any of the included museums during their opening hours.
Overnight at Granados 83 (4*).
Day 3 Barcelona
Enjoy time at leisure to explore at your own pace, or relax at your hotel.
A unique opportunity to find off-the-beaten track Tapas bars with your private English speaking guide. Enjoy a wander through the back alleys and discover a hidden side of Barcelona. You will explore the Eixample district known as the Quadrat d'Or, or Golden Square, where you'll find some of the best samples of Modernism Architecture. Check out the Old Medieval Town (or Casa Antic) and La Boquería food market just off Las Ramblas, the best place to watch Barcelona's bustling evening life. (Food & Drinks at own expense).
Overnight at Granados 83 (4*).
Day 4 Granada
Granada's rich Moorish history and the spectacular backdrop of the Sierra Nevada mountains have long inspired the spirit of romance among inhabitants and visitors alike. The old city has changed little in hundreds of years, and the incomparable Alhambra palace is an architectural masterpiece that should not be missed.
Meet your driver for a private airport transfer.
Enjoy your flight from Barcelona to Granada. Flight duration is approximately one hour.
Meet your driver for a private airport transfer.
Enjoy a guided exploration of the Albaicín, the old Moorish quarter of Granada with your private English speaking Guide. You will be shown how this medieval Islamic city has kept its identity into the modern age, as your Guide explains its history and character in anecdotal style. As you walk through its cat's cradle of twisting alleyways you will come across stunning views of the city, the majestic Alhambra palaces and, beyond, the often snow-capped mountains of the Sierra Nevada. You will pass by churches built on the sites of mosques, stroll underneath the walls of the scented gardens of carmens, and stop in squares to take in the slow rhythms of daily life in this most traditional and yet singular neighborhood. The walk can be taken in the afternoon, with refreshments in one of the many Arab tea rooms (included), or around sunset when the excursion includes stops in a couple of local bars to sample the tapas (the small dishes of food that accompany one's drinks in Granada - included in tour price). On weekdays, you will have the option to visit a delightful delicatessen which specializes in local products (extra virgin olive oils, cured meats and hams, cheeses, patés and sweets) which you will be able to taste along with local wine and sherry (included in tour price).
Restored 14th century Moresque house and convent located in the historical centre of Granada, 1 kilometre from the Alhambra. Air-conditioned rooms are stylishly decorated with high ceilings and wooden floors; all have free minibars and Internet. Enjoy complimentary refreshments in the palatial courtyard before heading to the gym or relaxing in the sauna and hammam.
Overnight at AC Palacio de Santa Paula (5*).
Day 5 Granada
Enjoy a private tour with a Local English speaking guide as you visit the UNESCO world heritage site of the Alhambra palace and gardens. On a rocky hill, on the banks of the River Darro, protected by mountains and amongst the eldest quarter in the city, the Alhambra rises up like an imposing castle with its distinctive reddish stone in its ramparts that prevent the outside world from seeing the delicate beauty enclosed within. Originally designed as a military area, the Alhambra became the residence of royalty and the court of Granada in the middle of XIII century. The complex of monuments has also an independent palace opposite the Alhambra; The Generalife, which is surrounded by orchards and beautiful gardens which you will also visit. (Tour includes entrance into the palace).
Please note that this tour does not include transfers to or from the Palace. Your guide will meet you at your hotel and you will transfer by local taxi (payable by you locally). At the end of your tour, you can either choose to walk back down the hill to explore the city, or return by taxi, (again payable by you locally). If you prefer us to arrange private transfers let us know.
Overnight at AC Palacio de Santa Paula (5*).
Day 6 Cordoba
Cordoba is one of the oldest Spanish cities. Situated in the center of Andalucia, it is a city of spirit. Its contribution to European civilization counts on exponents such as Maimonides, Averroes and Ibn Hazm. The city centre is very pleasant to walk around with the white washed houses and myriad of flowers everywhere. It is most famous for its grand mosque, the "Mezquita de Cordoba". Once the largest mosque in the world, in the 16th century it was Christianized by implanting a soaring cathedral right in the middle of the existing building. Unique and amazing.
Meet your driver for a private train station transfer.
Enjoy your train ride to Cordoba. The train ride takes approximately three hours. Multiple departures, check your ticket for exact time.
Transfer to/from train station to/from your accommodation in a private vehicle with driver.
The best way to see the sights in Cordoba is by foot, so spend time with a local Guide who will introduce you on your private tour to see the highlights. Tour the Mezquita, a unique work of its type, it is the representation of Caliphal art.
Then choose between the Alcazar of the Christian Kings with its sunken gardens and its magnificent Mossaics Hall or The Synagogue, the only one existing in Andalucia, and the Jewish Quarter. (Entrance fees not included).
If you wish to see all of the above, please ask us to extend your tour to our 4 hour private walking tour.
Just five minutes from the major sights of Cordoba, in the heart of the Jewish quarter, the Hotel Conquistador welcomes you on the eastern side of the Mosque. The elegant guestrooms offer guests the height of comfort, and come with cable television, Internet access, and air conditioning. Conquistador boasts a bar, large gardens and wonderful interior patio; the restaurant is open to guests seven days a week serving delicious Spanish and international dishes.
Overnight at El Conquistador (4*).
Day 7 Seville
Seville is the capital of the province of the same name. With a population of some 704,000 people, Seville is the fourth largest city in Spain and is considered the cultural centre of the region. Its history dates back more than 2,000 years. Romans, Vandals, Visigoths and Moors all left their presence in the city. The Moors ruled from here during their occupation of Andalucia, and their influence can still be seen in the "Mudejar" architecture of the city. The cathedral is the largest Gothic structure in the world and a symbol of Spain.
Visit the site of the Medina Azahara, with a guide on a shared tour. Situated 5km outside of the city, the Medina Azahara was the the 'Cordoban Versailles' of the tenth century. Its buildings are arranged on three terraces in the tree-clad slopes of 'Sierra Morena' and its ruins make up an artistic quarry. During this half day excursion you will have the unique opportunity to admire the ruins of what it was once a X Century Caliphal Palace in the accompaniement of an English speaking local Guide. (Includes entrance into the Medina Azahara ruins).
Transfer to/from train station to/from your accommodation in a private vehicle with driver.
Enjoy a 1hr train ride to from Cordoba to Seville. The train ride takes approximately one hour. Multiple daily departures. Check your ticket for the exact time.
Meet your driver for a private train station transfer.
Hotel Las Casas de la Judería (4*) is located in the barrio Santa Cruz in the historical centre of Seville, a very short walk from the Cathedral and the royal palace of the Alcázar. The hotel is a complex of houses and palaces, interconnected through a series of patios and walkways. Offering 118 rooms, each is unique in it's design and layout. Guests will enjoy an authentic Andalusian style house with flowers, courtyards, fountains and wrought iron gates, blending perfectly with Seville and the historical Santa Cruz neighbourhood.
Overnight at Las Casas de la Judería (4*).
Day 8 Seville
Embark on a Seville walking tour with your own private guide to check out the most important landmarks of the city. You will see La Torre del Oro (The Golden Tower), a Moorish-built tower dating from 1222, which formed part of the old defensive wall that protected the old city. You will also see Triana (this Gypsy district is the home of flamenco), Santa Cruz (the Old Jewish Quarter and a labyrinth of tiny alleys with white houses with traditional Moorish courtyards), Reales Alcazares (a Moorish palace-fortress which originally dates back to 913AD and has been the residence of various kings and boasts impressive gardens and fountains) and The Cathedral and Giralda, originally a 12th Century mosque, of which only the minaret (La Giralda) and the orange tree courtyard now remain. The cathedral is also Europe's second largest. If you have a particular interest in bullfighting, we can substitute some of the above for a visit to the Real Maestranza (The Maestranza Bullring). Built between 1767 and 1880 this famous bullring houses a museum dedicated to the world of bull fighting.
Enjoy a breathtaking evening at El Arenal watching a fantastic performance of Flamenco. Located in the center of Seville (next door to the Bullring La Maestranza), El Arenal offers both regulars and tourists a unique and friendly atmosphere. Singers, Guitarists and Dancers share the experience to make you feel the art of "Flamenco". They will introduce you to various flamenco styles through song, guitar and dance. You will also have the opportunity to taste the Spanish and local cuisine for dinner while you enjoy a glass of wine and mineral water.
Overnight at Las Casas de la Judería (4*).
Day 9 Madrid
As the capital of the Spanish Empire, Madrid was once the richest and most powerful city in the world. That kind of past leaves a big impression on a place and in Madrid it is easy to see. For palaces, museums and concerts it is up there with the best in the world. The museums of the "golden triangle" alone, namely the Prado, Reina Sofia and Thyssen-Bornemisza, feature a stunning array of paintings ranging from Old Masters to modern surrealists all housed in some of Spain's most magnificent buildings. And the rest of the city is just as rich in cultural icons and architecture. But Madrid is also a city for going out and partying. The area of Malasana is packed with bars and restaurants that stay open until dawn and rival anything Barcelona has to offer.
Meet your driver for a private train station transfer.
Enjoy your train ride from Seville to Madrid on the fast speed train. The train ride takes approximately three hours.
Meet your driver for a private airport transfer.
Your guide will meet you at your hotel and take you through the narrow and steep streets of the oldest part of Madrid, discovering the history and emblematic locations such as Plaza Mayor, Puerta de Sol and Plaza de la Villa. (No entrance fees included).
Intur Palacio de San Martín Hotel is located in the center of Madrid next to the Convento de las Descalzas Reales, in the Plaza de San Martín, a few meters from the Plaza Mayor, Palacio Real and the Teatro de la Opera and Puerta del Sol.
Overnight at Intur Palacio de San Martín (4*).
Day 10 Madrid
Enjoy your day trip to Toledo by train. Includes return ticket from Madrid. The train ride takes only 30 minutes one-way.
Enjoy a half day walking tour through the streets of Toledo and learn the history of this UNESCO heritage site.
"Holy Toledo" isn't just an expression! A unique and richly diverse city, Toledo features Arab, Jewish, Christian, and even Roman and Visigothic elements. A beloved national landmark, the Toledo that so inspired El Greco in the 16th century has remained relatively unchanged since his time. Old churches and houses fill the city, where you can still stroll through streets barely wide enough for a man and his donkey, let alone an automobile.
Discover the great shopping opportunities the city has to offer Here are some suggesions of places you may like to check out...The most convenient shopping area is around Calle de Preciados, between Sol and Gran Vía, home to El Corte Inglés department store, Zara, Gran Vía 32, and Casa Jiménez, Calle de Preciados 42, famed throughout Spain for its mantones and mantillas (lace and embroidered shawls). The smartest shopping district is Salamanca northeast of the centre, around Calle Serrano. Top designer names like Armani, Chanel, Versace, Hermès and Hugo Boss, including the fluid fabrics and elegant cuts of Spanish designer Adolfo Domínguez, are located on Calle Ortega y Gasset. Head for Calle Serrano for Purificación García, Roberto Verino, Ermenegildo Zegna and Yves Saint Laurent. Another trendy area is Chueca, especially Calles Almirante and Conde de Xiquena, while the Mecca for youth fashions is Calle Fuencarral. The main areas for antiques are Salamanca and the arcades on Calle Ribera de Curtidores - Nuevas Galerías, at #12, and Galerías Piquer, at #29. Bargain hunters should make for the Rastro, Madrid's famous flea market, also located around Ribera de Curtidores. The market is open on Sunday mornings (10am - 2pm). Be aware of pickpockets in this area.
Overnight at Intur Palacio de San Martín (4*).
Day 11 Madrid
See and do exactly what you feel like today with your 24 hour Madrid Card. The Card is an electronic smart card offering free admission to more than 40 museums in and around Madrid, including the major ones. Your ticket can be used on the 'Madrid Vision' sightseeing bus, allowing you to get on and off the bus as many times as you wish for a day. The card also entitles you to visit the Planetarium, a guided walking tour from the "Discover Madrid Program", use of a Cable Car, visit Faunia Biologic Park and Imax Cinema. You can also benefit from discounts in more than 100 establishments including shops, restaurants, shows, rent a car and leisure centres for adults and children. You will also obtain a guidebook with information on the museums and establishments that are included on the scheme and a map of the city. Exchange your voucher for a Madrid Card at: Madrid Tourist Board, Plaza Mayor 27 between 9.30am and 8.30pm or at Metro Travellers Information Centre. Your pass is valid from 9am until 7pm.
Overnight at Intur Palacio de San Martín (4*).
Day 12 Madrid
Meet your driver for a private airport transfer.
Kensington Tours donates a portion of proceeds to our charitable initiative www.kensingtoncares.com which supports education-based initiatives in disadvantaged communities.
Depart Madrid (Barajas) Airport. End of itinerary.
Overnight at Depart.
More information from Kensington Tours: