Arblaster & Clarke Wine Tours - vacations and travel
Rioja & Ribera del Duero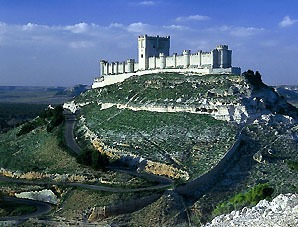 Madrid
Culinary & Wine Travel trips
This fabulous Spanish wine extravaganza is the culmination of 23 years of Arblaster & Clarke's wine touring experience in Spain. We reckon this may well be our best tour yet to the region! Whilst newer companies are suddenly making wild and unfounded claims to be the experts in Spanish wine tours (having never even operated there!), Arblaster & Clarke Wine Tours has been offering top level tours here to meet the owners of leading estates since 1990 and have throughout this period been developing and ever improving our tours and our depth of knowledge here. Indeed, Lynette Arblaster & Tim Clarke are just back this December from our latest personal trip to perfect the details of the first day of this tour for you!
The tour starts with a night in a 5* "Leading Hotels of the World" hotel in Madrid and of course a jolly evening at a nearby tapas bar! We then head north to the stellar region of Ribera del Duero where we will begin with Condada de Haza, which belongs to Alejandro Fernandez. Over lunch we taste wines from all four of his estates, including the famous 'Pesquera'. We have always been welcomed here by a member of the family.
Next day we visit new stars of Ribera del Duero 'Aalto', founded in 1999 by Mariano Garcia, former winemaker of Vega Sicilia in 1998, and Javier Zaccagnini, former President of Ribera del Duero's governing body. Their perfectionist vision determines every small step in the process to deliver ultra-high quality wines. The wines have spicy, dark fruit and are a supremely elegant, modern take on Ribera del Duero. We are personally welcomed by Sr Zaccagnini himself, and Tim Clarke who visited in the autumn of 2010 with our clients, says that this was one of the most enjoyable and informative wine tastings he has ever had the pleasure to experience – which is saying something given Tim's vast knowledge and experience in wine touring to date!
Although they are outside the Ribera del Duero region, our next two visits are usually linked with it due to their proximity. Mariano Garcia's Mauro was one of the earliest modern start-ups. Mauro's impressive wines are mainly from Tempranillo, but they make a Syrah too, as does Abadia Retuerta. This beautiful 12th century Abbey has a state of the art winery and 200 hectares divided into plots catagorised plots by soil and orientation. This 'terrior' reflects in their range of wines that we enjoy with dinner.
When the Ribera del Duero wine denomination was founded, there were only a handful of wineries and Finca Torremilanos was one of these. The Finca has nearly 500 hectares of organic vineyards including parcels as high as 1050 metres and as old as 150 years. The wines we taste are elegant with vivid fruit and uplifted aromas.
Our journey then takes us through dramatic scenery to Rioja. Our first visit in Rioja is to Marqués de Cáceres whose foundation in 1973 signalled the beginning of a new era for Rioja. They were the pioneers of the modern style Rioja and are a benchmark of quality here. They are old friends and we have a rare invitation to dinner at the bodega, which opens specially and uniquely for Arblaster & Clarke Wine Tours in the evening (when they are normally firmly closed).
We will then have a morning visit to the Remelluri estate, whose wines are elegant and perfumed, very fine in structure and with great capacity for ageing – the epitome of the Rio Alavesa!
Our afternoon lunch time visit it to Contino, a lovely little bodega in Rioja Alavesa, owned by the Madrazo family of CVNE. It was one of the first 'single estates' in Rioja and is one of the few estates whose vineyards surround the bodega 'chateau-style'. Besides the Contino Reserva, a 'Variedad Graciano', a vineyard selection Viña del Olivo and sometimes a Grand Reserva are made too. The style of the wines is concentrated and rich, with fantastic length of flavour. It's a privilege to come here and taste these delightful wines and we will again be personally hosted by a member of the family, as we always have been since 1990. This is what great wine touring, with the leading wine tours specialist is all about!
The wines of Rioja perfectly match the local cuisine, especially the succulent roast lamb. Throughout this truly outstanding Spanish wine tour we'll relax over delicious hearty traditional Spanish lunches to match these fantastic wines, oftn as personal guests of the most famous wine estates.
Next day we visit the illustrious Marques de Murrieta founded in 1872, at the beginning of Rioja's first heyday. To this day it produces great wines such as the awesome Castillo Ygay. All wines including the whites, undergo years of barrel ageing to develop their wonderful traditional flavours.
By contrast Baron de Ley in Rioja Baja is based in a 16th century hunting lodge, but all is deceptive, as the winery is very modern and sometimes controversial in their wine making, for instance blending Cabernet Sauvignon with the traditional Tempranillo. We will have the pleasure of tasting these wines over a lengthy lunch!
We stay in a 5* hotel in Madrid and in two 4* converted convents in Penafiel, Castille and Haro, Rioja. We visit Valladollid, Burgos and Logrono and the last day is spent in Segovia with its fairy tale Alcazar, Romanesque churches and many good restaurants serving the regional speciality of suckling pig.
Locations visited/nearby
Spain (Madrid), Europe
Comments from Facebook
Itinerary
Day 1 – Sunday 23 October: Dinner at hotel. Overnight in 5 star Hotel in Madrid.
Day 2 – Monday 24 October: Depart from Madrid. Lunch at wine estate. Non included dinner. Overnight stay at 4 star converted convent in Penafiel.
Day 3 – Tuesday 25 October: Morning visits. Free time in Penafiel for lunch. Dinner at wine estate. Overnight stay at 4 star in 4 star hotel, Penafiel.
Day 4 – Wednesday 26 October: Morning visit. Free time in Burgos for lunch. Dinner at wine estate. Overnight stay at 4 star converted convent in Haro.
Day 5 – Thursday 27 October: Lunch at wine estate. Optional visit to wine museum. Non included dinner. Overnight stay at 4 star in Haro.
Day 6 – Friday 28 October: Morning visit. Free time in Logrono. Dinner at wine estate. Overnight stay at 4 star in Haro.
Day 7 – Saturday 29 October: Transfer to Segovia in the morning. Free time in Segovia for lunch. Continue to Madrid for drop off at the airport in time for an early evening flight, or into one central point in the city if you choose to stay on in Madrid.
More information from Arblaster & Clarke Wine Tours: