Arblaster & Clarke Wine Tours - vacations and travel
Burgundy Cote D'Or Vineyard Walk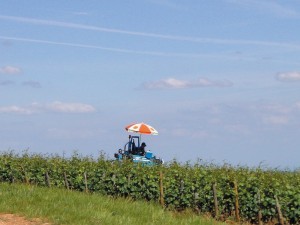 Airport near gevrey-chambertin, france
Culinary & Wine Travel trips
This is our original Vineyard Walk. The Burgundy Walk was first offered 19 years ago and it has continued to be one of our most enjoyable walking wine holidays.

You will hear much about the importance of 'terroir', and by walking through the appellations, you will gain a far greater understanding of what makes great Burgundy wine. We visit selected growers, all of them good quality and some very well known. At these, you'll taste a wide range of appellations, covering most of the villages from Fixin to Chassagne-Montrachet. Burgundy, more than any other wine region, respects the character that each parcel of land gives to the individual wine.

Beginning in the pretty wine village of Gevrey-Chambertin, just south of Dijon, our wine walk reads like a great wine list. We walk through some of the most famous vineyards of Burgundy in the Côte de Nuits as we make our way along vineyard paths heading south. Our route takes us from Gevrey-Chambertin to Morey St Denis, through Chambolle Musigny finishing our first day at Clos des Lambrays. We have 2 tastings and a picnic lunch amongst the vines, with wines from Morey St Denis and Gevrey-Chambertin today.

Next day we visit the Clos de Vougeot, then cut round the top of the Clos to walk through the vineyards of Echezeaux and drop down into Vosne-Romanée. We enjoy a picnic lunch here normally at a domaine owned by an old friend of ours. The tasting includes some excellent Vosne-Romanée and Nuits-St-Georges Premier Crus, normally their Clos de Vougeot Grand Cru and sometimes some older wines from their personal reserve. After lunch we see the great vineyards of La Romanée-Conti and linger here for a while to wonder at possibly the greatest vineyards in the world. Then we have a short climb up to the top of the Nuits-St-Georges Premier Crus before dropping down into the town of Nuits-St-Georges itself where the day ends (probably with a refreshing glass of white Nuits-St-George, such as the Pinot Blanc from Domaine Bernard Rion, at a cafe-bar here).

So far the distances that we have covered each day have been fairly short even though the days have been full. We now have a day with much more walking.

We start with a walk up though the Premier Crus on the southern side of Nuits St-Georges and arrive in the Hautes Côtes de Nuits. We walk through the rolling countryside which turns into the Hautes Côte de Beaune where we stop for a tasting that proves that seriously good wines, that are great value, are made up here. We'll have a long relaxing picnic of local cheeses and other specialities, washed down with Hautes Côtes and perhaps some Ladoix and Aligoté. The afternoon's walk is both charming and illuminating. We arrive at the top of the Butte de Corton and see how the Hautes Côtes geology gives way to the greatest cru of the Côte de Beaune, Corton: the only village with both red and white Grand Crus. The views are stunning as we make our way down to Aloxe-Corton and a great tasting at a noble estate here.

We change hotel tonight as we have covered the whole of the Côte de Nuits and are now some way south of Gevrey. We don't change hotel every night as the distances do not warrant this, and frankly, it is disruptive and time consuming. On our walks we prefer to stay in two or three hotels that we know that you will enjoy.

We have the lunchtime free in Beaune so you can visit the Hôtel-Dieu, explore or just indulge in some shopping. In the afternoon we cover the great reds of the Côte de Beaune: Beaune itself, Pommard, Volnay and finish in Monthelié. We will stop for a tasting at a leading producer.

On the last day we have a big walk covering Meursault and Auxey-Duresses. We stop for a group photo sitting on the wall of Le Montrachet, feeling very satisfied to have covered the great vineyards of the Côte d'Or and having tasting a panoply of wines 'in situ' feeling that now we are beginning to really understand Burgundy.
Locations visited/nearby
France, Europe
Comments from Facebook
Itinerary
Day 1. Meet in Gevrey Chambertin. Included dinner. Overnight 3* hotel, Gevrey-Chambertin.

Day 2. Walk Fixin to Morey St Denis. Morning winery visit. Picnic lunch. Afternoon winery visit. Free evening. Overnight 3* hotel, Gevrey-Chambertin.

Day 3. Visit Clos Vougeot. Walk Vougeot to Nuits-St Georges. Picnic lunch at winery. Afternoon winery visit. Free evening in Beaune. Overnight 3* hotel, Beaune.

Day 4. Walk Hautes Côtes to Corton. Morning winery visit. Picnic lunch. Afternoon winery visit. Free evening in Beaune. Overnight 3* hotel, Beaune.

Day 5. Cooperage visit. Free time in Beaune. Optional winery visit. Walk Beaune to Monthelie. Afternoon winery visit. Free evening. Overnight 3* hotel, Meursault.

Day 6. Montrachet-Auxey-Duresses. Winery visit. Picnic lunch. Afternoon winery visit. Included dinner. Overnight 3* hotel, Meursault.

Day 7. Tour ends in Meursault. Depart at leisure (see below for travel details)
More information from Arblaster & Clarke Wine Tours: