Arblaster & Clarke Wine Tours - vacations and travel
The Vineyards of Chile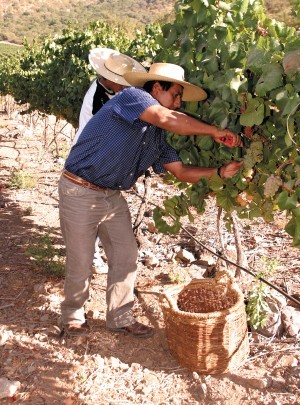 Airport, chile near santiago, chile
Culinary & Wine Travel trips
This wonderful wine tasting holiday in Chile is dedicated to the fine wine regions of this fascinating and beautiful country. In order to do the vineyard regions justice we will be visiting and meeting winemakers from the following valleys: Casablanca, San Antonio, Maipo, Rapel (for Colchagua & Cachapoal) and Maule, for this in-depth wine tasting holiday. We will also be tasting wines from other regions such as Bio Bio, Elqui and Leyda. We are offering a fantastic optional extension to either Patagonia, Atacama or Easter island for those that would like to explore further.

Chile wine tours are featured in the Arblaster & Clarke programme regularly. About the time that Arblaster & Clarke Wine Tours started, back in late 1986, a friend brought to a 'bring a strange bottle of wine' party, a Chilean Cabernet. It was the first Chilean wine that we had seen, and it had that strong character and vibrancy that has won Chile so many fans. It was surprising that it was so good. Many of the wines at that time had a strange flavour that came from using barrels made from a local beech rather than oak. The vineyards were a hot muddle of grape varieties, some unknown, and the wineries, mostly clustered around Santiago, were very … 'traditional'.

So much has changed that it is hard to know where to start. Chile is 2700 miles long and sandwiched between the Andes and the Pacific. The vineyards used to be almost entirely on the hot, Central Valley floor. It has grown enormously, but more importantly, it has spread to cooler, more interesting regions; east into the Andes foothills, west to the coast area, and south, even as far as Patagonia.

Winemakers are extremely excited about what this can bring. This is 'regionality' in the making, and they are not making the mistakes that others made before them. Pinot is going in near the coast; Syrah on high rocky terraces; Chardonnay on a cool plateau with limey soil. To say the results are encouraging is a huge understatement, Chile is buzzing with all these exciting developments in terroir focused plantings.

On our Chile wine tour we'll meet many of the key winemakers and owners who are driving changes forward in the Chilean wine industry. Our wine journey will take us about 270 miles from Santiago to Maule (but there are no massive long coach journeys as the itinerary follows the valleys). This exciting itinerary covers the important Chilean regions starting with the classic Maipo region where we visit the most prized Andean side of the region. We continue to San Antonio valley for some world-class complex white wines and the Casablanca valley for cool climate wines both white & red.

We head south into the Rapel valley, where we visit Colchuagua, which is known for fine wines, with Apalta Valley at its centre famed for outstanding Syrah. We continue moving south and stop off in the Curicó Valley for a wonderful wide ranging tasting before we arrive in the Maule valley. It follows the course of the Maule River, is a great contrast to the more northerly regions.

We'll stay in 5* accommodation in Santiago, the capital of Chile, and in Santa Cruz. We also stay at wine estates (for our exclusive use) in the Maipo valley and in the Maule region.

If you travelled with us to Chile on one of our early Chile tours in 1990's, even the 'cutting edge' wineries we visited were fairly traditional. Largely their ambition seemed to be to make good value, solid wines. And even on the more recent tours – things change every year at the Chilean wine estates! Come and see the difference now and taste memorable, world-class wines!
Locations visited/nearby
Chile, South America
Comments from Facebook
Itinerary
Day 1. Monday 11th February. Late afternoon meeting at hotel in Santiago. You will have the opportunity to join the Wine Guide for this evening's optional dinner or to take advantage of the chance for an early night to recuperate after the flight. Overnight 5* hotel, Santiago.

Day 2. Tuesday 12th February. Wine visits in the Maipo region including lunch at Antiyal. Continue to our private wine estancia to check in. Dinner at our wine estancia. Overnight Private Wine Estancia, Maipo.

Day 3. Wednesday 13th February. Visit to Casa Marin in San Antonio. Lunch at Casablanca Valley wine estate. Dinner at our wine estancia. Overnight Private Wine Estancia, Maipo.

Day 4. Thursday 14th February. Tasting visit at De Martino. Lunch at Cono Sur. Check in to hotel in Santa Cruz. Free time in Santa Cruz to visit the Colchagua museum. Non included Dinner. Optional evening Chilean Cookery demonstration at Viu Manent (please ask at time of booking). Overnight 5* hotel, Santa Cruz.

Day 5. Friday 15th February. Tasting & lunch at Montes in Apalta Valley. Non included dinner. Optional Observatory visit (please ask at time of booking). Overnight 5* hotel, Santa Cruz.

Day 6. Saturday 16th February. Tasting and lunch at Valdivieso, Curico. Continue to Maule. MOVI tasting. Dinner at Gilmore wine estate. Overnight Private Wine Estancia, Maule.

Day 7. Sunday 17th February. Optional Guided early morning nature walk. Visit & Lunch at O Fournier, Maule. Free time at wine estate for walking or relaxing in the hot tub! Wine visit & dinner at J Bouchon. Overnight Private Wine Estancia, Maule.

Day 8. Monday 18th February. First class train from Talca to Santiago, this is just over a 2 hour journey. Transfer to Hotel. Included Dinner at Torres Wine Bar. Overnight 5* hotel, Santiago.

Day 9. Tuesday 19th February. Tour ends after breakfast at Santiago hotel.
More information from Arblaster & Clarke Wine Tours: