Arblaster & Clarke Wine Tours - vacations and travel
Chile, Argentina & Uruguay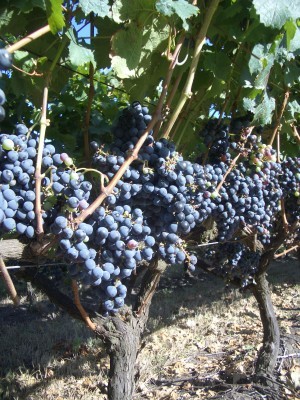 Airport, chile near santiago, chile
Culinary & Wine Travel trips
This unique South American wine tour visits the spectacular vineyards of Chile, Argentina and Uruguay. All three have made advances in quality and this has firmly established them on the world wine scene. Chile is best known, but Argentina has huge potential and Uruguay is a big surprise! We recommend a night in Chile's capital, Santiago (which we will be pleased to arrange for you) before the start of the tour. From here, we head south to the small, traditional town of Santa Cruz, close to the Apalta Valley.

Our visits include Montes, for lunch, in their fabulous winery designed along feng shui principles and Antiyal in Maipo, the private estate of Alvaro Espinoza, who is an expert in biodynamic wines, which he produces to perfection. We drop in for lunch at Viña Anakena, who focus on representing the individual terriors from their various vineyard sites, which include the Rapel Valley, Leyda, Alto Chachapoal and Nenquen, in Colchagua.

Staying at a lovely private wine estate is a highlight of this tour. Here you can relax by the pool, play tennis or golf, visit the wine museum or explore the vineyards by carriage or horse! This is not open to the public, but is available to A&C as friends of this beautiful estate. Our visits include Tarapaca, Casa Marin and De Martino (optional). We include a day relaxing at the estate, surrounded by the Maipo river and Coastal range mountains.

The Andes and Argentina beckon! On our breathtaking route through a gorge hugged by snow-capped mountains we may well see condors soaring against the peak of Aconcagua, the highest peak in the Andes. On the journey we stop for lunch at the border and to view Aconcagua. As we travel away from Chile's plains there is a dramatic change; green, tropical crops and lush vegetation give way to bare, dramatic mountains and desert scrub of cacti and acacia.

Argentina is the fifth largest wine producer in the world and vines were first planted in the 16th Century. However, it was not until the arrival of Italian immigrants that serious wine production began. With a strong domestic market Argentina was slower than Chile in targeting overseas clients, but that has since changed, and there are some stunning wines coming out of the country- not just Malbecs, but also Torrontes and Pinot Noirs!

We stay at a central hotel in the university city of Mendoza. As private guests we taste at, and lunch or dine with leading wine estates including Cassone, Zuccardi, Catena Zapata and at Bodegas O. Fournier in the Uco Valley.

We fly from Mendoza to Montevideo (via Buenos Aires) for our Uruguay leg of the tour and stay in the quirky city of Montevideo situated the mouth of the River Plate. As for the wine visits; powerful Tannat grapes and exuberant welcomes from the wineries, makes Uruguay fabulous! A lunchtime spent with Daniel Pisano is an experience not to be missed and the wines are superb too. Juanico, where we have dinner, is a historical estate producing brilliant wines. They have a lovely old villa and even their own railway station.

On the last day we drive across country, to see the rolling green hills of this agricultural country, to the beautiful old colonial town of Colonia del Sacramento where we have some free time to explore before we catch the fast ferry, crossing the River Plate to Argentina's vibrant capital, Buenos Aires, which is a colourful, buzzing city – great for shopping and Tango dancing! We strongly recommend that you extend your stay in Buenos Aires for a couple of nights.

Join us for a great journey of South American wine discovery with fantastic hospitality!
Locations visited/nearby
Argentina, Chile, Uruguay, South America
Comments from Facebook
Itinerary
Day 1: Meet in Santiago, at Hotel Plaza el Bosque Park. Visit Aquitania wine estate. Lunch at Antiyal. Free time in Santa Cruz for dinner. Overnight 5* Santa Cruz.

Day 2: Visit and Lunch at Montes wine estate. Free time in Santa Cruz for afternoon and dinner. Overnight 5* Santa Cruz.

Day 3: Visit Los Boldos in Cachapoal Valley. Lunch at Viña Anakena. Travel to Private Wine Estate. Dinner at Private Wine Estate. Overnight Private Wine Estate.

Day 4: Visit to Casa Marin. Lunch at wine estate in Leyda Valley. Dinner at private wine estate or optional dinner at De Martino (extra cost, confirmed nearer date of tour). Overnight Private Wine Estate.

Day 5: Tasting at Tarapaca. BBQ lunch at Private Wine Estate and afternoon to enjoy the activities available at the Private Wine Estate. Overnight Private Wine Estate.

Day 6: Crossing the Andes. Picnic lunch in the Andes. Afternoon arrive in Mendoza and non-included dinner in Mendoza. Overnight 5* in Mendoza.

Day 7: Visit at Cassone wine estate. Lunchtime and afternoon free in Mendoza. Dinner at Familia Zuccardi. Overnight 5* in Mendoza.

Day 8: Morning visit to Clos de los Siete. Lunch at O Fournier. Afternoon and dinner free in Mendoza. Overnight 5* in Mendoza.

Day 9: Visit and lunch at Catena Zapata. Late afternoon flight and dinner free in Buenos Aires. Overnight 5* in Buenos Aires.

Day 10: Morning ferry Buenos Aires – Colonia. Free time in Colonia de Sacramento. Dinner at Juanico wine estate. Overnight 5* Montevideo.

Day 11: Morning optional walking tour. Visit and lunch at Pisano. Free time in Montevideo for dinner. Overnight 5* Montevideo.

Day 12: . Free time in Montevideo. Lunchtime ferry Montevideo – Buenos Aires. Tour ends in Buenos Aires (approx 15:00 please call if you plan onward flight today).

More information from Arblaster & Clarke Wine Tours: